Trump Weighing Senator Mike Lee for Supreme Court Vacancy, Sources Say
(Bloomberg) -- President Donald Trump has asked advisers their opinions about nominating Utah Senator Mike Lee to replace Justice Anthony Kennedy on the Supreme Court, according to three people familiar with the matter.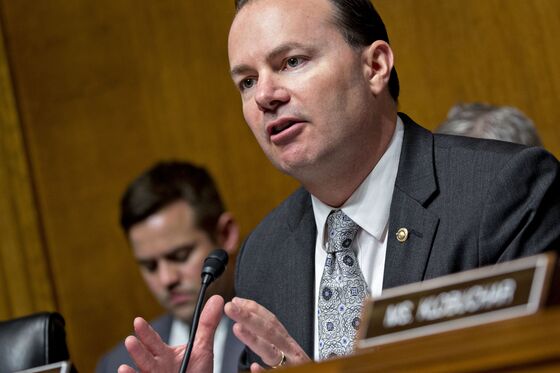 It remains early in the selection process for a nomination that will be a crucial part of Trump's legacy, choosing a justice who is likely to serve on the court for decades and cement its ideological balance to the most conservative in generations.
Trump hasn't settled on a favorite yet for the nomination, two of the people said. And even as the president mulls the 47-year-old Lee as a potential choice, the search for Kennedy's successor remains wide open.
Trump thinks Lee would be easily confirmed by the Senate, but the president has expressed concern about keeping his Senate seat in Republican hands, one person said. All of the people spoke on condition of anonymity to describe private deliberations.
He has been assured the seat will remain safely Republican, the person said. Trump complained that he was told the same about the Alabama Senate seat held by Attorney General Jeff Sessions, who wound up replaced by Democrat Doug Jones.
Trump is actively considering other candidates. Brett Kavanaugh, a judge on the D.C. Circuit Court of Appeals, is said to be another top contender.
Lee has publicly denounced the Supreme Court's landmark 1973 Roe v. Wade abortion rights ruling, which could complicate his confirmation. Many of the other potential nominees, most of whom are judges, haven't taken as clear a position on reversing the precedent.
Lee was on a list of possible Supreme Court nominees that Trump released during his presidential campaign, even though he declined to endorse the real estate mogul for election and said he voted for independent candidate and fellow Utahan Evan McMullin instead as "a protest vote."
One person close to Trump said the president will be reminded that Lee was one of a very small cluster of Republican senators who never endorsed Trump for president and in October 2016 called for him to step down.
But Trump and Lee have since patched up their relationship, and the Utah senator has been a reliable vote for the president's priorities.
"I have a good relationship with the president. He and I don't see eye to eye on every issue," Lee said in a Fox News interview on Thursday. "He and I see eye to eye on most things when it comes to the Supreme Court of the United States."
Lee has said he would accept the nomination and hasn't ruled out voting for his own confirmation.
"I'm someone who's been watching the Supreme Court since I was 10 years old," he said on Fox. "I'm honored to even be considered for something like this."
A number of conservative Republican senators have also said he would be a good pick and would have their support, including fellow Judiciary Committee members Jeff Flake, Ted Cruz, John Kennedy and fellow Utah Senator Orrin Hatch.
But a key question is whether he could win over two moderates who support abortion rights, Susan Collins of Maine and Lisa Murkowski of Alaska.
Murkowski simply said "hmm" when asked about a possible Lee nomination Wednesday.
Lee has condemned the Roe decision, likening it to the pre-Civil War Dred Scott ruling in a Senate floor speech in January. He said the Roe decision "invented a so-called 'right' to abortion in the Constitution, and in so doing stripped the unborn of their right to life."
"Roe has insinuated into the law a poisonous notion, the notion that some human beings may be treated as things, as objects to be discarded when they are inconvenient," Lee added.
But asked about the potential to overturn Roe v. Wade Wednesday, Lee demurred.
"Any precedent that's on the books, stare decisis has to be taken into account," he said, referring to the legal term for granting deference to prior court rulings.
"I don't think the president or Republicans in general are looking for an outcome as to any one issue," he said. Justices should "apply the law faithfully based on what the law says."