Trump Policy Sows Confusion and Anxiety Across the Mexican Border
(Bloomberg) -- They file into the bus station in a line, carrying little more than a navy-blue box with accessories for their ankle monitors and, sometimes, a plastic bag of extra clothing or a small child in their arms.
Every day at McAllen Central Station in the Rio Grande Valley of Texas, migrants from El Salvador, Guatemala and Honduras who entered the U.S. seeking asylum are dropped off by the government and given a court date to appear before an immigration judge. With the help of a charity, they're given food, a chance to shower, and bus tickets to get to family in Atlanta or New York or a small town in a state they've never heard of.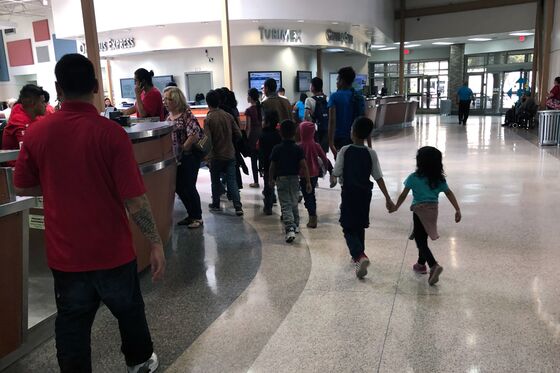 It's derided as "catch and release" by President Donald Trump, and until a week ago the families that wound up at the bus station were the lucky ones. Others, under the Trump administration's "zero tolerance" immigration enforcement policy, were split up. Adults went to prison-like detention centers, their children to less restrictive facilities akin to orphanages, all to wait indefinitely for judges to hear their cases.
Across the U.S.-Mexico border, from San Diego to the Rio Grande Valley, an absence of information is the rule following Trump's June 20 executive order to at least temporarily halt family separations. U.S. officials have said they would soon begin to reunite parents and children, but more than 2,000 kids remain in detention centers and foster homes across the country supervised by the Department of Health and Human Services. It's unclear when they'll be returned to their families.
"It's very clear that it was a policy that was set to deter them from coming," said Sister Norma Pimentel, the executive director of Catholic Charities of the Rio Grande Valley, which assists migrants the government deposits at the bus station. "I don't know if it did stop people from coming but it really put the whole world in disgrace in saying, 'it's not possible that we're doing that."'
For more than a week, members of Congress – including several Democrats eyeing a presidential run in 2020 – have been allowed to tour detention centers under the supervision of government officials or contractors. Invariably, they have told journalists afterward that they departed with more questions than answers.
Parents have told the lawmakers and U.S. advocacy groups that they don't know where their kids are, even as HHS issues assurances that it has not lost track of a single child.
"This is not a family reunification center," Senator Elizabeth Warren said after touring an Immigration and Customs Enforcement location in Port Isabel, Texas, that the government has designated for reunifications. "It was never intended to be one and there's never a reunification plan at work in this facility. This is a detention center, pure and simple."
The administration hasn't said how many children were removed from their parents since "zero tolerance" began in April or how many have been returned. The day Trump ordered a halt to separations, HHS had custody of 2,053 children who'd been taken from caregivers arrested for unlawfully crossing the border. On Tuesday, almost a week later, the number had dropped by just six, to 2,047.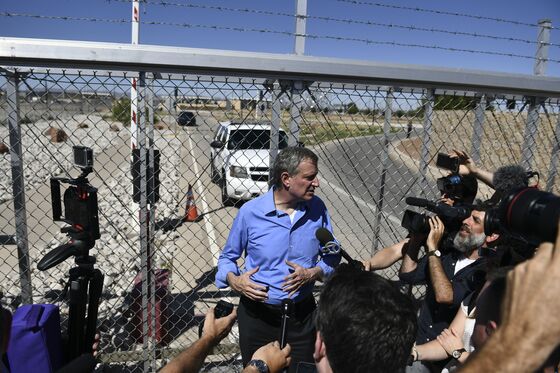 HHS officials declined to say whether the agency had received additional children who were taken from their families after June 20, making it impossible to know how many had been reunified. The officials ended the call abruptly after questions from only three reporters and referred other questions to a media email address.
No one responded to a message sent to that address.
Media tours of detention centers have been limited to small, select groups of reporters at three Texas locations with no access to detainees. (Bloomberg News has not been included, despite requests.) Customs and Border Patrol's Central Processing Station in McAllen, known as "Ursula," has been the backdrop for TV networks' broadcasts for more than a week. But on Tuesday the city of McAllen painted curbs and installed "no parking" signs to deter journalists.
Port Isabel, the government's designated reunification facility, is located in a rural area between Brownsville and South Padre Island, down a gravel road in the midst of being repaved. On Monday, detainees' families, lawyers and advocates waited for visits and court appearances near a Coke machine as a TV blasted World Cup Soccer.
Behind one door is a courthouse, where immigration cases are heard in-person and remotely. Cases on Monday included an African migrant's green card application and an Italian man's asylum petition. One court official said that the cases of parents separated from their children hadn't yet made their way to the bench.
Parents that find their way to Pimentel's respite center have told her they believe they had no choice but to cross the U.S. border. "They're here because they're asking for protection, safety," she said.
The government would detain them all if it could, she said. But there are only three U.S. detention centers built to hold families, and they're about full. Last week, ICE asked contractors for information about building additional family detention centers with as many as 15,000 beds. On Wednesday, the Defense Department said it had received a request from DHS to help house and care for as many as 12,000 immigrants.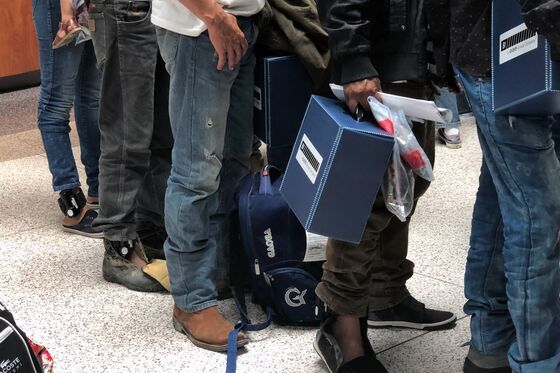 U.S. District Court Judge Dana Sabraw on Tuesday ordered the Trump administration to return immigrant children younger than five to their parents within two weeks. Children five and older must be reunited within 30 days. He also ordered the government to provide for communications between detained caregivers and their children and not to deport adults without their kids.
After the ruling, Trump urged Republicans on Wednesday to swiftly pass an immigration bill -- not out of any apparent concern for migrant families, whom he has said "infest" the U.S., but for political gain.
"House Republicans should pass the strong but fair immigration bill, known as Goodlatte II, in their afternoon vote today, even though the Dems won't let it pass in the Senate," he wrote on Twitter in all-capital letters. "Passage will show that we want strong borders & security while the Dems want open borders = crime. Win!"
Senate consideration of any immigration measure appears to be weeks away or more. While Congress moves with its typical alacrity, families continue to be dumped at the McAllen bus station. Catholic Charities says an average of 100 people are released each day.
They're met at the bus station by staffers from the charity, who give them envelopes for their paperwork and then lead families on a three-block walk to the group's humanitarian respite center. There, staff and volunteers cheer the migrants' arrival, providing a bit of dignity to people with little else.
In two abandoned storefronts, families sit and wait for help with their journeys, which will take them back to the bus station and then on to wherever they have family. On Tuesday afternoon, a mother fed her infant while a little boy rolled a toy truck -- and his body -- across the floor near other kids watching "The Jungle Book" in Spanish. In another room, three teenage girls ate chicken soup and tortillas, served to them by an elderly couple from Dallas who'd come to town to help and had been directed to Catholic Charities by their hotel.
In the waiting area at the bus station, mothers and fathers sit with their children in their laps in anticipation of Greyhound trips that could require three bus changes. Reusable red bags from the H-E-B grocery store carry all their possessions -- handouts from Catholic Charities and the navy-blue boxes branded with the logo of private-prison company Geo Group Inc. that contain a charger for their ankle surveillance devices.
Signs taped to manila envelopes explain their situation: "Please help me. I do not speak English. What bus do I need to take? Thank you for your help."
The flow of families through the bus station didn't stop or even slow down at the height of "zero tolerance," Pimentel said. During a brief period that ended Monday, she and volunteers encountered several families who had been separated and then reunited because the children were still in CBP custody after the parents had seen judges.
One episode sticks in Pimentel's mind. A grandmother came through the respite center after being separated from her five-year-old granddaughter as the two tried to travel to the girl's mother in New York. Late one night, the grandmother shared her concerns about the girl with Pimentel. The nun promised to go to Ursula the next morning to at least show the granddaughter a photo of her grandmother and reassure her.
By the next morning, though, the girl was gone -- sent to another state to await reunification. The grandmother reluctantly boarded a bus to New York.