Mexican Companies Rush to IPO Before Presidential Election
(Bloomberg) -- Three Mexican REITs -- known as Fibras -- have completed initial public offerings this month alone, just before the country's presidential election.
The unusual rush of IPOs may be to take advantage of a less complex investment climate, after a year dominated by Nafta and Donald Trump headlines and before Mexico's July 1 presidential election.
So far, 2018 has been a bumper crop for Fibras and Fibra Es -- a type of trust that invests in energy projects. Between 2011 and 2017, 14 Fibras debuted in all. This year, a total of five have priced. In June, Administrador Fibraestructura, Upsite Mexico, and Educa all offered Fibras. Earlier in the year, Nuevo Aeropuerto de la Ciudad de Mexico and CFE Capital both also took Fibra Es to IPO. U-Storage, which sought to raise 295 million pesos ($15 million) in a June 29 IPO announced that they would postpone the offering until further notice.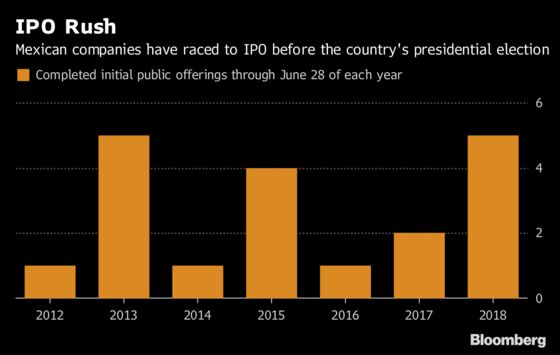 "The the worst of the deterioration in sentiment about Amlo and Nafta may be behind us," said Morgan Harting, a senior portfolio manager at AllianceBernstein in New York.
For Harting, the incoming government will face many challenges, and may pose a risk to markets with promises of higher spending. Additional elements of risk would come from Nafta negotiations, which may prove more difficult under a new administration in Mexico.
However, "it's also possible that Amlo could turn out to be more market friendly than what's priced in," said Harting. "In that case, you could very well see even more IPO activity in the months after the election."