Melania Trump Visits U.S.-Mexico Border Again
(Bloomberg) -- First Lady Melania Trump visited the U.S.-Mexico border Thursday for the second time in as many weeks in a show of concern for immigrant children as President Donald Trump attempts to crack down on unlawful border crossings.
Her first stop was a Customs and Border Protection processing facility in Tucson, Arizona, where immigrants apprehended after illegally crossing into the country are held. She tried to visit a similar center in McAllen, Texas, last week but was unable to go because of flooding.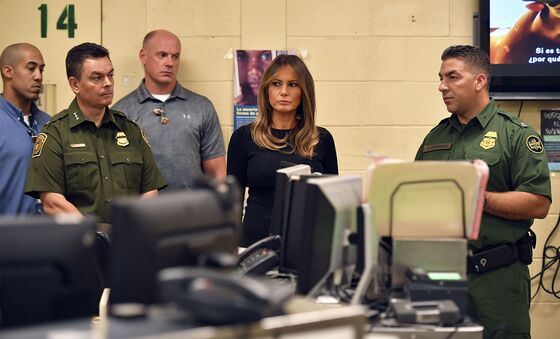 "Thank you for all your hard work that you do, and I know how dangerous and difficult your daily jobs are," Trump said at a briefing with border patrol and immigration enforcement officials and local ranchers.
She toured the facility's processing and short-term holding area, where families and children who cross into the country unaccompanied are held for as long as three days. On Thursday, six teenage boys from Guatemala and Honduras sat outside a small bunk room quietly watching "Ferdinand" subtitled in Spanish with the sound off.
A cart of non-perishable food was available for them: apple juice, apple sauce, raisins, instant rice, peanut butter crackers. Diapers and clothes for children under four filled clear plastic boxes.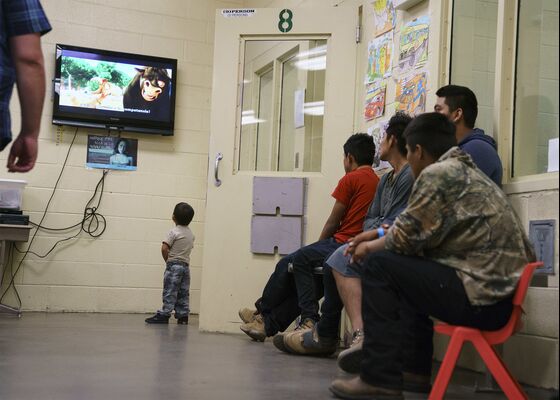 When Trump entered the room she tried to greet a three-year-old boy, but he ran away from her. She then greeted border patrol agents gathered for her visit.
The first lady faced criticism during her border trip last week for wearing a jacket with stenciling on the back that read "I Really Don't Care, Do U?" while boarding her plane in Washington and deplaning upon her return to the capital. On Thursday she wore a black sweater and white pants as she boarded a government plane in Washington, with no visible writing on either garment.
After the Tucson visit she flew to Phoenix, where she toured a detention center for children run by Austin, Texas-based Southwest Key Programs Inc. The nonprofit is the largest grantee in HHS's detention program for immigrant children and is set to receive about $458 million in taxpayer money for its services in fiscal 2018.
"I'm here to support you," she told the staff, inviting them to tell her "what I can do to help you."
The facility is housing 121 children, including 33 who are five years old or younger. Eighty-one of the children in its custody were taken from their parents. A federal judge on Tuesday ordered the Trump administration to reunite all children under five separated from their parents within two weeks. It was not immediately clear if any of the children would be subject to the court order.
In one room, a nursery, nine children from six months to two years were playing and napping. Winnie the Pooh and Mickey Mouse murals decorated the walls. Four children were with their mothers, who are also minors.
"Where are the moms?" Trump asked. Five of the children had been separated from their mothers or other family members. One of the young mothers told Trump she was from Honduras and had been at the facility for 12 days.
During a discussion with Southwest Key employees, Trump acknowledged the confusion that some children were experiencing. "The age that they are, especially with the younger ones it's hard to understand, you know, where are the parents," she said. She did not ask any of the children about that feeling, at least while reporters were in the rooms she toured.
The White House tried to keep the first lady's destinations under wraps, and reporters traveling with her had to agree to keep her the trip secret until she landed in Arizon
But a few dozen protesters still gathered across from the Southwest Key facility in Phoenix. They brought with them a large inflatable Donald Trump wearing a Ku Klux Klan robe with a swastika on its chest and held signs with messages like "End All Cages. Free the Parents and Children."
The president stirred an international furor with a policy called "zero tolerance" that resulted in the government taking immigrant children from parents caught unlawfully crossing the U.S. border with Mexico. He reversed the policy last week with an executive order to halt family separations, followed by an order to immigration agencies and the Health and Human Services Department, which supervises detention of immigrant children, to reunify the families.
Amid the backlash against the policy, the first lady offered public expressions of sympathy for immigrant children. Even before the president halted family separations, she posted a Twitter message indicating concern for children's well-being.
But her trips to the border also help the White House rebound from a public relations disaster over the "zero-tolerance" policy, which has drawn criticism from members of Congress in both parties.