May Gets World Cup Ambush Before Brexit Pitch Battle Begins
(Bloomberg) -- With Brexit talks souring the mood and England playing Belgium in the World Cup, Theresa May was already entering a den of wolves when she arrived in Brussels for the European Union summit on Thursday.
In front of the world's television cameras in the main meeting room, May found herself face-to-face with Belgian Prime Minister Charles Michel, who handed her a special gift. It was a replica of the bright red shirt worn by the Belgian national team. Bearing the number "10," the kit carried the portentous name "Hazard" on the back.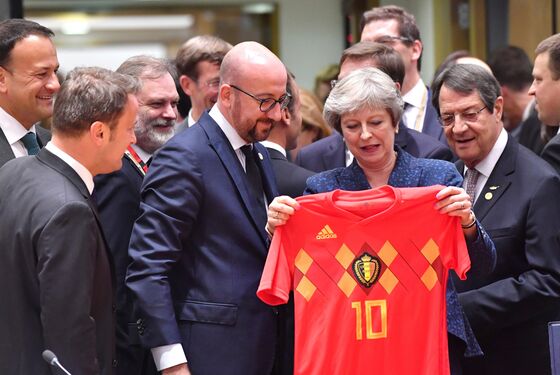 Whilst the name refers to the Belgian player Eden Hazard, an allusion to May's troubled time in office is hard to escape. She's weakened after losing her majority in a parliamentary election a year ago, and beset by critics on the pro-and anti-Brexit wings of her ruling Tory party. EU leaders including Commission President Jean-Claude Juncker made clear that they're losing patience.
Later on Thursday, May gave Michel a replica England shirt, along with specially designed jerseys for him and members of his family to commemorate the match.
May is due to update her counterparts on Brexit negotiations over dinner in Brussels at the same time that England and Belgium are scheduled to play their match in Russia. She won't be able to watch the contest but will be kept up to date via messages from her aides, who are watching in the U.K. delegation room and in local bars and restaurants, one British official said.
Michel's gift seemed to take May by surprise. She held the shirt up to admire, before hurriedly hiding it away and laughing, perhaps realizing the image could be unwelcome for England soccer fans back home.
The U.K. premier's aides are already sensitive to the whims of a soccer-mad nation enjoying the unusually good performance of the England side.
The popular tabloid newspaper, The Sun, launched a front-page campaign this week demanding that May fly the England flag of St. George outside her Downing Street office and other government buildings. Within hours, she had agreed.