Malawi Leader Defends Anti-Graft Record After Ally's Rebuke
(Bloomberg) -- Malawi's leader Peter Mutharika defended his record in tackling graft after his deputy launched a blistering attack on his administration and party, and said the issue is being used to score political points ahead of next year's elections.
Vice President Saulos Chilima quit the ruling Democratic Progressive Party on June 6, alleging that "nepotism, cronyism and corruption are rampant" in one of the world's poorest nations, and that only those with political connections are benefiting. While Chilima, 45, hasn't commented about his future plans, speculation is rife that he's planning a presidential run.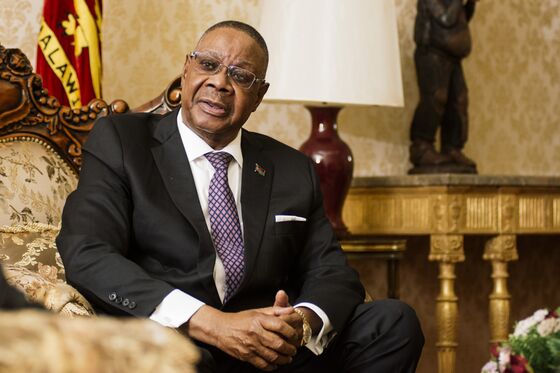 "He is still to explain what exactly is going on," Mutharika, a 78-year-old law professor who intends standing for a second five-year term in May, said in an interview on Monday in the capital, Lilongwe, at the ornate Kamuzu palace surrounded by sprawling grounds roamed by zebra and deer. "That's something that people ought to ask him, that after four years in the government, why are you only seeing corruption now? He needs to say where it is."
Chilima, a former chief executive officer of mobile-network operator Airtel Malawi who declined a request for an interview, can't be fired because he was directly elected. In April, tens of thousands of people demonstrated in the streets of Lilongwe and four other cities to demand an end to corruption and power blackouts, as well as call for electoral reforms.
Malawi scored 31 points out of a possible 100 for its efforts to fight graft in Transparency International's 2017 Global Corruption Perceptions Index, slipping two places to 122nd in the 180-nation ranking. Churches, civil-rights groups and the Malawi Congress Party, the main opposition group, have said the government isn't doing enough to address the issue.
"The president has been arguing all along that the corruption fight is not a one-man show, but what he has to know is that he is the main player who should ensure that there is not corruption," Edge Kanyongolo, a law professor at University of Malawi's Chancellor College, said by phone from the southern town of Zomba. "Cases take long to conclude and this does not help in ensuring we completely eradicate corruption."
Malawi has corruption like in any other country and institutions to deal with it, Mutharika said in the interview at the palace, which was built by Hastings Kamuzu Banda, who ruled Malawi as leader of a one-party state for three decades after independence from Britain in 1964.
The president urged those with evidence of wrongdoing to lodge their complaints with institutions such as the Anti-Corruption Bureau, the Financial Intelligence Unit and the Directorate of Public Prosecutions.
"I think our opponents really do not have an argument and they don't have alternative policies," he said. "They decided they are going to use corruption as a way of attacking the government. I say 'fine, if there is massive corruption, tell us, point it out to the authorities.'"
Malawi's worst corruption scandal erupted in 2013, when investigators concluded that almost a third of state funds were being embezzled. The scandal, dubbed "Cashgate" by the local media, prompted donors that funded 40 percent of the budget to suspend aid, resulting in great hardship in the nation of 18 million people.
While then-President Joyce Banda fired her entire cabinet and vowed to combat graft, she battled to convince the electorate that her administration wasn't complicit and she lost the 2014 elections to Mutharika. Banda, who returned to Malawi in April after four years in self-imposed exile to rebuild her party before the elections, may still face prosecution. She denies wrongdoing.
Banda succeeded Bingu wa Mutharika, the president's brother who led the nation for eight years until he died in office in 2012.
The Cashgate investigations are continuing, a number of people have been arrested and convicted, and the authorities recovered about 1 billion kwacha ($1.38 million), according to Mutharika, who declined to comment on Banda's case.
"It will be difficult to recover the money," he said. "Most of this money was in cash. We don't know where it was hidden, whether it was taken out of the country or converted into foreign currency."
Mutharika said he had made it clear that graft isn't acceptable. He said he'd fired a senior cabinet minister who was implicated in wrongdoing, refused to shield senior several government and party officials from investigations and backed greater independence for the Anti-Corruption Bureau.
"We are fighting corruption," he said. "The massive corruption thing has become more of a cliche, it's political now. It's a collective effort. If we all work together we can stop this scourge, but not one person."