Kavanaugh Emerges as Key Contender for Trump Supreme Court Pick
(Bloomberg) -- Federal appeals court judge Brett Kavanaugh, a former Anthony Kennedy law clerk with close ties to the retiring justice, is emerging as a top contender to replace his former boss, according to two U.S. officials familiar with the Trump's administration thinking.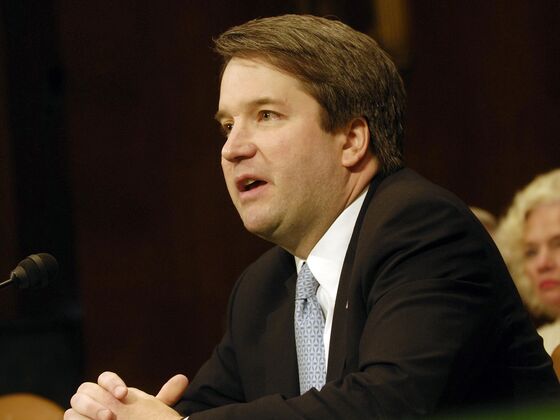 It remains early in the selection process for a nomination that could tip the ideological balance of the court to its most conservative in decades, and President Donald Trump has a record of shifting directions on key decisions.
But Trump and Republican congressional leaders showed eagerness to move rapidly. Trump said Wednesday he plans to make the appointment "as quickly as possible," and Senate Majority Leader Mitch McConnell said he would hold a confirmation vote in the fall. Senate Judiciary Chairman Chuck Grassley of Iowa said he looks forward to hearings "in the weeks ahead."
Trump's selection could provide the fifth vote needed to overturn the landmark 1973 Roe v. Wade ruling and allow states to outlaw abortion, a decades-long aspiration of the Republican Party.
Trump told reporters in the Oval Office he will choose a successor from a list of Supreme Court candidates he released during the election campaign and then expanded to 25 last year. Speaking at a rally in Fargo, North Dakota, late Wednesday, Trump said he wants to pick someone who will stay on the court for 40 years.
Kavanaugh, 53, a former White House lawyer for President George W. Bush confirmed in 2006 to the influential U.S. Court of Appeals in Washington, is on the list. He wrote the majority opinion for a three-judge panel that held the Consumer Financial Protection Bureau's structure as an agency led by a single director was unconstitutional and that Trump could fire the director at will.
Trump could also consider three federal judges he interviewed before filling the last vacancy on the court: William Pryor of Alabama, Thomas Hardiman of Pennsylvania and Amul Thapar of Kentucky.
Other possibilities include federal appellate judges Raymond Kethledge of Michigan, who was considered for the last Supreme Court appointment but didn't get an interview, and Amy Coney Barrett of South Bend, Indiana.
Republicans have a 51-49 majority in the Senate with elections in early November that could change the makeup of the chamber. Democrats are demanding a delay in a vote on any Trump nominee in an election year, echoing an argument McConnell made as he blocked a confirmation vote on President Barack Obama's final Supreme Court nominee before the 2016 presidential election.
The Senate GOP last year eliminated the 60-vote requirement to advance a Supreme Court nomination.
Still, Republicans will be challenged by their extremely slim margin. Senator John McCain, an Arizona Republican, has been absent for months and hasn't been voting. If he remained away from Washington, GOP leaders couldn't lose any Republicans if the confirmation were along party lines. Vice President Mike Pence would break a tie vote.
If McCain were to resign and be replaced by Arizona's Republican governor, the party would have one vote to spare.
Senate Minority Leader Chuck Schumer of New York called on Republicans not to consider confirmation during this election year. "Millions of people are just months away from determining the senators who should vote to confirm or reject the president's nominee," he said.
Republican leaders are ignoring that, seeking speedy consideration that has the benefit of forcing tough choices by Democratic senators such as Joe Manchin of West Virginia and Joe Donnelly of Indiana, who are running for re-election in states where Trump won by wide margins.
Manchin, who represents a state where Trump got 68 percent of the vote in 2016, declined to back Schumer on seeking to delay a vote on whoever Trump nominates.
"I don't have any opinion on that," Manchin said. "The timing will be what the timing is."
For a significant segment of the Republican voting base, shaping a solidly conservative Supreme Court is a driving force. Senate Majority Leader Mitch McConnell has repeatedly called confirmation of Neil Gorsuch to the court last year one of the most significant achievements of Trump and the Republican-controlled Senate.
Maine Senator Susan Collins, a GOP moderate, made clear she isn't looking for a justice who would overturn Roe.
"I view Roe v. Wade as settled law," she said. "It's clearly precedent, and I always look for judges who respect precedent," she said.
A Supreme Court fight right before the November election will energize voters of both parties. Senators like Manchin face a choice alienating the slice of the Republican electorate they'll need to win re-election if they join in blocking Trump's pick or causing backlash from the Democratic base that they also need.
The court announced Wednesday that Kennedy will retire effective July 31. Kennedy came to the White House to inform him early in the afternoon, Trump said.
Trump praised Kennedy, an 81-year-old Ronald Reagan appointee who has been the court's pivotal vote for the last decade, as "a very spectacular man."
Trump said he consulted with Kennedy about possible replacement candidates for his seat on the court during the 30-minute conversation at the White House during which the justice informed the president of his intention to retire.
The president wouldn't tell reporters who Kennedy had recommended, but indicated the justice had voiced support for well-established potential nominees.
"He has, you know -- there are certain names that are just outstanding," Trump said.
The president also said his eventual nominee would be "highly intelligent" and "highly educated."