Trump Gets Chance to Mend GOP Fractures With Supreme Court Pick
(Bloomberg) -- Donald Trump has a historic opportunity to shift the Supreme Court's ideological balance and harden Republican backing for a presidency under strain amid the Russia investigation, escalating trade tensions and a furor over his border policies.
"There is no single issue that motivates and unifies conservative voters more than the Supreme Court," said Doug Heye, a Republican strategist and a former spokesman for the Republican National Committee and House leadership. "The excitement already from conservatives is unanimous and palpable."
Trump's choice to replace retiring Justice Anthony Kennedy could produce the most conservative court in generations and provide the fifth vote needed to overturn the landmark 1973 Roe v. Wade abortion-rights ruling, a decades-long aspiration of the Republican Party.
Trump pledged to move forward on a nominee "as quickly as possible." He said he will choose from a list of candidates assembled during the presidential campaign and expanded to 25 last year. Senate Majority Leader Mitch McConnell said a confirmation vote will come in the fall.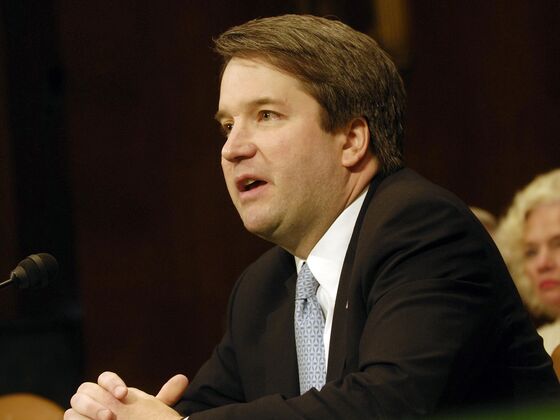 Washington-based federal appeals court judge Brett Kavanaugh, a former Kennedy law clerk with close ties to the retiring justice, is emerging as a top contender, said two U.S. officials familiar with the administration's thinking. Trump has also asked aides for their opinions on whether to select Mike Lee, a Republican senator from Utah and outspoken critic of abortion rights.
Democratic Senator Dianne Feinstein of California on Thursday expressed concern that Trump's pick could "throw into jeopardy" the Roe v. Wade decision, and echoed other Democrats in calling for the confirmation to take place after the November midterm elections.
"Women in this country have never been more galvanized," said Feinstein, pointing to the record number of women running for office and participating in marches.
Appointment of a reliable conservative jurist will have ramifications for many of the most polarizing issues in American politics, including gun rights, Obamacare, voting access, race matters and labor regulations.
"If the nominee is even relatively more conservative than Kennedy it could have cascading impacts," Jonathan Turley, a constitutional law professor at George Washington University Law School said Wednesday on Bloomberg Television. "Any justice who is further to the right from where he is standing now would be transformative. The question is going to be how fast the Senate can move this nomination."
The confirmation battle is certain to energize the Republicans just as special counsel Robert Mueller accelerates his investigation into potential collusion by Trump campaign officials with Russian meddling in the presidential election. Trump is on the verge of a crucial decision on whether to submit to an interview by Mueller's investigators or fight a possible subpoena.
Some Republican lawmakers are openly breaking with Trump on his tariffs and an escalating trade war that is provoking economic retaliation by foreign governments targeting Trump's rural political base. The public backlash against images of immigrant children taken from their parents under Trump's now-abandoned family separation policy has been stirring anxiety among lawmakers about to face re-election.
Democrats have little power to block Trump from moving forward with his nominee, though some have already argued that the seat should not be filled until after the November elections, echoing an argument McConnell made when he blocked consideration of President Barack Obama's final Supreme Court nominee.
Senator John Cornyn, the second-ranking Republican, dismissed the idea of delaying the confirmation process, saying it "ain't gonna happen."
In addition to Kavanaugh, Trump could also consider three federal judges he interviewed before selecting Neil Gorsuch to fill an earlier vacancy on the court: William Pryor of Alabama, Thomas Hardiman of Pennsylvania and Amul Thapar of Kentucky.
Other possibilities include federal appellate judges Raymond Kethledge of Michigan, who was considered for the Gorsuch seat but didn't get an interview, and Amy Coney Barrett of South Bend, Indiana.
All are on the list of 25 prospective justices the White House compiled with input from the conservative Federalist Society and Heritage Foundation.
"It will be somebody from that list," Trump told reporters in the White House Oval Office Wednesday. "So we have now boiled it down to about 25 people."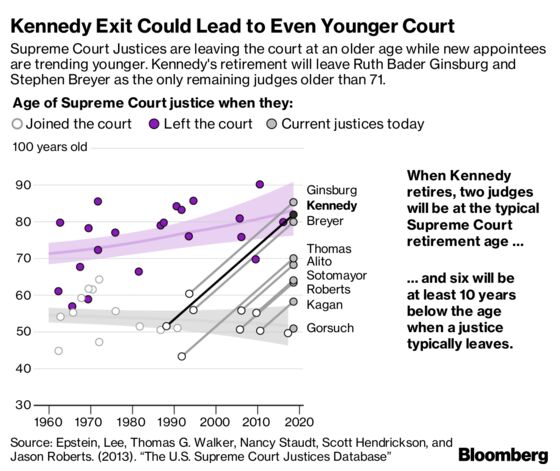 Republicans have a 51-vote majority in the Senate with elections in early November that could change the make-up of the chamber. Virtually all Republican Senators have supported Trump's lower-court selections and most have spoken favorably about the list of candidates.
"I don't think that the Democrats are going to be able to stop or slow this process if the majority doesn't want it to," Randy Barnett, a professor at Georgetown University Law Center, said Wednesday on Bloomberg Television. "I believe there is going to be an expeditious evaluation of whoever Donald Trump picks."
Kennedy's retirement announcement, which came just minutes after House Republicans failed to pass an immigration bill backed by Trump, offers an opportunity for the White House to reignite a stalled agenda in Congress.
"I expect the nominee to be like Justice Gorsuch," said Leonard Leo, a former vice president of the Federalist Society who has advised Trump on judicial nominations.
Republicans hailed Trump's pick of Gorsuch, highlighting his conservative record on the bench and his relative youth. He was 49 when Trump nominated him last year.
He has voted with the other conservative justices in a string of 5-4 decisions, including one this week upholding Trump's travel ban on citizens of several Muslim majority nations.
Gorsuch's appointment was made possible after McConnell refused to allow a vote on Obama's choice to fill the seat that was vacated in February 2016. McConnell cited the upcoming presidential election in deciding not to hold a vote.
Senate Minority Leader Chuck Schumer called on Republicans to hold off on a vote to fill Kennedy's seat until after the midterm elections in November.
"Our Republican colleagues in the Senate should follow the rule they set in 2016: Not to consider a Supreme Court justice in an election year," Schumer said Wednesday on the Senate floor. "Anything but that would be the absolute height of hypocrisy."