Nobody Knows What It Means to Be a U.K. Conservative Anymore
(Bloomberg) -- The U.K.'s ruling Tory Party is having an identity crisis.
Ever since Margaret Thatcher ripped up the rule book for London's financial markets in 1986, Conservatives have defined themselves as the tax-cutting, regulation-slashing allies of business, capitalism's praetorian guard.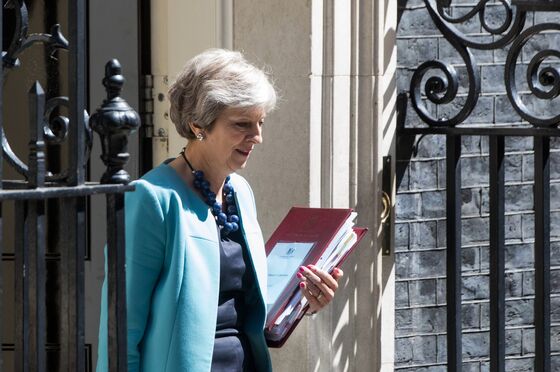 More than 30 years later, under a very different female prime minister, everything has changed.
Theresa May is now in a battle for the soul of Conservatism. Her ministers are publicly at war over the right approach to government spending on public services, and whether to ignore the concerns of businesses over Brexit.
"There are some ministers who should know better who have been saying business shouldn't speak out," said May's former cabinet colleague Nicky Morgan, now chairman of Parliament's Treasury Committee. "The Conservative Party is traditionally a pro-enterprise and pro-business party and we must not lose sight of that."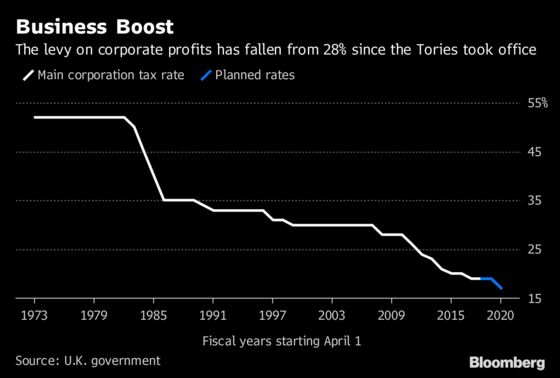 At stake is more than just the reputation of Tories as the natural party of business, but what kind of relationship the country can hope to have with the European Union if it can't even decide what the party now stands for.
Lacerated by internal conflict, May faces a struggle to convince company bosses that she cares enough about their priorities to negotiate a Brexit trade deal that will safeguard their operations.
On Tuesday, she was forced to defend her support for commerce after her Brexit-campaigning Foreign Secretary Boris Johnson was caught saying "f*** business" in private. At the same time, four high-profile ministers have been publicly bickering over whether tax rises would help or hinder the Tories at the next election.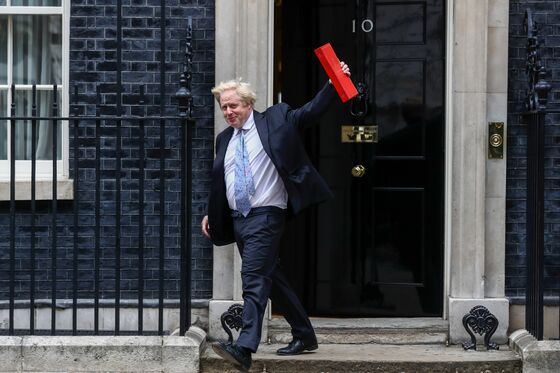 Whatever Cabinet ministers say, the tone is set at the top. Some of May's senior colleagues are privately amazed at how little empathy she has for the interests of business leaders.
She doesn't understand why CEOs of major companies would want to meet her, and will ask colleagues what she's supposed to say to them when there's nothing concrete to discuss, according to a person familiar with the matter.
May's approach stems from the way she chose to interpret the 2016 vote to leave the EU. By a margin of 52 percent to 48 percent, voters rejected the received wisdom of the establishment that economic and business interests must always take top priority.
Instead, the premier believes the public voted to control immigration, to restore lawmaking power to the U.K. and to protest more broadly that the economy isn't working for too many people, in too many regions of the country outside London. Brexit was, May believes, a cry of complaint from ordinary working people directed at the rich, ruling elites.
That referendum has reshaped British politics, and is forcing Tories to radically reassess their political mission.
"Brexit sucks the life out of everything," Conservative former minister Ed Vaizey told the BBC on Wednesday. "The Tory Party is sort of marking time before we get a clear and final conclusion to what Brexit is going to look like."
If the Brexit vote wasn't evidence enough that the public wants a change of course, May's disastrous gamble on an early election last year showed how tired voters are after almost a decade of austerity. The high tax, high spending socialism of the Labour Party under Jeremy Corbyn proved far more popular than May imagined it would, erasing her 25-point poll lead and wiping out her majority in Parliament.
May is now willing to put up taxes to pay for better public services such as health care, with further significant spending cuts no longer seen as an option.
"They don't seem to be able to maintain that fiction that they're a tax-cutting party anymore," Matthew Francis, who teaches political history at the University of Birmingham, said in a phone interview. "Whether it be Brexit or the need to fund the NHS for electoral purposes, the party is being forced to step away from some of the tenets of 1980s Conservatism."
Stories of services at breaking point feature almost daily in British newspapers, and the government's own fiscal watchdog warned last year that long-term tax rises or spending cuts of over 80 billion pounds ($105 billion), or 4 percent of GDP, will be needed to keep the public finances on a sustainable path.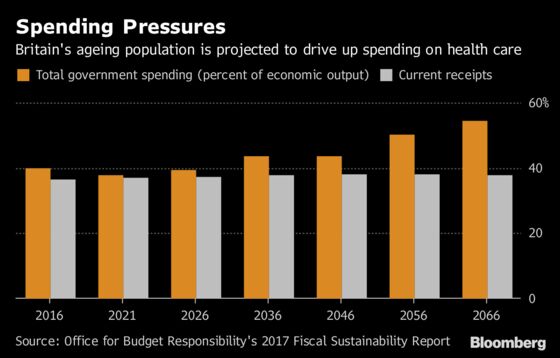 But May's new-found fiscal flexibility has further split her cabinet, which is already divided over Brexit.
After she announced earlier this month that tax rises would be needed to fund a 20 billion-pound annual boost to the National Health Service, both Gavin Williamson, the defense secretary, and Home Secretary Sajid Javid reportedly asked for money for their their departments too. That led to Elizabeth Truss, the chief secretary to the Treasury, warning Tuesday that increases in taxes and public spending would be un-Conservative and lead to "higher and higher taxes."
"It's not macho just to demand more money," Truss said, in a thinly veiled slapdown to the defense secretary. "It's much tougher to demand better value and challenge the blob of vested interests within your department."
Taxing and spending more is indeed alien to many Tories, who last year forced Chancellor of the Exchequer Philip Hammond to abandon plans to increase taxes on the self employed. Even when the financial crisis drove the fiscal deficit up to levels not seen in British peacetime, the Conservatives largely shied away from sweeping revenue-raising budgets and instead opted for myriad minor tax increases or raids on banks, the wealthy and high-value properties.
At around 34 percent of gross domestic product, the burden of taxation is now at its highest since the early 1980s and there is little appetite on the right of the Tory party to increase it further, particularly if it means ripping up election pledges to cut the levy on corporate profits and further increase the amount people can earn before paying income tax.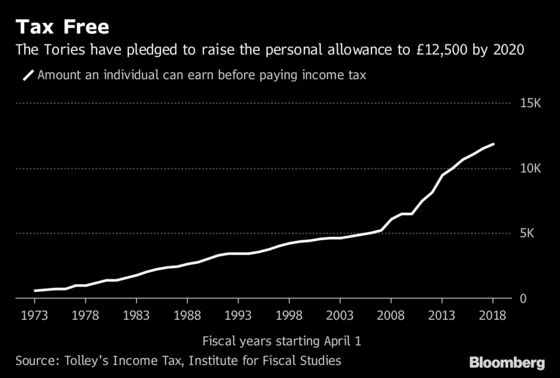 But the idea that it's deep in the Tories' DNA to side with businesses is eroding. On Tuesday, the foreign secretary tried to laugh off his expletive comments on business, which had fueled fears that ministers aren't listening to corporate demands for a smooth exit from the EU and that the U.K. could end up leaving the bloc with no trade agreement in place.
Business Secretary Greg Clark backed the industry lobby in a blunt rebuke to Johnson, his cabinet colleague. At an event for senior executives in London on Tuesday, he said business leaders' concerns over Brexit "must continue to be heard, be respected, and to be acted upon."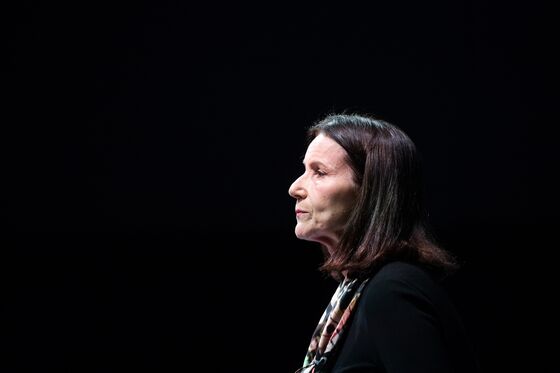 On Tuesday, London's Evening Standard newspaper, edited by former Conservative Chancellor George Osborne, splashed with the headline "Business Goes to War on Tories." Carolyn Fairbairn, the leader of the country's biggest lobby group, the Confederation of British Industry, said Cabinet ministers seem prepared to ignore their views in order to placate hardline brexiteers.
"Facts ignored today mean jobs lost tomorrow," she told a conference on Tuesday morning. "It is firms who employ people, understand business risk and have the best insight into how the U.K. can grow. Their evidence is not inconvenient, it is essential to avoid an ideological approach to Brexit that could harm British prosperity."
The CBI and the European umbrella group BusinessEurope will join forces with unions on Wednesday to call for faster progress on Brexit and to protect the integrity of the EU's bloc's single market. In recent days, Airbus and BMW have warned they may have to back away from the U.K. if Brexit causes production delays.
There is one group that's enjoying the Tories' identity crisis: the Labour opposition. "Time is running out," said Rebecca Long Bailey, Labour's shadow business secretary. "Businesses, consumers and workers need certainty, not endless chaos, egos and melodrama. The government must put an end to the deadlock which is paralyzing our country and our economy."