Murphy Offers New Jersey Lawmakers Compromises on Tax Increases
(Bloomberg) -- Governor Phil Murphy has offered a compromise New Jersey budget that includes lawmakers' proposed corporate-tax surcharge and a smaller millionaire's tax than he had originally sought.
Murphy, a Democrat who took office in January, also offered to phase in an increase in the sales-tax rate to 7 percent over two years, rather than immediately. The governor said he would accept several other legislative proposals, including a one-time tax-amnesty program, restoration of homestead-rebate funding and $195 million in savings.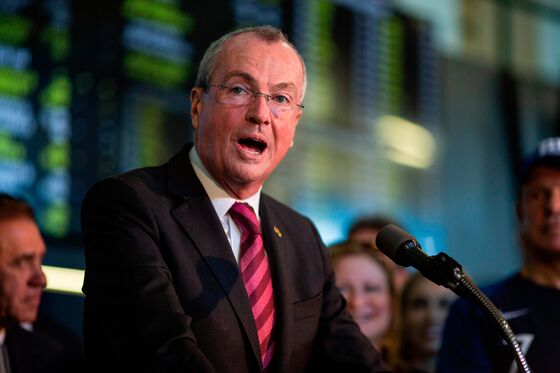 "I believe this compromise fairly balances our mutual concerns while strengthening our fiscal foundation," Murphy said Tuesday in a letter to lawmakers.
Senate President Stephen Sweeney and Assembly Speaker Craig Coughlin are reviewing the proposal, "along with other options we are evaluating," according to a joint statement sent Tuesday night.
The governor and lawmakers must pass a balanced budget by the July 1 start of fiscal 2019 or risk a state government shutdown.
Democrats who control both houses of the legislature have balked at the extent of the tax increases in Murphy's first budget. The governor had proposed raising the income-tax rate on millionaires to 10.75 percent from 8.97 percent. His compromise includes a "modest increase" in the tax rate, according to his letter, which didn't provide more specifics.
Murphy also said he would accept a corporate business-tax surcharge that would "be in place on a recurring basis to stabilize our finances," and was smaller then the one lawmakers had proposed. Legislation sponsored by Sweeney would levy a two-year surcharge to raise the overall tax rate for the biggest corporations to 13 percent, higher than any other state.