Merkel Says 'All of Us Are Very Sad' About Germany's World Cup Loss
(Bloomberg) -- Chancellor Angela Merkel said "all of us are very sad" about Germany's elimination from the World Cup, unexpectedly turning a conversation about artificial intelligence into an exchange on soccer with a talking robot.
At a discussion of ethics and robotics two hours after the national team's defeat on Wednesday, the programmed voice machine on stage tried to make the best of it, mentioning Germany's long record of championship wins.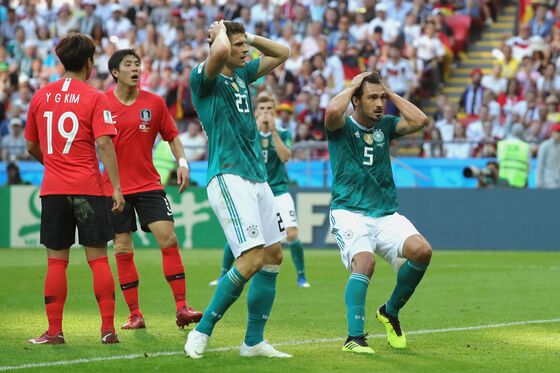 Merkel said this was true over a long time span, but added: "Honestly, all of us are very sad tonight."
Returning to the topic at hand, Merkel said Germany needs to retain "strategic capabilities" such as battery production and artificial intelligence. The country also needs more "disruptive thinking" on technology to compete globally, she told the audience in Berlin.