Merkel's Downfall Not Our Goal, Immigration Rebel Says
(Bloomberg) -- The leader of Angela Merkel's Bavarian allies denied he or his CSU party want to bring down the German chancellor due to a disagreement over immigration policy and said both sides are actively seeking a resolution.
CSU head Horst Seehofer, who also serves as interior minister in Merkel's cabinet, has taken a hard line on immigration ahead of an October regional election in the southern state and has given Merkel a weekend deadline to tighten border controls.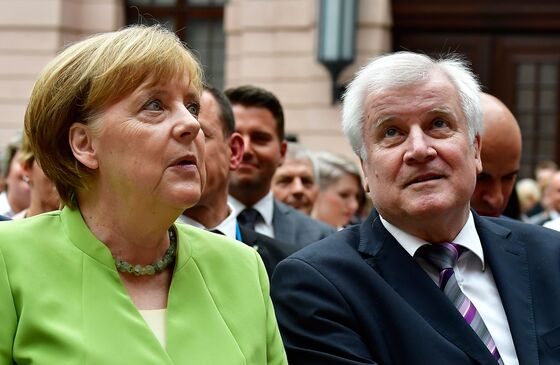 Merkel will attempt to persuade European Union partners to agree measures to boost security at the bloc's outer limits at a summit in Brussels starting Thursday. But the conflict in Berlin threatens to end the long-standing alliance between the CSU and Merkel's Christian Democrats and imperils their three-month-old coalition government with the Social Democrats.
"I know of nobody in my party who either wants to endanger the government, end the parliamentary group alliance with the CDU or bring down the chancellor," Seehofer said in an interview on ARD television on Wednesday.
"That's absolutely not the concern," he added. "The concern is to formulate a migration policy for the future that can cope with the pressure on the EU's external borders, so we can say to people that we have this under control."
Seehofer has pledged to use his powers as interior minister to send back some asylum seekers at Germany's borders if Merkel doesn't broker deals with EU partners by the end of this month.
"If Angela Merkel manages that, then believe me I will be pleased," said Seehofer, adding that he was in regular contact with the chancellor and shared her desire for a joint European solution rather than unilateral action. "The situation is urgent, we have been talking about it already for three years."
Merkel, however, rejects Seehofer's border proposal, raising the prospect of a split with the CSU that could leave her without a majority in parliament.
Seehofer said he would likely discuss the EU summit outcome with Merkel on Saturday before the CDU and CSU leadership hold separate meetings Sunday. He declined to speculate on whether the immigration dispute might lead to the collapse of the coalition.
"We are talking to each other, we are looking for solutions," he said. "It could be that decisions are taken Sunday. But I say again that I am very optimistic that we will resolve it. I cannot guarantee it today but the firm desire is there."