Indonesia's Provincial Elections Point to Second Term for Jokowi
(Bloomberg) -- Indonesian President Joko Widodo's allies led in key provincial races in elections held across the country on Wednesday, giving him a major boost before the presidential vote next year.
Polls were held in 171 regions that collectively hold more than 152 million registered voters across Southeast Asia's biggest economy. Analysts were particularly watching the results in Java, home to more than half of Indonesia's population, to gauge whether Widodo would face a tough re-election fight. Official results are expected to be announced July 9.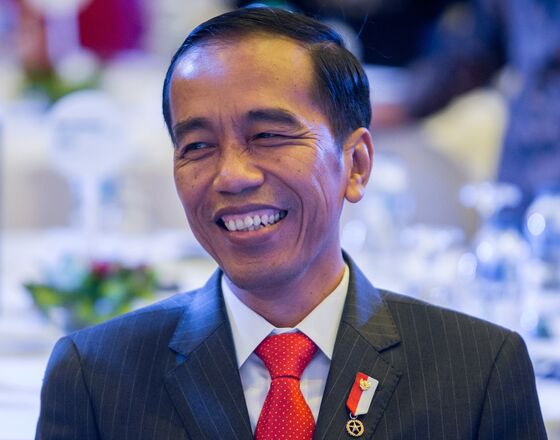 Early counting showed West Java, which alone has more voters than the combined populations of Australia and Singapore, was likely to be won by Ridwan Kamil, the popular mayor of Bandung who has voiced support for Widodo, known by the nickname Jokowi.
As the country's biggest electorate, which also has its highest jobless rate, the result in West Java will be seen as an assessment of Widodo's economic performance, including a promise to tackle inequality and develop the archipelago. While the Indonesian economy is growing at about 5 percent, that's still well short of the 7 percent Widodo promised when he came into office almost four years ago.
The reform program implemented by the president has helped secure sovereign rating upgrades and much-needed foreign investment, yet questions have been raised over his commitment to that agenda. A series of measures announced in recent months aimed at keeping the cost of living in check have prompted criticisms that he may be putting populism first and the nation's long-term development at risk in a bid to win a second term.
A strong showing Wednesday by candidates for Gerindra, the main opposition party, would have likely provided a boost to Prabowo Subianto, the former general who lost to Jokowi in the 2014 presidential election, and who is set to run again. The provinces of East Java, Central Java as well as North Sumatra are regarded as the other key races.
Unofficial tallies showed the major provinces of Central Java and East Java were set to deliver results favorable to Widodo.
In Central Java, Ganjar Pranowo, a member of Widodo's Indonesian Democratic Party of Struggle, or PDI-P, was on course for a strong victory. Khofifah Indar Parawansa, who is backed by several parties in Widodo's ruling coalition as well as the Democrat Party run by former President Susilo Bambang Yudhoyono, was set to take East Java.