Left-Wing Challenger Takes Out Top Democrat in New York Primary
(Bloomberg) -- A top member of the House Democratic leadership was blindsided by a New York City primary loss at the hands of a fresh-faced candidate who raised one-tenth as much money and now becomes a standard-bearer in the ongoing struggle over the party's identity.
The stunning victory by 28-year-old Alexandria Ocasio-Cortez Tuesday over longtime Representative Joe Crowley, 56, once seen as a potential House speaker, resulted from a rift between the party's old guard and a new, more liberal generation. It came in a district covering Queens and part of the Bronx that exemplifies the country's changing demographics.
"I look forward to working towards a takeback of the House on a strong platform of economic, social, and racial justice for working class New Yorkers & Americans," Ocasio-Cortez wrote on Twitter after prevailing in the primary.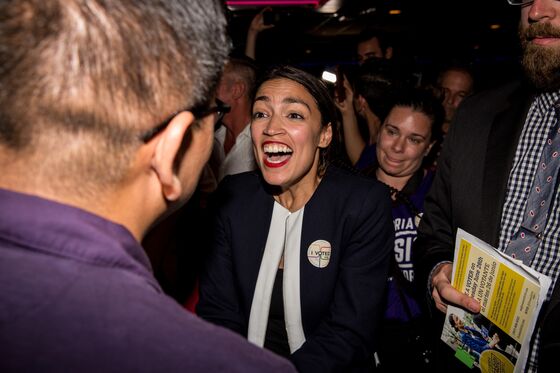 President Donald Trump continued to show commanding influence over Republican primary voters and cheered many of the outcomes. Candidates he backed won contests in South Carolina and on Staten Island, where Republican Representative Dan Donovan decisively beat back a challenge from former congressman and ex-convict Michael Grimm.
The president reveled in the defeat of Crowley, a frequent critic.
"Big Trump Hater Congressman Joe Crowley, who many expected was going to take Nancy Pelosi's place, just LOST his primary election," Trump tweeted from the White House Tuesday night. "Perhaps he should have been nicer, and more respectful, to his President!"
New York was one of seven states holding primaries or runoffs Tuesday, the last round of primaries before August. In one of the other high-profile races, former Massachusetts Governor Mitt Romney, the Republican Party's 2012 presidential nominee and a periodic Trump critic, easily won the GOP nomination for U.S. Senate in Utah and is the overwhelming favorite to win the seat now held by retiring Senator Orrin Hatch.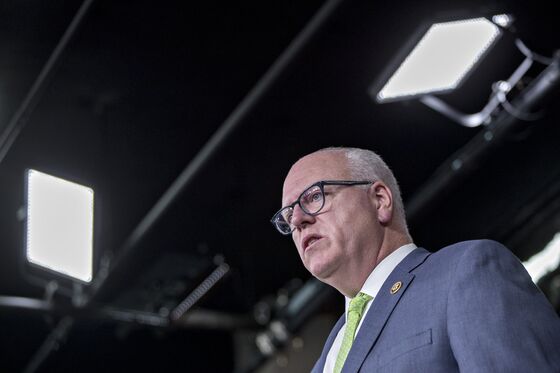 Ocasio-Cortez, who was an organizer for the 2016 presidential campaign of Senator Bernie Sanders and identifies as a Democratic socialist, generally fits the profile of the record number of female candidates who've surged into House and Senate races this year, a majority of them as Democrats.
She grew up in the Bronx, the daughter of a small business owner and a housekeeper, and graduated from Boston University. She has worked as a waitress, bartender and as educational director for the National Hispanic Institute.
Ocasio-Cortez has never held elective office and was heavily outspent by Crowley, who hadn't before faced a serious challenge since his first election in 1998. With 98 percent of precincts counted, she had 57.5 percent of the vote to Crowley's 42.5 percent.
Crowley also ran unopposed under the banner of a minor party, meaning he could still appear on the November ballot. But in a statement Tuesday night, Crowley said he would support Ocasio-Cortez and other Democratic candidates in November for the sake of party unity.
"The Trump administration is a threat to everything we stand for here in Queens and the Bronx, and if we don't win back the House this November, we will lose the nation we love," Crowley said. "We will only be able to stop Donald Trump and the Republican Congress by working together, as a united Democratic Party."
Crowley faced questions about whether he neglected his home district as he pursued party power in Washington. That same perception factored into the 2014 Republican primary loss in Virginia of then-Majority Leader Eric Cantor.
The New York Times chided Crowley for focusing too much on his role as the fourth-ranking member of Democratic leadership in the House and not enough on campaigning in the district. After Crowley skipped two of three planned debates, the newspaper's editorial board warned him not to take voters for granted.
"His seat is not his entitlement," the editorial board wrote June 19. "He'd better hope that voters don't react to his snubs by sending someone else to do the job."
One House Democrat said Crowley's defeat signified that voters were looking for fresh leadership among Democrats in Congress. Democratic Minority Leader Nancy Pelosi, who would like to once again hold the speaker's gavel, has been fighting off challenges to her leadership for much of the year.
She praised Crowley for bringing "principled, unifying and forward looking leadership" to the caucus as she congratulated Ocasio-Cortez. "I salute Chairman Crowley for a formidable legacy of achievement for the people of New York," she said in a statement.
In a district where the Census Bureau estimates that 45 percent of residents were born outside the U.S., Ocasio-Cortez made immigration and Latino representation a campaign centerpiece. She seeks to abolish Immigration and Customs Enforcement and joined a protest outside a Texas detention center the weekend before the primary.
Most of New York's institutional support, including both state senators and 20 unions, backed Crowley. Ocasio-Cortez was endorsed by the New York City Democratic Socialists and several liberal groups, including MoveOn and the Sanders-aligned Our Revolution. Crowley raised $3.3 million to her $312,000 through June 6, Federal Election Commission records show.
If elected in November from the heavily-Democratic district, Ocasio-Cortez would be one of the youngest members of Congress, as well as the first woman and first Latina to represent the district.
"She demonstrated once again what progressive grassroots politics can do," Sanders said in a statement.
The primary season has been full of hits and misses for Sanders and Our Revolution, the group carrying on the ideals of his 2016 campaign. During last month's primaries in Pennsylvania, Sanders endorsed pastor Greg Edwards, who lost, and former nonprofit executive Jess King, who won. And in Iowa, former Sanders campaign staffer Pete D'Alessandro came in third place in his Des Moines-area district despite the senator appearing in an ad backing him.
Donovan's victory in the GOP primary on Staten Island was another win for Trump. Grimm, who served seven months in prison, had given up the seat after pleading guilty to a felony tax charge. But he ran as the true Trump loyalist in the race, despite the president's endorsement of Donovan.
Donovan will face the Democratic nominee, Army veteran Max Rose. Democrats and Republicans said Rose's chances of a November victory would have been higher had Grimm defeated Donovan.
Trump also was successful in picking a winning candidate in South Carolina, where Governor Henry McMaster won a Republican primary run-off. Trump traveled to the state Monday to bolster McMaster, who was the nation's first statewide elected official to endorse Trump in 2016.
For progressives, Tuesday was the high point in their 2018 efforts to challenge more moderate candidates backed by the party's establishment. While progressives have scored some upsets -- notably nonprofit executive Kara Eastman's surprise win in Nebraska last month against former representative and conservative Democrat Brad Ashford -- they'd previously not toppled anyone as entrenched as Crowley.
In the Syracuse area of upstate New York, progressive activist Dana Balter defeated Navy veteran Juanita Perez Williams, who filed to run days before the April deadline with the encouragement of the House Democratic campaign arm and was part of the party's "Red to Blue" list of preferred candidates. Balter, who had been running for several months and gained the endorsement of local county parties, attacked Perez Williams in an ad over her past views on abortion rights.