Czech Billionaire's Cabinet Takes Over After Feud With President
(Bloomberg) -- The government of Czech Prime Minister Andrej Babis took office on Wednesday, a move that brings the country to the cusp of ending a political stalemate eight months after elections.
Cabinet appointments by President Milos Zeman put billionaire Babis at the helm on a second try after the first attempt failed when his single-party administration didn't win confirmation from lawmakers in January. When most mainstream parties shunned the second-richest Czech because of a fraud probe, Babis's ANO party teamed up with the Social Democrats. Their government is now expected to face a parliamentary confidence vote on July 11.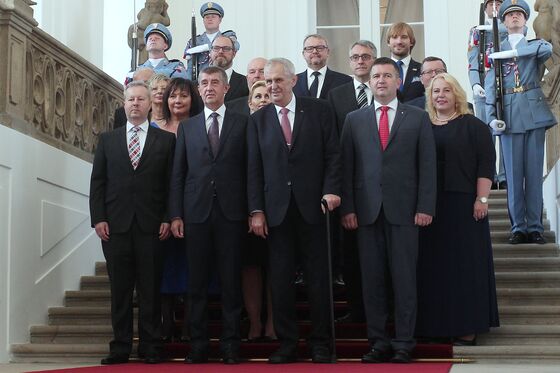 The minority ruling coalition wants to rely on tacit backing from the Communists, who are looking to formally approve the plan later this week. Babis's opponents criticized his decision to give the heirs of the country's former totalitarian rulers the biggest sway over politics since the fall of the Iron Curtain nearly three decades ago.
The naming ceremony at the Prague Castle, the seat of the Czech presidency, followed a clash between the Social Democrats and the head of state as he refused to appoint their nominee for foreign minister. The rift underscored efforts by Zeman, who shares anti-migrant views with Babis and is a vocal supporter of Russian leader Vladimir Putin, to carve out a stronger role for the traditionally ceremonial presidency.
"Zeman made a significant effort to try to influence the government's makeup," said Josef Mlejnek, a political scientist at Charles University in Prague. "There is pressure from the Castle on the foreign-policy orientation."
Read more about the government's economic platform
While Babis included the Social Democrats' candidate for the post of foreign minister, Zeman said he couldn't agree to the pick -- European Parliament member Miroslav Poche -- because he had supported the European Union's compulsory quotas for accepting refugees. Social Democrat leader Jan Hamacek assumed the position on a temporary basis.
Babis, a former finance minister who built his popularity by deriding the political establishment and pledging to root out corruption, has promised to boost pensions and teachers' salaries. He also wants to accelerate road construction while still maintaining one of the lowest debt levels in the EU. His ANO party and the Social Democrats ruled together as coalition partners until October 2017 elections.
The Social Democrats are joining the cabinet despite their earlier objections to ruling with Babis while he is facing accusations that one of his companies illegally obtained EU subsidies. He denies wrongdoing and says the allegations were fabricated by his rivals to force him out of politics.