Anthony Kennedy, Swing Vote on U.S. Supreme Court, Will Retire
(Bloomberg) -- U.S. Supreme Court Justice Anthony Kennedy announced he will retire, letting President Donald Trump nominate a successor who could create the most conservative court in generations and put the landmark Roe v. Wade abortion-rights ruling at risk.
Kennedy, an 81-year-old Ronald Reagan appointee, has been the court's pivotal vote for the last decade, joining liberal justices to legalize gay marriage and voting with conservatives to throw out campaign-finance restrictions.
"Please permit me by this letter to express my profound gratitude for having had the privilege to seek in each case how best to know, interpret and defend the Constitution and the laws that must always conform to its mandates and promises," Kennedy said in a letter to Trump. The court said Kennedy told his colleagues of his decision Wednesday and that he will retire effective July 31.
By naming his successor, Trump could leave an enduring mark on the court, giving it a solid five-justice conservative majority. The court could shift to the right on the death penalty, racial discrimination and gay rights, all areas where Kennedy at least sometimes joined the court's liberal wing. Chief Justice John Roberts may now become the swing vote.
Kennedy is "a very spectacular man," Trump said at the White House. The president said he'll begin the search for a replacement immediately, adding that he has an "excellent list" of talented and "hopefully tremendous people."
The Senate will vote to confirm Kennedy's successor in the fall, Majority Leader Mitch McConnell of Kentucky said. Senate Judiciary Chairman Chuck Grassley of Iowa said he looks forward to hearings "in the weeks ahead."
Washington-based federal appeals court judge Brett Kavanaugh, a former Kennedy law clerk with close ties to the retiring justice, is a top contender, according to two U.S. officials who spoke on condition of anonymity.
Trump could also consider three federal judges he interviewed before selecting Neil Gorsuch to fill an earlier vacancy: William Pryor of Alabama, Thomas Hardiman of Pennsylvania and Amul Thapar of Kentucky.
Other possibilities include federal appellate judges Raymond Kethledge of Michigan, who was considered for the last Supreme Court appointment but didn't get an interview, and Amy Coney Barrett of Indiana.
All are on a list of 25 prospective justices the White House has developed with input from the conservative Federalist Society and Heritage Foundation.
Vice President Mike Pence said in an interview aboard Air Force Two during a South America trip that he expects Trump to appoint "another strong conservative" in the tradition of the late Justice Antonin Scalia.
Republicans hold a 51-49 advantage in the Senate, so they could approve Trump's nominee without any Democratic support as long as they don't lose more than one vote. In confirming Gorsuch, Republicans eliminated the 60-vote requirement to advance a Supreme Court nomination.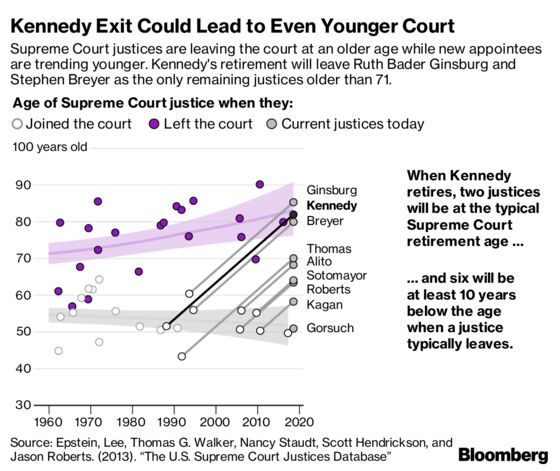 McConnell didn't say whether his goal is to complete a confirmation before the November election, and a spokesman declined to elaborate on timing. If Republicans lose the Senate, they would still have control of the chamber until January.
Gorsuch's nomination became possible because McConnell blocked former President Barack Obama's nomination of Merrick Garland to fill a vacancy in 2016. McConnell had said the winner of the presidential election should make the choice.
Senate Minority Leader Chuck Schumer of New York called on Republicans not to consider confirmation during this election year. "Millions of people are just months away from determining the senators who should vote to confirm or reject the president's nominee," he said.
"The Senate should reject on a bipartisan basis any justice who would overturn Roe v. Wade or undermine key health-care protections," Schumer said.
Kennedy's position in the court's center guarantees a fierce confirmation fight. Trump vowed during the campaign to appoint justices who would vote to overturn Roe, the 1973 ruling that legalized abortion nationwide, and his appointment to replace Kennedy could make that a reality.
"The right to access abortion in this country is on the line," Dawn Laguens, executive vice president of the Planned Parenthood Federation of America, said in a statement.
In addition to Gorsuch, the court has three members -- Roberts and Justices Samuel Alito and Clarence Thomas -- who have consistently voted to uphold abortion restrictions. All are Republican appointees.
Kennedy voted this week with a 5-4 conservative majority to uphold Trump's travel ban as a legitimate move to protect national security, rejecting arguments that the president targeted Muslims.
Kennedy joined the court in 1988 and replaced the previous swing vote, Justice Lewis Powell. The California native got the nod after Reagan's first two choices, Robert Bork and Douglas Ginsburg, failed to win confirmation. Bork lost a Senate vote after a divisive fight, and Ginsburg withdrew after the revelation he had smoked marijuana as a law professor.
Kennedy's centrist position meant he wrote some of the court's most important opinions. He disappointed conservatives in 1992, when he co-wrote an opinion reaffirming the constitutional right to abortion. Although he later backed some restrictions -- voting to uphold a federal ban on some late-term abortions -- he cast the decisive vote to strike down Texas regulations on clinics and doctors in 2016.
Kennedy became a champion of gay rights and wrote the 2015 ruling that legalized same-sex marriage nationwide, using the type of sweeping language that characterized his opinions.
"No longer may this liberty be denied," Kennedy wrote. "No union is more profound than marriage, for it embodies the highest ideals of love, fidelity, devotion, sacrifice and family."
Kennedy also wrote the 2010 Citizens United ruling, which opened the way for a torrent of new campaign spending. He equated campaign-finance laws with censorship, writing that "the First Amendment confirms the freedom to think for ourselves."
He was the quintessential swing vote on racial issues. He joined the conservative wing to strike down a core provision of the Voting Rights Act in 2013 but voted with the court's liberals in 2016 to back university affirmative action programs.
Kennedy voted to overturn Obama's health-care law. He was one of five justices in the majority of the 2000 Bush v. Gore ruling, which sealed George W. Bush's election as president over Democrat Al Gore.
His departure puts the Supreme Court at a tipping point. Another Gorsuch-type nominee could create the most conservative court since the justices blocked a number of President Franklin D. Roosevelt's New Deal programs in the 1930s.
It could also create a lasting majority. Thomas, at 70, is the oldest of the court's remaining Republican appointees.