New York Voters to Settle Intra-Party Fights for November Ballot
(Bloomberg) -- New York voters on Tuesday will settle two of the more contentious intra-party battles of the congressional primary season with incumbent Republican Representative Dan Donovan under threat from a bid by his predecessor, and Democrat Joe Crowley facing his first
significant challenge in years.
The power of an endorsement from President Donald Trump will be tested in the New York GOP race, where he's backed Donovan, as well as in South Carolina, where Trump's preferred candidate, incumbent Governor Henry McMaster, was forced into a runoff for the Republican nomination.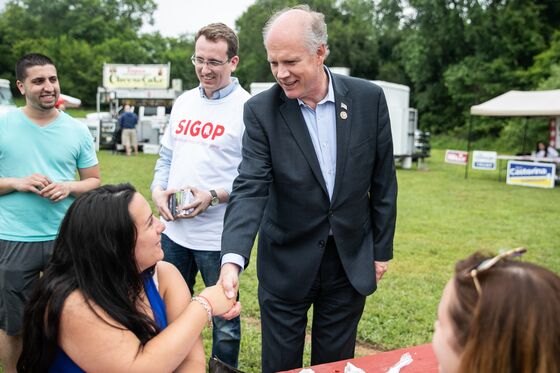 Trump campaigned for McMaster on Monday night
Another high-profile contest is taking place in Utah, where Mitt Romney, the former Massachusetts governor and 2012 Republican presidential nominee, is the overwhelming favorite to win the Republican nomination for Senate. That should clear his way to a likely victory in November in a state dominated by the Republican Party.
While Romney was an outspoken critic of Trump during much of the 2016 presidential campaign, he's since moderated his stance and accepted the president's endorsement in February. Romney said that while he would support the president when he agrees with him, he would still criticize him when necessary.
"I have and will continue to speak out when the president says or does something which is divisive, racist, sexist, anti-immigrant, dishonest or destructive to democratic institutions," Romney wrote in a Salt Lake Tribune op-ed posted Sunday.
Seven states are holding primaries or runoff contests Tuesday that could have an impact on which party controls the House after the November elections. Voters also are selecting candidates for November in Colorado, Maryland, Oklahoma and Mississippi. It will be the last roundup of major primaries until August.
Most of the attention will be focused on New York, where election forecasters have rated five Republican-held seats in the state as competitive, and three of those districts could tilt toward Democrats depending on who wins Tuesday. Democrats need to win a net of 23 seats to gain a majority in the House.
Donovan and Crowley both face primary challenges that have gained national attention and point to rifts in their parties.
The potential for the biggest upset of the night could unfold in the 11th Congressional District that includes Staten Island and part of Brooklyn. That's where former Representative Michael Grimm, who served seven months in federal prison for tax evasion in 2016, is trying to reclaim his old seat from Donovan, a former Staten Island district attorney who won a 2015 special election after Grimm resigned.
"I think it's going to be a tight race," said Representative Steve Stivers of Ohio, chairman of the House Republican campaign arm. "Dan Donovan's doing a great job but Michael Grimm is tenacious and works really hard, so it'll be a real race. I've seen polling that has it close."
Though Trump has endorsed Donovan and campaigned with him, Grimm has attempted to take on the Trump mantle. He has pointed to Donovan's moderate record, particularly his vote against the GOP tax law, as evidence that he's not loyal to the president.
"It's really hypocrisy because Michael Grimm is not the Trump candidate," said Republican Representative Peter King, a Long Island Republican who has endorsed Donovan and campaigned with him. "He's just trying to recreate himself."
A NY-1/Siena College poll conducted from May 29-31, around the time of Trump's May 30 tweet endorsing Donovan, found Grimm leading by 10 points. If Grimm wins the Republican nomination or runs as a third party candidate, it could create an opening for Army veteran Max Rose, the Democratic favorite in the race.
"There's a general consensus that if Dan Donovan does not win the seat that becomes a Democratic seat," King said.
In New York's 14th District in Queens and the Bronx, Crowley is facing one of his strongest primary challenges in years from Alexandria Ocasio-Cortez, a 28-year-old progressive and former organizer for Senator Bernie Sanders 2016 presidential campaign.
While Crowley is expected to prevail, the fact that he's facing an aggressive opponent after cruising to re-election since first winning the seat in 1998 highlights a divide within the Democratic Party, between the old guard and young activists.
The contest also has raised questions about how Crowley, who's often mentioned as a potential successor to House Democratic leader Nancy Pelosi, has balanced his party leadership ambitions with his commitment to the district.
After Crowley skipped two of three planned debates with Ocasio-Cortez, the New York Times Editorial Board warned Crowley not to take voters for granted.
"When asking New Yorkers for their vote, most candidates would begin by showing up," the editorial said. "Not Representative Joseph Crowley."
Freshman Representative Ro Khanna, a California Democrat, bolstered Ocasio-Cortez's campaign when he endorsed her after hearing from progressives. Khanna had previously announced his support for Crowley.
"As a son of immigrants, I feel strongly we need more millennials, women of color, and disenfranchised communities entering the political process," Khanna wrote on Twitter on June 13. "Competition is good, and the voters of NY-14 will only benefit from the spirited election."
The tension created by an anti-incumbent sentiment among some Democrats attempting to push the party to the left is evident in other Democratic races.
Representative Carolyn Maloney, whose district extends from Manhattan into Queens and Brooklyn, is battling a stronger than usual primary challenge, as is Representative Diana DeGette in Colorado.
In one upstate New York district, Democratic county groups originally rallied around progressive activist Dana Balter, but in April veteran Juanita Perez Williams entered the race at the urging of the national party, angering local organizers. The winner will face Republican Representative John Katko, a popular incumbent who won 61 percent of the vote in 2016 in a district Hillary Clinton won with 49 percent of the vote.
In Colorado, five-term incumbent Republican Representative Mike Coffman is preparing for a competitive race against fellow Army veteran Jason Crow, the likely winner of Tuesday's Democratic primary in a suburban Denver district.
The current turmoil over Trump's immigration policy will figure in the race. Coffman last week called on Trump to fire his chief adviser on immigration, Stephen Miller, and on Saturday he visited a detention center for migrant children in Tornillo, Texas.
Both Perez Williams and Crow are on the Democratic Congressional Campaign Committee's "Red-to-Blue" list for candidates the party says have a good chance of beating Republicans.