Erdogan's Nationalist Ally Publishes Media Hate-List After Vote
(Bloomberg) -- President Recep Tayyip Erdogan's nationalist ally, who's set to be a key power-broker in parliament after Sunday's election, published a list of opinion-formers he accused of discrediting his party "non-stop" before the vote.
Devlet Bahceli, leader of the Nationalist Movement Party or MHP, took out an advertisement in two of Turkey's most-read newspapers with the sarcastic headline "A Thank You Message." Under a huge picture of Bahceli, with a Turkish flag in the background, appeared a list of some 70 people. Pollsters and academics were on it, but most of those named were journalists -- including several who write for the papers that carried the ad.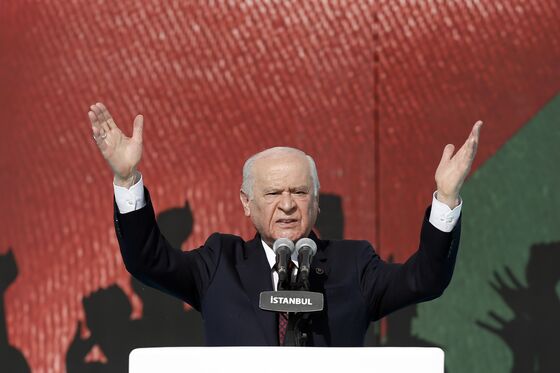 "I thank them for their countless slanders. I thank them for their shocking claims," Bahceli says in the advertisement. "We will never forget what they have done, what they have written, what they have destroyed."
The advertisement appeared in pro-government newspapers Hurriyet and Sabah. Many of the journalists named are known for their frequent articles in praise of Bahceli's election ally, Erdogan. Turkey had the world's highest number of journalists in jail last year, according to the Committee to Protect Journalists, and Erdogan's government has been widely criticized for suppressing freedom of the press.
Bahceli declined to run for president and asked his supporters to back Erdogan in that contest. In parliamentary balloting, his party did better than all pollsters forecast, winning 11 percent of the vote. That allowed Erdogan's alliance to secure control of the legislature -- but it also means that the president will be reliant on Bahceli's support for decrees that require a majority in parliament, giving the nationalist chief some leverage to pursue his own agenda.
Bahceli has called for an amnesty that would allow some of Turkey's most notorious mafia bosses to get out of jail.
Journalists responded to Bahceli's advertisement on social media. "Just so you know, I will keep opposing your insistence on a general amnesty as much as the power of my pen permits," Haberturk writer Sevilay Yilman, whose name featured on the list, said via Twitter.
The alliance between former rivals Bahceli and Erdogan was cemented after a failed coup attempt against the president in 2016. The MHP's history stretches back almost half a century, and in the 1970s it was associated with political assassinations and street violence by far-right gangs, though under Bahceli it has shifted toward the mainstream.