Italian Bonds Slide as League's Post-Vote Support Solidifies
(Bloomberg) -- Italian bonds slumped after the League party continued its post-election bounce in a second round of municipal voting, while the market also braced for a pickup in supply.
Two-year yields briefly popped above one percent for the first time since June 14, with those on 10-year notes also surging. The anti-immigrant League and its traditional allies Forza Italia and Brothers of Italy won in the second round of local votes in most Italian cities holding elections, data on the Interior Ministry's website show. The appointment of two euroskeptic League advisers to parliamentary positions rattled investors last week.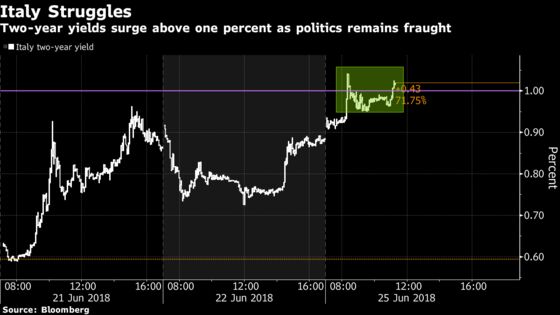 "The strong League result in the municipal elections in Italy reflects that fundamentally these political drivers of wider spreads remain in the ascendancy," said Peter Chatwell, head of rates strategy at Mizuho International Plc. "This sell-off looks like more macro hedges being put on."
Italian two-year yields were 14 basis points up at 1.02 percent as of 11:14 a.m. London time, after surging as much as 16 basis points. Those on 10-year bonds climbed 13 basis points to 2.82 percent, while the spread over equivalent German yields climbed 14 basis points to 250 basis points. Italy's FTSE MIB stocks index fell 1.6 percent.
Cash trading in the country's notes was close to zero during the London morning session, according to one trader based in the capital, who asked not to be because the person is not authorized to speak publicly.
Italy will sell bonds on Tuesday, with details of a further sale on Thursday due to be released later on Monday. The last auction two weeks ago, a test of investor sentiment after populist parties formed a government, saw strong demand for most bonds.
A euro exit is not in the government program, but regaining monetary sovereignty would solve many of the country's problems, Claudio Borghi, the new head of the budget committee in the Italian lower house, said on Friday. European Union leaders are due to meet in Brussels for a summit on Thursday.
NOTE: Some information comes from rates traders familiar with the transactions who asked not to be identified because they are not authorized to speak publicly