Erdogan - the World's Newest Strongman
Recep Tayyip Erdogan has officially joined the world's strongman club.
Championing the type of political and economic nationalism in vogue from Moscow to Beijing – even Washington – Erdogan, modern Turkey's longest-serving ruler, cruised to an election victory yesterday and now wields sweeping new powers.
The massive opposition demonstrations in the days preceding the vote ended up providing compelling political theater but little at the ballot box. His main opponent conceded defeat but said it wasn't a fair race – citing a state of emergency in force since a failed coup in 2016, and with the president dominating the airwaves.
With virtually no checks on Erdogan's control, and the loser showing no signs of trying to rally fresh protests, his primary task will be to fix a once-booming economy on the verge of a bust: a plunging currency, accelerating inflation and capital flight. The lira rallied on easing political uncertainty.
There's plenty at stake: control of immigration into Europe, cooperation with NATO and security in Syria and Iraq. With Turkey's bid for EU membership in the deep freeze, Erdogan has been cozying up to a leader who's perfected the art of one-man rule – Vladimir Putin.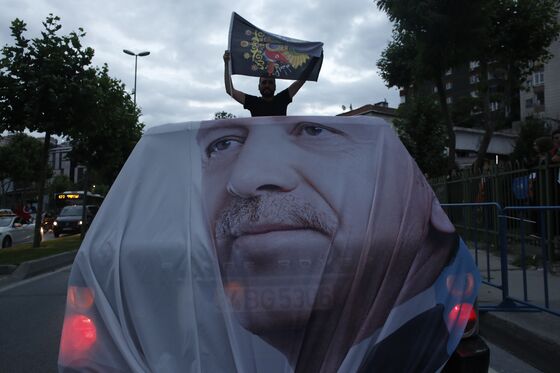 Escalating rhetoric | Donald Trump ratcheted up his demands on immigration yesterday, saying that people who "invade" the U.S. illegally should be deported immediately without any judicial process. The president's family separation policy is just the latest example of an issue on which Republicans are questioning whether Trump is a leader they can trust.
Point of no return? | The U.S. Treasury Department is planning to heighten scrutiny of Chinese investments in sensitive industries under an emergency law, Saleha Mohsin and Jenny Leonard report, putting Trump's trade war with Beijing on a potentially irreversible course. The plan is the next step in a high-stakes game of chicken that Chinese and European officials warn today could trigger a global recession.  
Anti-immigrant message | Italian Deputy Prime Minister Matteo Salvini's hard-line approach to stopping an influx of migrants won the endorsement of voters in municipal elections yesterday. His party, the League, and its center-right allies captured most cities, including traditionally left-wing places like Siena and Pisa.
Mideast peace | Trump plans to publicly release a Middle East peace plan soon even though the U.S. has ceased communication with Palestinian leaders, his adviser and son-in-law Jared Kushner said yesterday. On Saturday, a top Palestinian official accused the U.S. of trying to overthrow Palestinian Authority President Mahmoud Abbas and his limited self-rule government.
Mahathir pushes back | He's taking shots at both the U.S. and China and seeking to renegotiate a longstanding water supply agreement with Singapore. Malaysian leader Mahathir Mohamad's muscular foreign policy approach is in stark contrast to his predecessor Najib Razak, who golfed with U.S. presidents and described himself as a "true friend" of Beijing.
And finally … Saturday marked two years since the U.K. held a historic referendum on EU membership. Whether on couches in London or at trading desks in Chicago, people watching Sky or reading headlines had every reason to think Remain would prevail. But not quite everyone. Bloomberg spent seven months talking to polling-company executives, consultants and traders for this inside story on what was one of the most profitable days of their industry.