Erdogan's Victory in Turkey Comes With Strings Attached
(Bloomberg) -- Turkish President Recep Tayyip Erdogan can thank his nationalist ally for his re-election. His reliance on the party, which shares his antagonism toward the West, didn't end with Sunday's win.
Erdogan secured a mandate to govern with sweeping new powers, winning an unofficial 52 percent of the vote. But his AK Party failed to win a majority in the parliamentary elections that were also held on Sunday, unexpectedly receiving 7 percentage points fewer votes than in the November 2015 balloting. That means he needs his nationalist MHP partner to push through laws.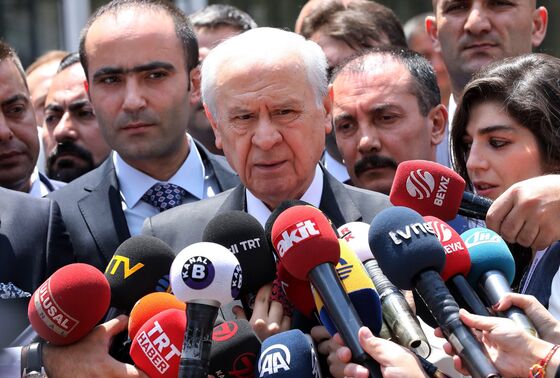 The AKP "is now dependent on the largely secular/nationalist MHP," said Bluebay Asset Management strategist Timothy Ash in an emailed note. "Its leader Devlet Bahceli will exert disproportionate influence, and Erdogan will have to tread carefully."
The alliance will do little to repair NATO member Turkey's strained ties with Western allies, which have rarely been worse. Both AKP and MHP draw their biggest support from pious Muslims in the Anatolia heartland, and their leaders harbor similar suspicions about the motives of Turkey's Western allies. The failed coup attempt in 2016, which the government blames on a U.S.-based Turkish cleric, Fethullah Gulen, only cemented their fears that Turkey is under attack from foes within and abroad.
"We got the message that our nation gave to our party at the ballot box," Erdogan said as he thanked Bahceli and his followers for their support. "These results mean that we will stand firm against anyone who casts an evil eye on our country, from terrorist organizations to global circles of interests."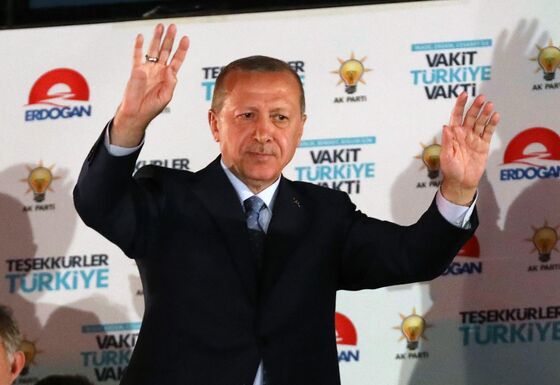 Erdogan called Sunday's snap elections after Bahceli urged bringing forward the vote from late 2019. Bahceli assured cooperation but said the results made MHP a "key party tasked with balancing and supervising."
Erdogan's AK Party amended electoral rules to enable the alliance with MHP. The changes allowed Bahceli to escape the humiliating possibility of falling below Turkey's 10 percent electoral threshold because the alliance's combined votes would determine whether individual parties enter parliament.
By offering such a carrot to a potentially struggling once-opposition figure, Erdogan managed to consolidate more than half of the voters in the nation of 80 million people, many of them feeling betrayed by traditional allies in the West, and favoring a strong leader to confront regional security threats. But MHP made a surprisingly strong showing in the parliamentary race and passed the election threshold, making it less indebted to the AKP, which polled weaker than expected.
AKP won 42.5 percent of the parliamentary vote, and MHP took more than 11 percent, according to unofficial results from state-run Anadolu Agency. The official tally is scheduled to be released on Friday.
The results "mean that we're closer to our goals in democracy and targets in the economy," Erdogan said Monday, even as Turkey's once-booming economy is faltering, in large part over investor concerns about his authoritarian tendencies and desire for greater influence over the central bank.
Under a state of emergency declared after the botched coup, the government has fired 110,000 civil servants it branded as Gulenist followers and jailed tens of thousands more. His vows earlier this year to tighten his grip on monetary policy sent the currency tumbling and capital fleeing.
Turkish markets reversed initial post-election gains on Monday, with the benchmark stock index down 0.4 percent at 2:28 p.m. in Istanbul after opening up almost 4 percent. The lira was also trading 0.4 percent lower at 4.6944 to the dollar after initially strengthening more than 3 percent.
Erdogan's re-election and the victory by the AKP-MHP alliance offer neither a credible solution to Turkey's immediate economic challenges nor to its frayed ties with the West, according to Wolfango Piccoli, co-president of Teneo Intelligence in London, a political-risk analysis firm.
"Although the state of emergency could be lifted in the weeks ahead, the purges against the 'internal enemies' will continue," Piccoli said in an emailed note. "Turkey will remain in a state of permanent socio-political malaise featuring high societal polarization and sustained repression."