Brexit Bulletin: Business vs the Conservatives
(Bloomberg) -- Today in Brexit: Relations between business and the Conservative government have gone from cool to openly frosty, and Bloomberg has a big story on how private pollsters helped hedge funds make millions from referendum night.
Companies have called time on the U.K. government's Brexit delaying. They've been supportive of Prime Minister Theresa May and reluctant to criticize, at least in part for fear of appearing anti-Brexit to their customers and workers. But two years on from the referendum, that has suddenly all changed.
The U.K.'s five main business lobbies wrote to May over the weekend urging her to make progress in the negotiations or risk losing jobs and investment. Following Airbus's watershed warning last week that it would have to reconsider U.K. investments if Britain walks away from the European Union without a deal, other companies have also spoken up. German automaker BMW, which employs thousands, said clarity on where Britain is headed is needed by the end of the summer or it will have to start making alternative plans.
Those in May's Cabinet fighting to keep ties as close to the bloc as possible will have welcomed the warnings, as evidence to back up their case. But Brexit supporters are outraged. Health Secretary Jeremy Hunt said on Sunday it was "completely inappropriate for business to be making these kinds of threats." Foreign Secretary Boris Johnson was reported to have used a surprising four-letter expletive to express his frustration with the concerns of business.
It's worth remembering just how unusual this is – the Conservatives have always been the party of business. Now we have the head of the Confederation of British Industry aggressively tweeting against the government's policies and statements. Paul Drechsler, the outgoing CBI president, has been urging other companies to speak up about the damage Brexit will cause. He had a go at Johnson and Hunt over the weekend. 
Businesses are taking a risk by speaking up. Brexit backers see the announcements as a rerun of Project Fear – the tools used by the Remain side in the referendum campaign to try to scare voters into keeping the status quo. The difference this time is that actions will follow words more immediately if companies don't get their way.
Brexit's Big Short: Private polls and Nigel Farage's timely concession on referendum night allowed hedge funds to cash in as the pound collapsed, Cam Simpson, Gavin Finch and Kit Chellel report.
A former minister says at least 50 Conservative lawmakers are prepared to stop Britain walking away from the EU without an exit deal, the Financial Times reports.
Open to Extension | Trade Secretary Liam Fox, a long-time Brexit backer, said on Sunday he could live with an extension to the transition period, which is now slated to run from exit day until the end of 2020. He said any extension would have to be time-limited and allow for Britain to leave it unilaterally. This is potentially significant: Officials in Brussels have already been talking about a possible extension, as have officials on the U.K. side. This is the first time a Brexit supporter signals that it could be tolerated.
Cutting Ties | European companies are reducing their U.K. investments. A study by Baker McKenzie shows that 46 percent of firms have cut investment in the U.K. since the Brexit vote. While 75 percent said the EU should make concessions to the U.K. to secure a better trade deal for their businesses, more than a third also wanted to see Britain punished.
Thousands March | Tens of thousands of anti-Brexit protesters marched in Westminster on Saturday, demanding another referendum on the final divorce deal. Guy Verhofsadt, the EU Parliament's Brexit coordinator, was very pleased.
One Word at a Time | How much progress have negotiators actually made? Ian Wishart has analyzed the agreement texts to show that in three months, negotiators have agreed on another 2,518 words out of a total of 49,049. That's 5 percent. Even that small step has been possible because the U.K. has accepted almost wholesale the EU's version from March, only tweaking language and adding legal clarifications in areas including value-added tax, nuclear material and the enforcement of judicial decisions.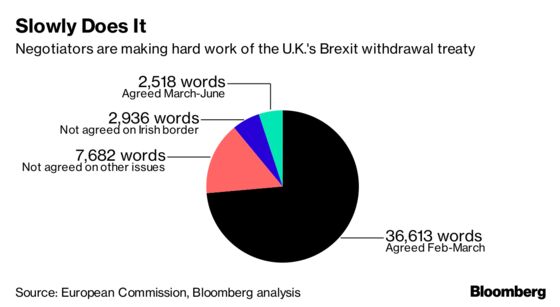 Fighting Brexit | A World War II British Army veteran is fighting Brexit with a case at the European Court of Justice, in which he argues that the EU's decision to start divorce talks was illegal because those living outside the U.K. for 15 years – including him – weren't allowed to vote in the historic referendum.
Why Feta Matters | One of the sticking points in divorce talks is whether Britain will continue to respect the EU's geography-related protected-status system that makes Champagne, feta and Parma ham exclusive to their regions. The Telegraph reports on Monday that Fox has written to Brexit Secretary David Davis telling him not to concede to EU demands that the U.K. continues to respect those rules as it could endanger a potential trade deal with the U.S. The U.K. is yet to set out its position on the matter, which is important to lots of EU members.
On the Markets | Sterling is on track for the worst quarter against the dollar since June 2016, the month of the referendum. It was down slightly early on Monday.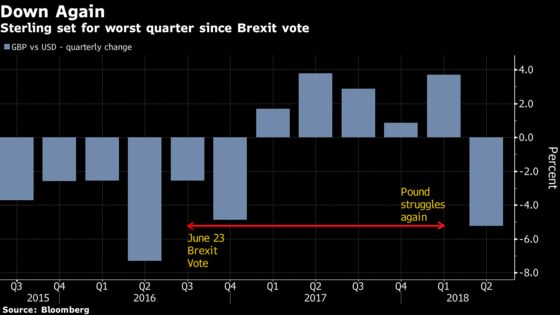 Coming Up | Northern Ireland Secretary Karen Bradley meets chief EU negotiator Michel Barnier. EU Council President Donald Tusk meets May in London at 5 p.m. ahead of the EU summit on Thursday.