Ethiopia Prime Minister Says Attack Won't Derail Reforms
(Bloomberg) -- Ethiopian Prime Minister Abiy Ahmed said a "well-orchestrated attack" that injured scores of people in the capital Addis Ababa has failed to sow discord as the country embarks on a series of political and economic reforms.
"Whoever is trying to darken our joy and love, dilute our unity, you will not succeed," Abiy said in comments televised by the Ethiopian Broadcasting Corp. following the explosion, which happened shortly after he addressed a crowd of supporters. "To those who tried to divide us, I want to tell you that you have not succeeded," he said, adding: "Love will win. forgiveness will win."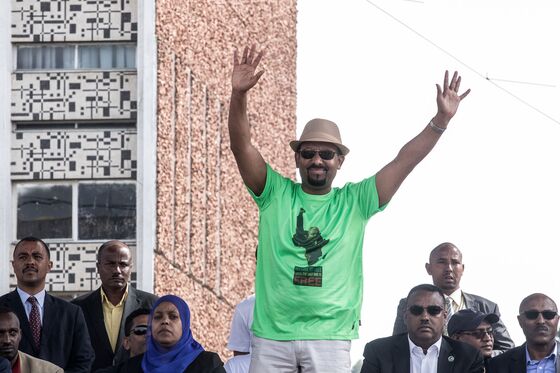 Fitsum Arega, Abiy's chief of staff, said no one died in the attack, contradicting earlier comments from the prime minister that a "few" people had perished in the blast. "As of now, based on reports from police and hospitals, 83 people are injured," Arega said on his Twitter account. "Of the 83 injured, 6 are in critical conditions. No death so far has been reported."
Since taking office about two months ago, Abiy, 42, has started implementing a peace deal agreed with Eritrea 18 years ago to end a border war that has killed almost 100,000 people. He has also accelerated long-awaited market reforms and lifted a state of emergency that followed the snap resignation of his predecessor, Hailemariam Desalegn.
Someone in the rally on Saturday, where tens of thousands had gathered in Meskel Square to support the prime minister, tried to throw a hand grenade at Abiy but was held back by others in the crowd, Associated Press reported, citing Seyoum Teshome, an organizer for the event. Three suspects, two men and a woman, were arrested, the news agency said.
The streets where the gathering had taken place are now mostly calm, the U.K. government said in a travel-advice notice.