Young Voters Chafe at Erdogan's Turkey, the Only One They Know
(Bloomberg) -- At a university cafe in Izmir on Turkey's Aegean coast, students wearing Islamic headscarves blend seamlessly into a larger group chatting and looking over lecture notes before a final exam later that day.
The scene was inconceivable before President Recep Tayyip Erdogan came to power 15 years ago. Headscarves were banned from campuses under Turkey's old secular rules. And Izmir, like many Turkish cities, has been visibly transformed by the Erdogan economic boom. Its streets are lined with high-rise office buildings, and jammed with European-made luxury sedans.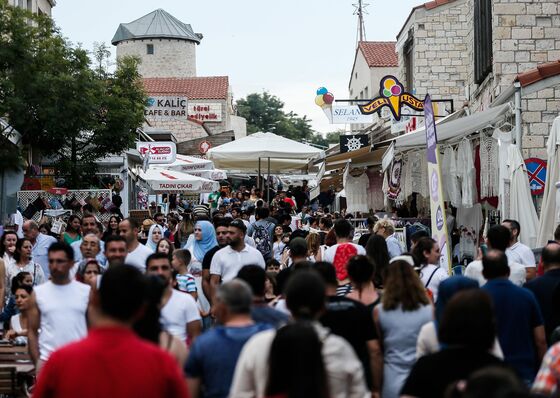 Erdogan is trumpeting those achievements as he seeks re-election on Sunday. But the president risks running into a demographic wall -- one reason why the upcoming vote could be the tightest he's faced. On the campaign trail, Erdogan likes to contrast the Turkey he inherited with the one he's built. For the country's youth, a rapidly growing chunk of the electorate, political memories just don't stretch back that far.
"We live in today's world," said Emel, wearing a green-and-yellow headscarf at the Ege University cafe. "I really don't care what economic problems there were so many years ago."
Her friend Burcu agrees: "We're so far behind the developed countries." And Ruya, who's also wearing a headscarf, says that for people like her, politics no longer revolves around the right to religious attire. She complains about high unemployment among graduates, and low pay for the few jobs available.
All three students asked to be identified by pseudonyms, so they don't get in trouble with college authorities -- and that's another beef they have with Erdogan's Turkey. If they were in America, the young women agreed, they'd be comfortable giving out their names. Turks can land in court or prison for criticizing the government. After a crackdown on dissent that followed a failed coup in 2016, about 70,000 students were in jail at the start of this year, according to the Justice Ministry.
To be sure, Izmir is an opposition stronghold. Crowds in their hundreds of thousands turned out there last night for a rally by the main opposition candidate, Muharrem Ince.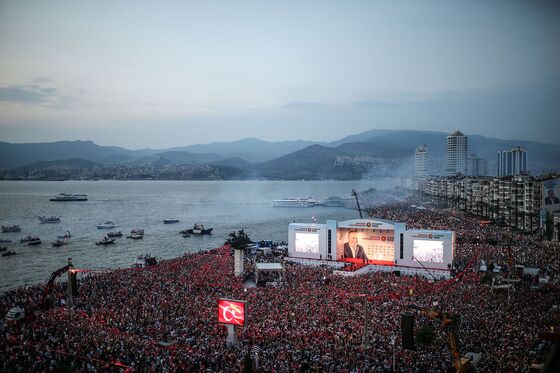 Erdogan remains the clear frontrunner in Sunday's presidential election. But most polls show him short of the 50 percent needed for a first-round win -- opening the way for a runoff in which an 'anyone-but-Erdogan' candidate stands a chance. The president's AK Party also risks losing its majority in the parliamentary vote the same day.
Students in Izmir are voicing doubts that are shared by their peer group nationwide. Only about a quarter of Turks below the age of 25 support Erdogan, according to Mert Yildiz, co-founder of the Istanbul-based political research company Foresight.
More than 1 million people reach the voting age of 18 every year. In Turkey as in other countries, that cohort is less inclined to turn up at the ballot box than older people.
Still, Erdogan's rivals have identified the youth vote as key to unseating him. The CHP, the main opposition group, has put out an animated video urging them to make their votes count, and party leader Kemal Kilicdaroglu repeated the plea in a Wednesday night TV interview. The nationalist Iyi Party is promising free internet for students, and better job protection once they get hired.
Some 7 million Turks are university students. Their peers who didn't go to college are struggling economically: Almost 40 percent are unemployed or not included in the labor force for reasons other than attending school.
Erdogan has talked about raising a "pious generation" of Turkish youths attuned to Islamic values. The headscarf has been that project's central symbol. But Yildiz says that among the youngest and most educated generation of voters, "identity politics breaks down."
For example Ruya, the Izmir student, couldn't have worn her headscarf at university before the AKP era. Yet she expresses discomfort at the idea, floated in several municipalities run by Erdogan's party, of introducing so-called pink buses for women only. "It sums up the role conservatives want to impose on us," she said.
Izmir has never enjoyed being imposed on. The city, which has a mostly service-based economy and a vibrant tourism industry, is known today as a bastion of support for the secular principles enshrined by modern Turkey's founder, Mustafa Kemal Ataturk.
That doesn't tell the whole story, according to Hulya Golgesiz Gedikler, a professor at Ege who's studied the region's political history.
Izmir was the base for a doomed attempt to set up an alternative to Ataturk's ruling party. Decades later, Adnan Menderes, the first Turkish leader to depart from Ataturk's blueprint, drew some of his biggest crowds in Izmir. (Menderes, who was toppled in a 1960 military coup and then executed, overturned some Kemalist innovations including the ban on prayer-calls in Arabic. He's often cited by Erdogan as an inspiration.)
"The city didn't feel comfortable with a single-party state" in the age of Ataturk, said Gedikler. "It now thinks its liberties will be restricted by the AKP."
Stories from Turkey's Heartlands
What do Turks want? In the run-up to the elections, Bloomberg reporters traveled around the country to find out. See all their stories here