Turkish Lira Traders Brace for a Tumultuous Week After Elections
(Bloomberg) -- Investors are bracing for a big move in the Turkish lira after this weekend's election and they're paying to protect themselves.
As Turks prepare to go to the polls on Sunday, the cost of hedging against fluctuations in the currency over a one-week period is trading close to the highest since the global financial crisis. Options that expire Monday priced in at least a 3 percent move in the lira in either direction as of Friday, compared with at least 2 percent on Thursday.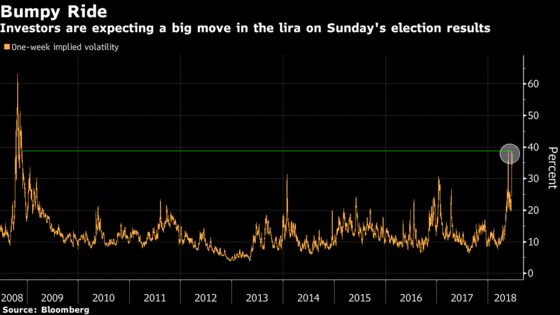 Henrik Gullberg, a strategist at Nomura International Plc in London, said on Thursday that while it's "fair" to expect a move of such a magnitude in the lira initially as investors digest the election result, it could become even more pronounced in the following days.
The lira rallied versus the dollar on Friday amid short-covering ahead of the vote, while one-week implied volatility climbed to 38 percent, close to May's almost 10-year high of 39 percent. Bloomberg pricing suggests buyers of straddles expiring on Monday have a breakeven of around 1,700 lira pips, which corresponds to around 4.86 per dollar and 4.52 per dollar, while local banks are offering protection at a breakeven of around 1,800 pips.
Part of the reason the market is preparing for turbulence is because the outcome is too close too call. Further clouding the outlook is the fact that there's a good chance the first round of voting will be inconclusive, which could extend the political uncertainty that's been weighing on Turkish assets until a second poll on July 8.
If President Recep Tayyip Erdogan fails to clinch a victory on Sunday, investors will start pricing a higher probability of a victory for the opposition candidate, Gullberg said. Meanwhile, a win for Erdogan and his Justice and Development Party could prompt investors to price in a "premature reversal" of recent interest-rate increases.
Turkish markets have been battered this year and the lira has plunged to successive record lows as Erdogan opposed hikes that many investors said were necessary to cool the economy. While policy makers have raised rates by 500 basis points since April, there's still a lingering sense the central bank lacks credibility.
A defeat for Erdogan and his party will be taken positively, and the lira should gain, Gullberg said. Some traders worry about a potential political deadlock, and whether an untested opposition offers a credible way out of economic turmoil.
The lira climbed as much as 0.8 percent to 4.6808 per dollar on Friday. It fell to an all-time low of 4.9253 per dollar in May. Ten-year government bonds gained for a second day, pushing the yield down 60 basis points to 16.21 percent, the lowest in more than a week.