Turkey Faces the Unknown in Knife-Edge Vote
President Recep Tayyip Erdogan is the longest-tenured leader among the Group of 20 nations – depending on how Vladimir Putin's reign is measured – but Turkey's chief executive since 2003 is taking no chances.
In the final day of campaigning before elections Sunday, Erdogan had seven appearances on his schedule in Istanbul, the megalopolis festooned with banners along virtually every highway and byway – most with his face on it.
When he surprised the country in April with his call for a vote, the conventional wisdom was that his win, cementing his authority in a newly bolstered office of the president, along with a compliant parliament, was a lock.
Now, no one's quite sure. Opposition candidate Muharrem Ince's side claims 2 million people showed up for his rally in the city of Izmir yesterday.
With reporting of new polls banned for the 10 days leading up to the vote, any outcome seems plausible. These include an Erdogan sweep – a first-round majority and his party taking parliament – or his falling short of 50 percent, requiring a second round in two weeks, or a split decision where he wins the office but his party loses parliament.
We should have an idea of the outcome by Sunday night, and declaration of the victors by early Monday.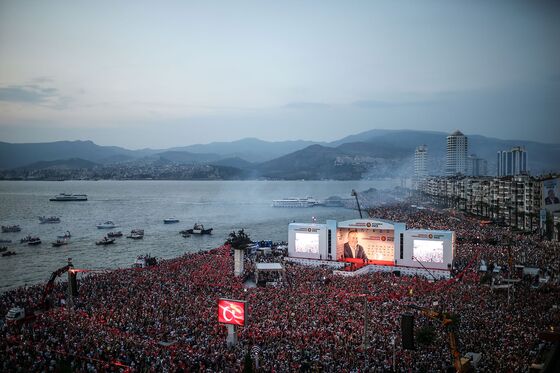 Border fallout | Congressional Republicans are running out of options to deal with the political damage wrought by Trump's "zero-tolerance" border policy after one bill was defeated and a vote on an alternative version was delayed. That came as First Lady Melania Trump managed to generate fresh controversy when she was photographed wearing a jacket with stenciling on the back that read "I Really Don't Care, Do U?" as she headed to visit immigrant children separated from their parents.
Trade infighting | White House officials are split over whether to try to restart talks with China to avoid a trade war before fresh U.S. tariffs take effect July 6, Jenny Leonard reports. While China hard-liners favor penalizing Beijing, those pushing for further negotiations have floated the idea of inviting Chinese Vice President Wang Qishan to visit Washington before the deadline.
Brexit warnings | As the EU steps up its rhetoric about the likelihood of a messy Brexit walkout, Airbus has said a no-deal split would force the European plane maker to rethink its investments in Britain, where it employs 14,000 people. In a sign London is getting increasingly nervous about the prospect of talks breaking down, the government has come up with a new argument to put to Brussels: A disorderly divorce would please no one but Putin.
Long road to democracy | Thai Prime Minister Prayuth Chan-Ocha – who's held power since a 2014 coup – said in an exclusive interview he may decide in September whether to join a political party before an election planned for early next year. Prayuth now has unfettered executive power as head of the ruling junta, and politicians have speculated he may seek to retain it after the vote.
Follow the money | Malaysia will seek to recoup $4.5 billion potentially lost through investment fund 1MDB, as well as fees paid to Goldman Sachs Group, Prime Minister Mahathir Mohamad told Bloomberg Television. The scandal over the fund has spawned worldwide investigations, with U.S. officials saying more than $4.5 billion flowed from 1Malaysia Development Bhd. through a web of opaque transactions and shell companies.
The soccer World Cup in Russia is springing plenty of surprises. Russians are thrilled to discover their team wins in style, while Argentina supporters fear an early exit after two winless matches. Meanwhile, foreign fans are turning host cities into street parties, amazing residents used to police crackdowns on mass gatherings. Visitors say Russia's nicer than they expected. As  Bloomberg Opinion's Leonid Bershidsky writes, the innovation of Video-Assisted Referees may even be making players behave better. Follow Jake Rudnitsky and Tony Halpin in Moscow for World Cup updates via TicToc by Bloomberg on Twitter.
And finally ... When then Pakistan Prime Minister Benazir Bhutto gave birth to her daughter 28 years ago, she did it all in secret. Not even her closest cabinet colleagues knew she was pregnant. It was a little different for New Zealand Prime Minister Jacinda Ardern, who announced her pregnancy at a media conference and revealed her daughter's arrival on Instagram. Yesterday, she became the second elected head of government, after Bhutto, to have a baby while in office. Her daughter shares Bhutto's birthday.