Passive Behemoth Turns to Stock Picking to Navigate Trade War
(Bloomberg) -- Tough times call for tough measures. For one of the biggest passive investment shops, a budding trade war in China is prompting deviations from its guiding philosophy.
Nothing crazy, but tweaks, such as tactical sales of stocks perceived as being on the front lines of the back-and-forth tariff bombast. As trade tensions escalate, moving money solely at the macro level won't be enough, according to the passive mogul behind the world's largest exchange-traded fund. At State Street Global Advisors, active management is becoming of heightened importance.
"There are some idiosyncratic things that you have to be aware of, and that's why we're really pushing this idea that you want to be selective," Lori Heinel, the deputy global chief investment officer at the Boston-based firm, said by phone. "Coming from an indexing shop, that's pretty notable."
On June 20, Daimler AG became the first well-known company to cut its profit forecast, warning about the toll trade tensions could take. Anecdotes like this have State Street pushing for active management and tweaking its investment strategy, while other investors sit tight and hope that worries of a trade war will blow over.
"The potential for escalation is something that really frightens us," Heinel said. "If you've got a complete meltdown, and you go back to a scenario where tariff levels were at the turn of the century, for example, that could put a 2 percent headwind on global GDP."
The world's third-largest asset manager has pared its exposure to emerging markets, and Mexico specifically in North America. It has also decreased its exposure to the euro zone. The team looks over its tactical portfolios monthly to determine whether any changes need to be made.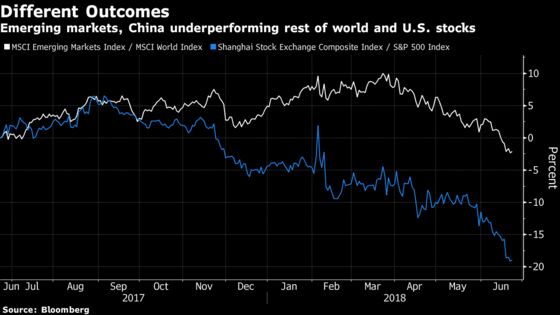 "Some of the potential trade escalation was underappreciated in the euro zone," Heinel said. "There was kind of a pivot that we've seen over the last several weeks to single out Europe in a more significant way."
Within emerging market equities, State Street is underweight Russia, Argentina and Brazil, and it's overweight India and China. Heinel said that although there are geopolitical and trade concerns in China, there are lots of opportunities in internet technology.
When it comes to fixed-income, State Street is avoiding countries such as Turkey and South Africa since they're more vulnerable fiscally and from a trade standpoint. Indeed, sovereign bonds remain one of the firm's largest underweight positions because they're not quite as attractive as stocks, according to Heinel.
"There are lots of other geopolitical threats that are creating headwinds," she said. "Even with all these changes, we have an aggregate overweight to equities in the 6 to 7 percent range. So where we're taking that overweight has shifted, but we're still overweight equities broadly."