Lula's Golden Touch to Sway Heated Brazil Election, Eurasia Says
(Bloomberg) -- Even from prison, former Brazilian head of state Luiz Inacio Lula da Silva can shape the outcome of the presidential race in October, political consultancy Eurasia Group says.
Lula, who is likely to be barred from standing but remains hugely popular, will be able to transfer significant support to whomever he chooses as his successor, according to Christopher Garman, Eurasia Group's director for the Americas. An alliance between Lula's Workers' Party and the other prominent left-wing candidate, Ciro Gomes, is unlikely, he said.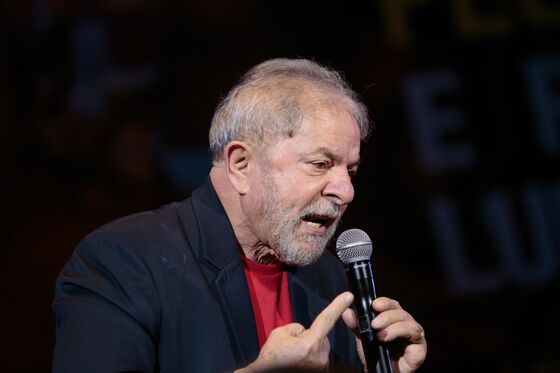 "When it's clear who Lula's candidate is, he'll jump from two percent to double digits," Garman said in an interview in Sao Paulo. The candidate who'll suffer most is Gomes, who has been by himself on the left, he added.
Despite serving a 12-year sentence for corruption, the former trade union leader still leads polls by a wide margin. His ongoing influence has investors on edge.
The deteriorating economic outlook has prompted Eurasia to lower the chances of victory for reformist candidates who wish to tackle Brazil's dire public finances to 25 percent from 40 percent.
"I'm not among the bulls who say the election doesn't matter much because some sort of reform will be made regardless of who wins," Garman said.
Garman sees six candidates with potential to reach the run-off vote: Gomes, Jair Bolsonaro, Marina Silva, Geraldo Alckmin, Alvaro Dias and whoever ends up running for the Workers' Party.
Alckmin, a financial market favorite, may not reach the second round because his old-fashioned political style is out of sync with voters' sympathies, Garman said. Meanwhile, Gomes' reputation for stirring controversy may not harm him as much as it did in previous elections, as voters are seeking frankness and authenticity.
That yearning could also favor Bolsonaro, an outspoken conservative who's focused his campaign so far on crime, which is one of the main concerns of Brazilian voters, Garman said.
A Datafolha poll released this month showed Bolsonaro leading voter intentions in scenarios where Lula was excluded, followed by Silva. Centrists candidates like Alckmin trailed in the single digits.