Europe's Dark Past Makes a Comeback
(Bloomberg) -- After shooting and wounding six Africans in the picturesque hilltop town of Macerata, Luca Traini draped himself in the Italian flag, gave a stiff-arm salute and waited for police. "Italy for the Italians!" he exclaimed.
The incident involving the 28-year-old gunman with a neo-Nazi tattoo on his forehead dominated the final month of Italy's election campaign locally. For all the outrage, Traini's message resonated at the ballot box. In the vote on March 4, support for the anti-immigrant League surged massively in Macerata, helping to propel the party into government this month.
"We're famous for the wrong reasons," said schoolteacher Maria Letizia Renzi, 56, as she walked her Labrador past the Fascist-era memorial to war victims where Traini gave himself up on Feb. 3. "I'm worried about my town, because there's a new racism against foreigners. People are turning in on themselves."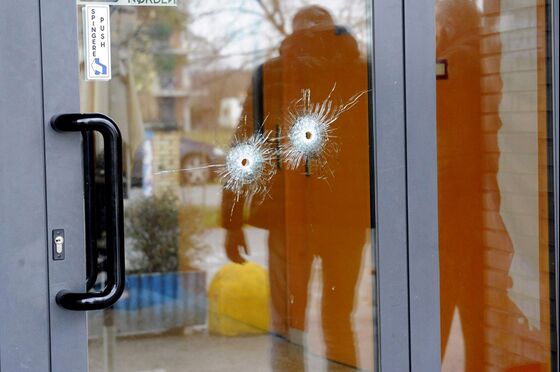 History has a habit of reverberating through the decades in Europe. In Italy, where communists once held sway, nationalists are now in the ascendancy. Yet the legacy of fascism and World War II meant this wasn't supposed to happen. It's as if a taboo has been broken, to the relief of a swath of the voting public and the horror of the traditional political establishment.
With 20th century-style nationalism on the march from Poland and Hungary to Austria and Brexit Britain, ideological tensions that have lain buried are resurfacing across the continent.
While each country has its own set of circumstances, there's a common skepticism of the European Union, a desire to reassert national control and a dislike of immigrants, coupled with a propensity to denounce opponents as obstructing the will of the people. Now Italy has joined the club.
"Italy has always been a weaker state than many European partners so it's particularly vulnerable," said Giovanni Orsina, professor of government at Luiss university in Rome. "People in western democracies feel their model is in crisis, liberal democracy founded on national identity is in crisis. There's a very tough challenge ahead, because people are scared that governments are unable to manage phenomena like migration."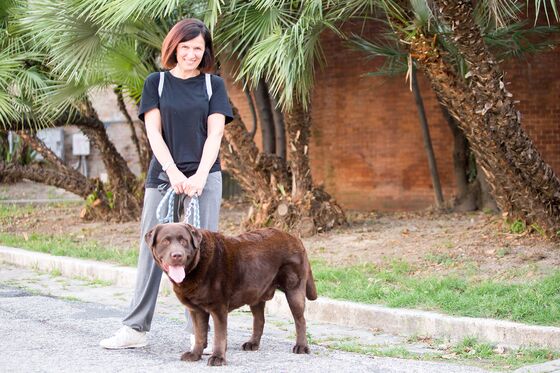 The government formed by the anti-establishment Five Star Movement and the League has set Italy on that path. The League's deputy premier and interior minister, Matteo Salvini, has made curbing immigration a priority, sparking a diplomatic clash with France and Spain while repeatedly denouncing "Brussels" and "Berlin." His decision to block refugee rescue vessels from Italian ports outraged aid agencies, but saw his poll support soar.
Yet there are limits. Salvini's comment on Monday that he wants to register Roma, with its echoes of wartime deportations to concentration camps, caused a domestic outcry that forced him into a reverse. In the U.S., President Donald Trump came under pressure and backtracked over his administration's practice of separating children of illegal immigrant parents at the Mexican border.
Attacks on immigrants like the one carried out by Traini are rare in Europe, and in any case the extreme right has no monopoly on violence. In the 1970s, far-left groups like the Red Brigades and Baader-Meinhof Gang carried out terrorist attacks in Italy and West Germany. But it's increasingly hard to ignore the parallels the political mood has with darker eras that still haunt a continent.
The biggest opposition party in Germany hails from the far right as Chancellor Angela Merkel battles to keep her coalition together. Britain is convulsing over how to leave the EU and control its borders. In Sweden, a party with neo-Nazi roots is currently second in some polls before elections this year. Then there's the rise of anti-Semitism in Poland and Hungary, whose government has made billionaire émigré George Soros public enemy No. 1.
Spain, meanwhile, is still trying to reconcile itself with its fascist past. The country's new Socialist government is looking into relocating the remains of dictator Francisco Franco from a basilica that's a focal point for nationalists.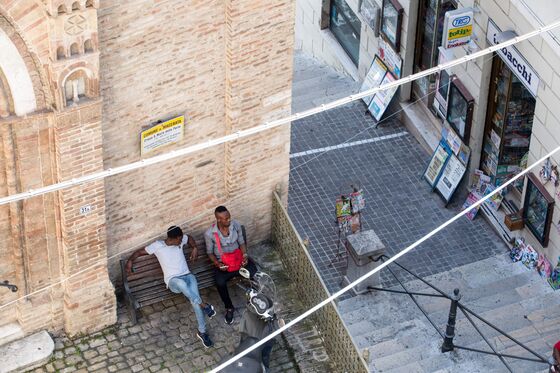 A provincial capital of just over 40,000 residents near the Adriatic Coast, Macerata played its part in the populist insurgency that swept across Europe since 2016. The League took 21 percent of the vote in the town compared with 0.6 percent in 2013 before the escalation of refugees crossing through North Africa.
Traini, a former League candidate, wanted to avenge Pamela Mastropietro, an 18-year-old allegedly killed and dismembered by a Nigerian drug-trafficker, according to Traini's lawyer, Giancarlo Giulianelli, who said his client has confessed to his crime. Two days before the shootings, Salvini tweeted about the Nigerian: "What was this worm doing still in Italy?"
For Mayor Romano Carancini, 57, Macerata is paying the price for the state's failure to handle migrants. His center-left Democratic Party scored its worst-ever result nationally.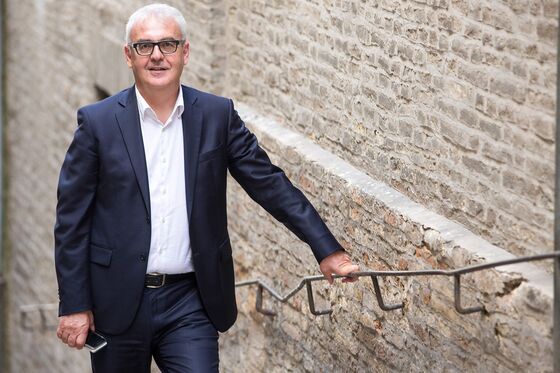 "We took in asylum-seekers in 2015, but when they failed to get asylum status, many of them were forced onto the streets," said Carancini. "Some of them went into drug-trafficking, and that worries people. Add in Traini and Pamela and you get the perfect storm. My party needs to focus on what people perceive."
Across the political spectrum, newly elected League lawmaker Tullio Patassini, 47, is a former corporate banker and city counselor with Silvio Berlusconi's Forza Italia party who joined the League only early this year.
Patassini said he scored so highly because his campaign focused on "respect for rules, security and jobs." And immigration? "Immigration is important, because people feel insecure."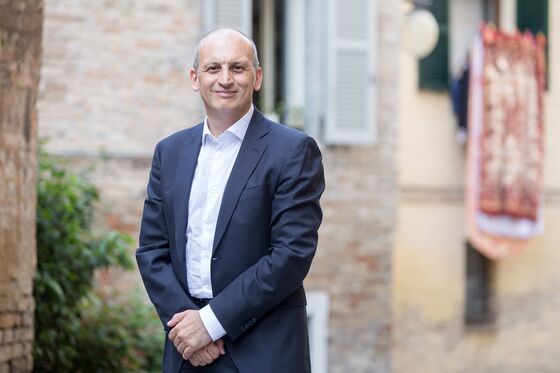 Macerata is classic Italy. On a balmy evening in June, well-dressed couples sat at café terraces enjoying a free concert laid on by the town hall in the 16th century Liberty Square while swallows circled overhead.
Boutiques line the pristine cobblestone streets, selling wares from fashion and leather goods firms that make this one of central Italy's most prosperous regions with a strong manufacturing base. Unemployment is about 10 percent, in line with the national average.
Two language students sipped beers on the grass in the Diaz Gardens, a park which has been largely cleansed of drug-pushers since Traini's shootings. Gloria Basile, 21, regrets voting Five Star, the League's coalition partner.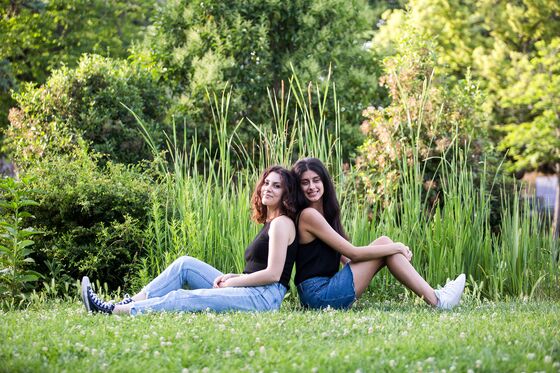 "I never thought that Five Star would govern with the League -- my vote was wasted," said Basile. "People here have got the idea they've got to defend themselves against foreigners," her friend Claudia De Panfilis, 21, said. "Actually we need tolerance, empathy."
But scratch beneath the surface and there's a malaise that's being fed by populist politicians. The League's Salvini has fallen out with France, Spain and Malta over his decision to deny access to port for the migrant ship, and has insisted that Italians should not be subjected to what he says is German dominance of the EU.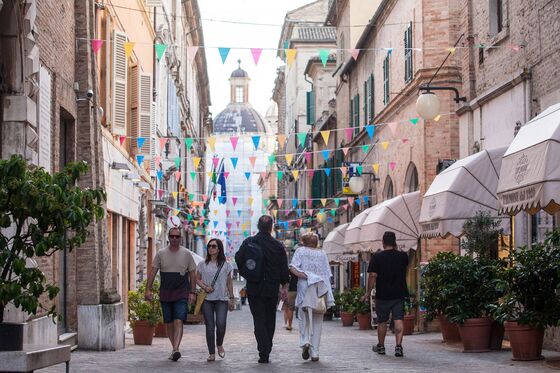 A twenty-minute drive away, the blue and yellow-starred European flag stands along the Italian tricolor outside the factory of the Simonelli Group Spa, which exports coffee machines to bars and restaurants worldwide.
"The euro is a stable currency, that's helped us to get foreign markets," said Chief Executive Officer Nando Ottavi, 72, whose top model, the Black Eagle costing up to $29,500, supplies Starbucks Reserves stores. "But every time a company closes, people here blame the EU."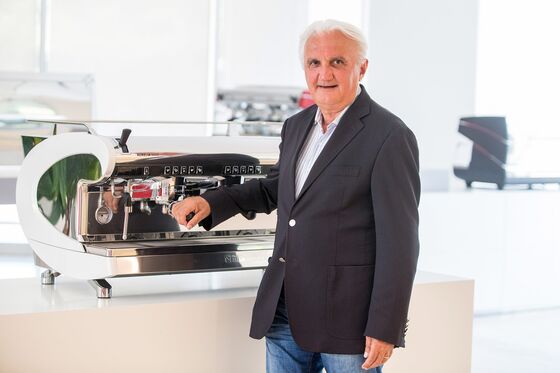 Revenue is booming, quadrupling since the global financial crisis in 2009 to 84 million euros in 2017. Ottavi too, though, is wary of his country changing.
"Until 10 years ago, you could leave your key in the lock of your house, now you can't because the way migration has been handled has brought insecurity," said Ottavi. "People want to take back control. They want to go back to the way we were."