ECB Paper Tells Governments It's Their Turn to Sustain Growth
(Bloomberg) -- The European Central Bank is trying once again to hammer home a message it's been stressing for almost two decades: countries must reform their labor and product markets and use their fiscal space if they want their economies to remain resilient in the long term.
That's the view in a paper published by the ECB on Friday. While the central bank says the report doesn't necessarily reflect its own stance, the commentary echoes calls by policy makers that are gaining urgency as years of unprecedented stimulus start to draw to a close. If they go unheard, the risk is that central banks won't have much room to act during the next downturn -- or create new problems through an extensive use of unconventional tools.
The paper shows that the natural real rate of interest -- the level at which borrowing costs neither cause overheating nor slow demand -- has plummeted since the financial crisis started in 2008, reinforcing a systemic slide fed by demographic shifts and an imbalance between savings and investment.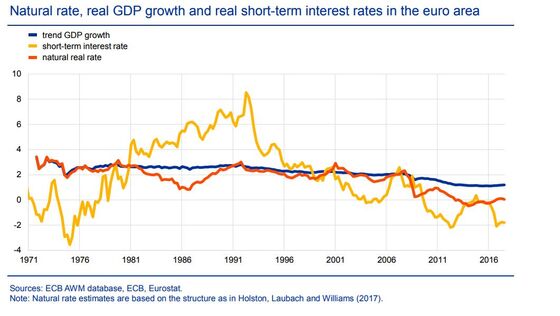 "The degree to which structural reforms and technological advances can reverse the downward trend of the natural rate will be among the factors determining how challenging it is for central banks to reach their objectives in the future," the paper said. "A low natural real rate increases the likelihood that policy rates need to turn negative or that non-standard measures need to be taken in response to adverse shocks. While unconventional policies have proven to be effective, some of them have also been met with some concerns, because of potential longer-term adverse side-effects."
Edited by Klaus Masuch, Robert Anderton, Ralph Setzer and Nicholai Benalal, the report comes some two years after the ECB set up a task force to study reform potential in the 19-nation bloc. It argues that governments can use fiscal policies to cushion any short-term costs of structural reforms and points to Germany's reforms in the early 2000s. The country made the labor market more flexible and reduced the generosity of its unemployment insurance system, while also lowering taxes for workers.
"Complementarities between structural reforms and accommodative demand policies may be particularly relevant in a multi-country monetary union," the paper said. "In a monetary union where members differ, e.g. in terms of their fiscal situation or their reform needs, there may, in certain cases, be positive synergies to be exploited for the monetary union as a whole."