Airbus Gives May a Brexit Ultimatum: Get Your Act Together
(Bloomberg) -- Airbus SE's threat to pull its U.K. investments if Britain walks away from the European Union without a deal counts as a wake-up call to Prime Minister Theresa May.
The fact that it comes around the two-year anniversary of the 2016 referendum vote is a stinging reminder of how little progress has been made in negotiations as the Conservatives feud among themselves while one by one, household brands like Unilever NV and Jaguar Land Rover Ltd retreat.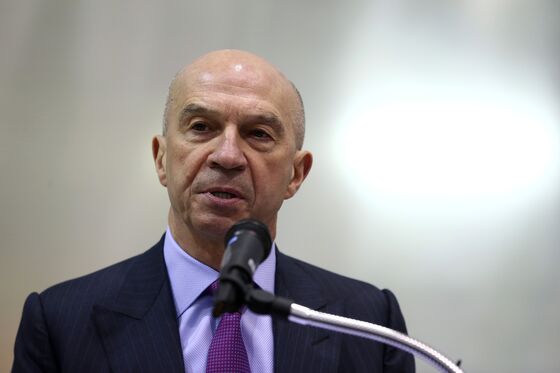 "We've become increasingly frustrated with the lack of clarity and obviously time is running," Tom Williams, chief operating officer of Airbus Commercial Aircraft, told BBC Radio in the starkest warning yet from a major business. "I'm an engineer, not a politician, I have to deal in certainty."
Departure from the single market and customs union without a transition agreement would lead to "severe disruption and interruption of U.K. production," the aerospace giant said late Thursday.
Airbus, based in Toulouse, France, would be forced to "reconsider its investments in the U.K., and its long-term footprint in the country."
That's a dousing of ice-cold water for a government that has all too frequently been dismissive of the potential economic fallout of Brexit as the tide seems to have shifted in favor of the hardliners in May's government.
May's spokeswoman, Alison Donnelly, told reporters on Friday that the government has a "good dialogue" with Airbus and that "the government remains confident that we are you going to secure a good deal and one that works for the aerospace sector."
The company's warning wasn't limited to the implications of a no-deal Brexit. It also said that the 21-month transition period agreed by May with the EU, isn't long enough "for Airbus to implement the required changes with its extensive supply chain." The transition is designed to give companies time to adapt to the as yet undefined trading relationship that will follow at the end of December 2020.
Airbus matters because it employs 14,000 people across 25 U.K. sites, providing high-quality manufacturing jobs, including 6,000 at Broughton, North Wales, where it makes wings. It also has more than 4,000 U.K. suppliers and supports more than 100,000 jobs in its British supply chain.
"If we don't get the next wing contract here, in the long term we're in big trouble," Mark Tami, the Labour lawmaker whose constituency includes Airbus's wingmaking plant, said in a phone interview. "They do have alternatives. It could go to Germany; it could go to Spain. That means losing thousands of jobs in my constituency and tens of thousands more in the supply chain nationwide."
Businesses have finally had enough of the endless Brexit debate that has focused in recent weeks on internal power struggles -- drama in Parliament, back-stabbing in the Cabinet and political games about who would be in charge in a no-deal scenario.
"This is verging on a dereliction of duty from a government and party that has always traditionally been party of business," Anna Soubry, a lawmaker from May's Conservative party and a vocal critic of government strategy said on Twitter. May should "suck it up" and secure membership "by whatever means" of the EU's single market and a customs union, Soubry said.
Airbus's words potentially weaken May's negotiating hand by setting out the consequences of walking away without an orderly settlement.
It's also a reminder of what Brexit could mean for jobs and ordinary people, a day after about 3 million EU citizens living in the U.K. were told they will have to pay money and come up with documents to prove they should be able to stay in Britain after the split. Suddenly, Brexit feels much more real.
Just this week, there's been a British judge calling Brexit a crisis that rivals the evacuation of British soldiers from French beaches during World War II. In Brussels, the tone is also getting increasingly alarmist. The Airbus warning comes just as the EU is repeatedly telling companies to prepare for the worst.
The surprise announcement piles pressure on May, who began the week speaking of a widely debunked and ridiculed "Brexit dividend" -- arguing that extra money to the country's ailing free health care system will become available after the U.K. stops making EU contributions.
The week ends with officials scrambling to reassure employers that Britain will continue to be an attractive place to do business.
Business Secretary Greg Clark spoke Tuesday with Airbus chief Tom Enders, who raised his concerns then, according to an official familiar with the matter. The company's tone now is in stark contrast to the CEO's warm words in February about a long-term commitment to staying in the U.K.
Companies have been asking for months for more clarity and urging the government to take action. May heads to Brussels later this month for a summit that was meant to be a defining moment in the negotiations. Instead, the lack of progress will be the issue.
For the first time in two years, it's the EU side rather than the U.K. that's making most noise about the chances of a messy walk-out.
EU leaders will remind May at the summit that if a Brexit deal isn't struck, there will be no transition -- the grace period that businesses are counting on for the first 21 months after the split.
Airbus hammered that point home.
"The Airbus thing is striking because it's so unusual," said Anand Menon, politics professor at King's College London university. "I've been struck by the reluctance of companies to say anything. This is one of the first times a big manufacturing company has not only said we're considering our future, but also this is explicitly a Brexit thing."