Trump Says Puerto Rico Governor Blamed Power Plant Flaw on Storm
(Bloomberg) -- President Donald Trump said Puerto Rico's Governor Ricardo Rossello took advantage of a deadly hurricane last year to seek federal funds to rebuild a long-decrepit power plant, calling the move "very brilliant."
During a meeting with governors at the White House, Trump praised the federal government's response to Hurricane Maria in 2017 and assailed the state of Puerto Rico's infrastructure and economy before the storm.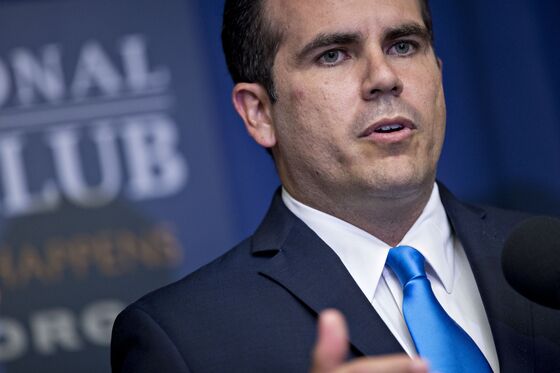 "Ricardo inherited a power plant that was virtually useless and it was in bankruptcy," Trump said after Rossello made an appeal for Puerto Rico to become recognized as the 51st state. "He was very brilliant. He blamed the hurricane for destroying the power plant. And it's doing very well."
It wasn't immediately clear which power plant Trump was referring to. The Puerto Rico Electric Power Authority, or Prepa, has been in bankruptcy for a year. Rossello, a Democrat, became governor in January 2017.
It's also not clear that Rossello ever said publicly that a storm had destroyed a power plant --- or that any plant was destroyed -- but transmission and distribution infrastructure was badly affected.
The Trump administration's response to the hurricane was sharply criticized as inadequate by many local leaders. While the death count remains unclear, a recent Harvard University-funded study suggested more than 5,000 people may have died as a result of the storm, more than Hurricane Katrina, which struck the Gulf Coast of the U.S. in 2005. Maria's official death toll is 64.
Trump has previously complained about the cost of the response to the hurricane in Puerto Rico and raised concerns about corruption on the island. His remarks Thursday came after Rossello asked that Puerto Rico be granted statehood in order to receive equal treatment from the federal government.
"I'll tell you what -- the people of Puerto Rico are being well represented by this man, because we like him and we respect him," Trump said. "And we are working on that power plant. It's very big numbers. It was bad before the hurricane and it was bad after the hurricane."
Rossello responded by saying he had just signed into law on Wednesday a bill that clears the way for the partial privatization of the island's bankrupt electric company, which has been plagued by aging infrastructure and mismanagement that left millions in the dark after Hurricane Maria.
Trump did not initially bring up the power plant when he first began talking about the hurricane response during his luncheon with several U.S. governors.
Trump introduced Rossello and said he was doing a "great job" in governing Puerto Rico after the storm. Introducing the governor, Trump attempted an exaggerated Spanish accent as he pronounced "Puerto Rico."
Rossello then told Trump that Puerto Ricans want to become the 51st state, rather than a territory with limited power in Congress.
"The people of Puerto Rico have chosen twice in the past five years that we don't want to be a territory anymore," he said. "We want to be a state."
In response, Trump said jokingly that such a move would happen "quickly" if Rossello could guarantee that the island's two senators would be Republicans. Then, unprompted, Trump launched into the discussion of the power plant, describing the poor infrastructure and fiscal challenges on the island prior to the hurricane.
It's not the first time Trump has implied that the Puerto Rican government was trying to capitalize on the hurricane to take advantage of the federal government. Last year, he complained about reports of corruption during the U.S. hurricane response in Puerto Rico.
"I'm working very closely with the government on that because there has been corruption on the island, and we can't have that," Trump said during an October meeting at the White House with Rossello. "You know, we're sending a lot of supplies, we're sending tremendous amounts of food and water and everything. But we just can't have it."
Rossello was the only Democrat at the meeting of governors at the White House on Thursday.
Rossello, whose father was also a pro-statehood governor, built his political identify on the cause of changing Puerto Rico's status, arguing that its classification as a territory has put it at a fundamental disadvantage. He has said that Hurricane Maria reinforced the point that Puerto Ricans are treated as second-class citizens.
Puerto Rico has two main political parties: one that aims to make the island a U.S. state and another that favors keeping its commonwealth status. Puerto Ricans overall tend to lean Democratic in presidential primaries. Nearly 59,000 people voted for Hillary Clinton or Bernie Sanders during the island's 2016 presidential primaries while about 37,000 voted for a Republican candidate.