Trump Reversal on Border Policy Leaves Congress on Hook for Fix
(Bloomberg) -- President Donald Trump's sudden reversal on his policy to split undocumented families at the U.S.-Mexico border temporarily eased pressure on Congress to act on a politically volatile issue, but puts lawmakers no closer to a permanent fix.
There is little dispute among representatives and senators that they need to act, but it was increasingly clear Thursday that a speedy resolution from Congress was unlikely. That means the issue likely will continue to roil the country as voters and lawmakers begin focusing on the November elections that will decide control of Congress.
An attempt by House Republicans to resolve the family separations as part of broader immigration legislation is set for a series of votes Thursday, and that effort was on the brink of failure amid an intra-party fight over other provisions. Trump himself undercut a separate move in the Senate to write a narrowly focused bill to resolve the issue by rejecting the idea of adding immigration judges, a component of two Republican proposals.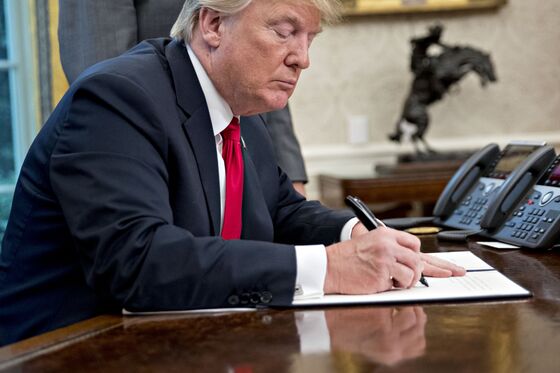 Senator John Cornyn of Texas, the No. 2 Republican leader, said Trump's order could be rejected by the courts or subject to a lawsuit, so a legislative response is necessary to ensure that families remain intact.
"It's better to a have a belt-with-suspenders approach here and actually do it through legislation, just to remove any chance that the executive order could be set aside by litigation," he said after Trump directed the Homeland Security Department to keep families together in detention centers when they are apprehended after crossing the U.S. border from Mexico.
Trump's Order on Family Separation: What It Does and Doesn't Do
A sense of urgency in the Senate for stand-alone legislation to stop children being taken from their parents after illegally crossing into the U.S. dissipated after Trump's executive action, and lawmakers began talking about slowing the process down to come up with a bipartisan solution.
"I think we ought to let it settle in a little bit, see where we are and then maybe hold some hearings in the Judiciary Committee which has jurisdiction on immigration," Senator Dianne Feinstein, a California Democrat, told reporters after leaving a meeting on potential legislation among a small group of senators from both parties.
Two Republican-drafted bills that address the family separations include authorization for adding immigration judges so that cases can be processed more quickly. The issue also figured in bipartisan talks yesterday between about a dozen senators who are trying to forge their own proposal. One plan would roughly double the number of immigration judges from 375 to 750.
But the president on Thursday decried more spending on immigration judges. In a tweet Thursday, he said in part: "We shouldn't be hiring judges by the thousands, as our ridiculous immigration laws demand, we should be changing our laws, building the Wall, hire Border Agents."
Trump's order offered no timeline for DHS to set up a system that would stop splitting up the undocumented families and detain them together in temporary centers on military bases. The order was also silent on when or how children already taken from their parents would be reunited with them, or whether there is a limit on how long detained families can be held going forward. In the meantime, the administration will continue Trump's policy of prosecuting everyone who crosses the border illegally.
"It continues to be a zero tolerance," the president said Wednesday. "We have zero tolerance for people that enter our country illegally."
Gene Hamilton, the general counsel for Attorney General Jeff Sessions, said the Justice Department would soon file appropriate court paperwork to challenge the so-called Flores agreement following Trump's order. The department wants to modify the agreement, which bars the government from detaining minors and their parents for more than 20 days.
Hamilton said the Justice Department wants to increase of time families can be detained together during immigration proceedings.
"It's certainly the case that right now we have lawful authority to detain a family unit together for up to 20 days," he said. The Justice Department is seeking "a modification of that so that we can detain beyond 20 days the entire family unit together," he said.
He called the court challenge a short-term measure and said Congress would ultimately have to act in order to reach a permanent solution.
The family separations have drawn intense public backlash that spurred Republicans into rare defiance of Trump, who continues to hold sway over GOP voters. Those weighing in to get Trump to reverse course included First Lady Melania Trump and the president's daughter Ivanka, according to people familiar with the matter.
Representative Mark Meadows, a North Carolina Republican who's head of the conservative Freedom Caucus, said the splitting up of families at the border is "the number one issue by far" that he's hearing about at home.
Democrats continued to hammer Trump and Republicans on the issue. Oregon Democratic Senator Jeff Merkley, who was in a delegation that visited a shelter in McAllen, Texas, called Trump's policy "handcuffs for all, children included."
House Republicans said Trump's order doesn't change their plan to vote on two GOP-only immigration bills Thursday that address other issues, including changes to legal immigration, construction of a wall on the border with Mexico and legal protections for some young immigrants brought to the U.S. illegally as children.
Neither bill has enough votes to pass, according to members of the Republican vote-counting team, but House Speaker Paul Ryan seemed determined to hold the vote anyway.
The first vote Tuesday will set the rules for debate on the conservative bill sponsored by Judiciary Committee Chairman Bob Goodlatte, followed by a midday vote on the actual bill. Later in the afternoon, the two-part process will be repeated for the compromise GOP immigration bill.
In the Senate, about a dozen senators in both parties gathered in the offices of Senator Susan Collins, a Maine Republican, shortly after Trump signed his order, seeking consensus on narrowly drawn legislation dealing only with the detention of families.
Leaving the meeting, senators said they discussed ideas that included added funds for immigration judges and detention centers, along with expanded use of ankle bracelets or other monitoring equipment that could allow some families to remain free before hearing dates. But they said they had not reached agreement and several said the process could take time to work out.
Senators in both parties so far have split sharply on partisan lines in the debate. All 49 Senate Democrats have signed onto a measure Feinstein introduced that bars family separations unless it is determined a child is at risk of abuse or human trafficking. No Republican has signed on.
On Wednesday, Majority Leader Mitch McConnell and other Senate Republicans introduced legislation that requires children and their parents to stay together during their legal proceedings. The legislation also would set standards of care for family residential centers, give priority to timely consideration of cases involving families, and authorize 225 new immigration judges.
"Our legislation provides the solution by clarifying federal law to ensure that families will remain together and receive good care as they go through the legal process," said GOP Senator Thom Tillis of North Carolina, who helped to draft the measure.
Yet no Democrats are yet on that bill, and Democratic Senator Claire McCaskill off Missouri, who attended the bipartisan meeting, said it wasn't even discussed.
Senator Ted Cruz, a Texas Republican who, like McCaskill, faces re-election in November, insisted it will be up to Democrats to determine if the entire effort collapses.
"Do they want to come together and fix this problem," he told reporters. "If they do, we can do it. If, on the other hand, the Senate Democrats make a political decision that they just want an issue they can run on in November, then we may end up with separate bills -- a Democrat bill and a Republican bill, neither of which passes."