Macron Slams Provocations as Italy Fuels Merkel's Migration Woes
(Bloomberg) -- French President Emmanuel Macron said extremists in "neighbor" countries are betraying European Union values, as Italy's populist government threatened retaliatory measures unless its demands for help to curb immigration are met.
Three days before European leaders meet for immigration talks in Brussels that could help determine German Chancellor Angela Merkel's political future, Macron is pouring fuel on the fires started by Italy's decision to bar humanitarian rescue ships from its ports.
"They are saying the most provocative things and no one, no one, is outraged," Macron said, gripping the lectern with his hands during a speech in Brittany in western France. "We are getting used to all kinds of extremism from countries that a few years ago were just as pro-European as we are."
Interior Minister Matteo Salvini, the populist heavyweight driving Italian immigration policy, earlier threatened to veto any EU deal that didn't include his demands and even said he'd review Italy's EU budget contributions. La Repubblica newspaper reported that he raised the prospect of setting up controls on Italy's land borders at a meeting with Conte in Rome Wednesday.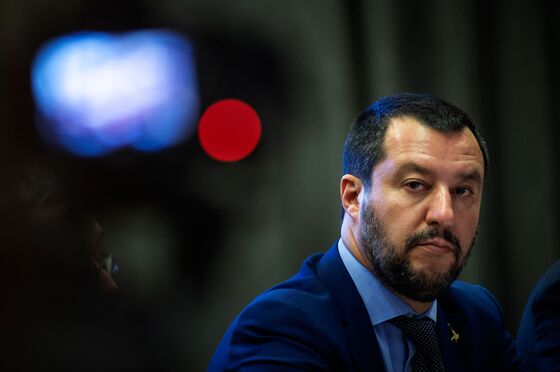 "We can't pay 6 billion a year to the EU and then just have someone poke us in the eye," Salvini said in an interview with RAI television. "I wouldn't like to be forced to reopen discussion on this contribution."
At the heart of the problem is Italy's geographical location on the frontline for new arrivals that's prompted the new government to demand more help. For Merkel, the issue is managing the fallout from her decision to allow more than 1 million migrants to enter Germany across the EU's internal borders since 2015.
While there is a shared need to tackle migration, their respective problems require different solutions.
Conte said Wednesday that he will only discuss migrant flows within the EU once he has an agreement to tackle the "emergency" of new arrivals "which Italy has been left to tackle alone." The draft proposals circulated by the European Commission on Wednesday set out a combined package of measures to address both issues at the same time.
Amid speculation that Conte might refuse to attend Sunday's meeting, the prime minister said in a Facebook post that Merkel had called him "worried about the possibility" he may not take part.
"I confirmed to her that it would have been unacceptable for me to take part in this summit with a text which has been pre-packaged," Conte said: "The Chancellor clarified that there was a 'misunderstanding,' the draft text published yesterday will be cast aside."
German Interior Minister Horst Seehofer, who leads the Bavarian sister party of Merkel's Christian Democrats, has chafed at Merkel's open-doors stance on migration and is threatening to start turning away migrants at the border unless the chancellor secures an EU deal on internal flows in the next two weeks.
Italy is demanding compulsory quotas to spread the burden of legal immigration across the EU, La Repubblica newspaper reported. That would see more migrants traveling across internal borders to ease the burden on Italy, Greece and Spain, the countries that receive most of those arriving by sea.
Salvini is particularly focused on Italy's border with France and wants to prevent French officials sending back asylum seekers who have registered their claims in Italy, La Repubblica said. Under the Dublin agreement, which governs immigration within the bloc, migrants must make their asylum request in the first EU country they reach.