Putin Glee Is Latest Reason U.K. Says It Should Get Brexit Deal
(Bloomberg) -- The U.K. will tell the European Union that a no-deal Brexit would be celebrated by Russian President Vladimir Putin, according to a person familiar with the British government's thinking.
It's the latest attempt to soften the bloc's stance by Britain, which wants wide-ranging cooperation in areas from crime-fighting to financial services. But the EU insists the U.K. can't have the same level of integration as it's enjoyed as a member of the bloc.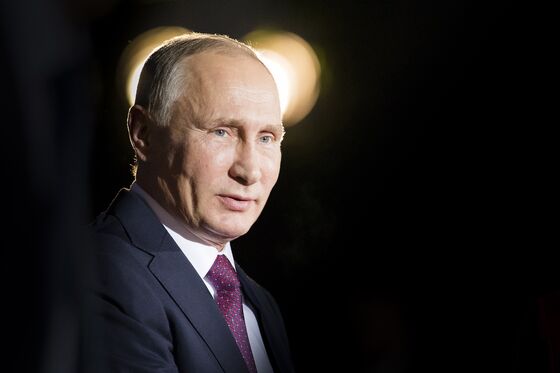 A sour divorce and a future relationship that doesn't work for either side would be a lose-lose outcome, the person said in Brussels on Thursday, speaking on condition of anonymity because Cabinet discussions are private. Only the Kremlin and governments in other countries that dislike European democracy would be happy about that, the person said.
The U.K. is frustrated that many of its proposals for a post-Brexit relationship with the EU have been rejected out of hand by the European Commission. The government argues that future cooperation, especially on security and defense, should transcend strict rules which say non-members can't have the same rights as EU states.
Earlier this week, EU chief Brexit negotiator Michel Barnier called for more "realism" from the British government, saying cooperation had to be based on shared rules and the oversight of the European Court of Justice -- whose jurisdiction in the U.K. May has said must end after Brexit.
Ten months before the U.K. is due to leave the EU, negotiations are moving slowly, with talks on the future barely out of the starting blocks and agreement on a "backstop" insurance policy to keep the Irish border invisible still illusive.
The government isn't prepared to accept the EU's proposal that would keep Northern Ireland in the customs union and parts of the single market while the U.K. goes its own way, the person said.