Netanyahu's Wife Charged With Misuse of Public Funds
(Bloomberg) -- Israeli Prime Minister Benjamin Netanyahu's wife has been charged with misusing public funds, compounding the first family's legal problems as the attorney general weighs whether to indict the premier himself on suspicion of corruption.
Sara Netanyahu has been charged with using nearly $100,000 of state money to cover unauthorized spending on high-end meals between September 2010 and March 2013. She has denied wrongdoing, and the prime minister has said the family is the victim of a political witch hunt by leftists and journalists seeking to depose his government.
In a response issued on the prime minister's Facebook page, Sara Netanyahu's lawyers called the indictment "absurd and delusional."
"There was no fraud, breach of trust" or any other infraction, the lawyers said. Sara Netanyahu "is not a public servant and didn't know the procedures," and was vindicated by a polygraph test, according to the post.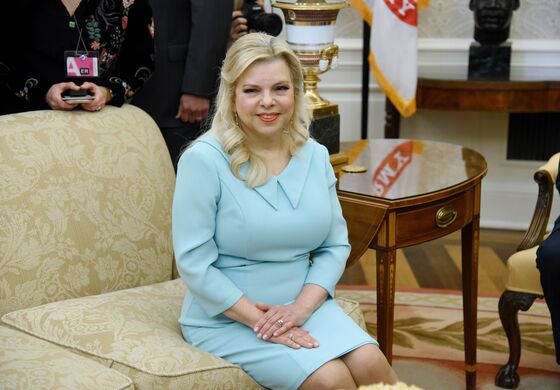 The Netanyahu family's legal problems have gripped Israel for more than three years, and in the prime minister's case threaten his political survival. Attorney General Avichai Mandelblit is reviewing police recommendations to charge Netanyahu in connection with expensive gifts he and his wife received from businessmen including Hollywood producer Arnon Milchan. He's also alleged to have discussed a plan -- never implemented -- to promote legislation benefiting a powerful newspaper publisher in exchange for favorable coverage.
Police are still investigating suspicions Netanyahu arranged regulatory benefits for the country's biggest telecommunications provider, Bezeq Israeli Telecommunication Corp., in exchange for sympathetic coverage by its online news outlet.
Netanyahu's wife is accused of instructing staff at the prime minister's residence to order meals from posh restaurants, a violation of rules that bar ordering outside food when there's a cook on staff.
The indictment says Sara Netanyahu falsely claimed there were no cooks on staff when the meals were ordered. The residence's former deputy director was also indicted in the case.
There's no indication the allegations against the prime minister or his wife are having an impact on voters. In recent months Netanyahu has climbed in the polls, shored up by President Donald Trump's relocation of the American embassy to Jerusalem and the U.S. withdrawal from the Iran nuclear deal, two decisions the Israeli leader championed.