Mueller Obstruction Inquiry Leaves Trump Few Options With Cohen
(Bloomberg) -- By the look of it, Michael Cohen wants Donald Trump to save him. Or at least help pay his legal fees.
That's no simple ask. With federal investigators in New York bearing down on Cohen, Trump's longtime personal lawyer and fixer, the president may have few good options.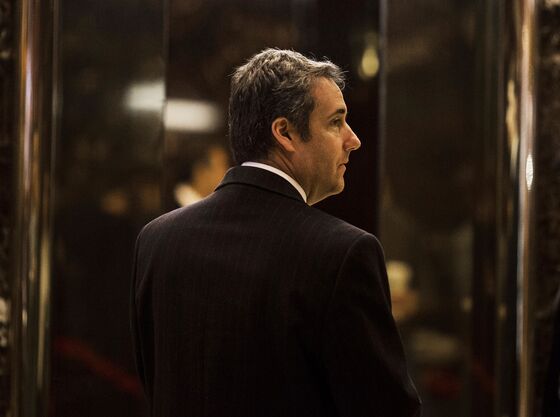 Even as Trump continues to rail against Special Counsel Robert Mueller's Russia investigation as a "witch hunt," the president can ill afford to do anything that could be interpreted as interfering with it. Already, Mueller is looking into whether Trump attempted to obstruct justice, and his prosecutors recently expanded the charges against former Trump campaign chairman Paul Manafort to include witness tampering.
On the surface at least, Trump and his former attorney have appeared to be pursuing the same goals. Cohen tapped money from a Trump legal fund to deal with Mueller's inquiries. They formally coordinated some of their defense work, according to a person familiar with the matter, as they fought to keep some documents out of the hands of prosecutors in New York. Cohen has said he'd take a bullet for the president. Trump, in a rambling interview last week, called Cohen a "good man."
But a fissure is appearing between them. Cohen stepped down Wednesday from his position as a Republican National Committee finance official, taking a swipe on the way out at the administration's detention of immigrant children. Cohen presumably knows a great deal about Trump's business dealings over the past decade. Any decision to save himself legally and financially by cooperating with prosecutors could be perilous for the president. Representatives for Cohen didn't immediately respond to requests for comment.
Cohen's finances have been looking increasingly shaky since April 9, when his residences and office were raided by FBI agents. That touched off a lawyer-intensive process of sorting through the seized documents for those arguably protected by attorney-client privilege. Cohen is reportedly ending his relationship with McDermott, Will & Emery, the firm that oversaw the process, and is said to be replacing it with a new lawyer, Guy Petrillo.
Though Cohen's team has signaled that the switch was for strategic reasons, his jump to a New York boutique from a national firm is also likely to save money. Cohen himself has told associates that legal fees are "bankrupting" him and that he thinks Trump should be paying his bills, the Wall Street Journal reported on June 19, citing anonymous sources.
So far, Trump's re-election campaign has paid the legal fees of Cohen and other members of his circle who have been contacted or interviewed as part of Mueller's probe. Cohen isn't eligible to tap the money for his defense in New York, a person familiar with the fund has said.
The Trump family also helped pay some of Cohen's legal costs for the document review in New York, according to media reports. Representatives for Trump family members and the Trump Organization didn't respond to requests for comment.
It's not uncommon for a corporation to pay legal fees for an employee who might be a witness or a subject of an investigation, said Harry Sandick, a former prosecutor with the U.S. attorney for the Southern District of New York and now a white-collar defense lawyer. However, in such an arrangement, courts would want to know whether the lawyer would be acting in the interest of the client, or the person who's footing the legal bills.
"Everyone here has to be careful. These are tricky issues," Sandick said.
As the New York matter moves forward, any payments from Trump -- who has said Cohen is no longer his lawyer -- could create the appearance that the president has secrets to hide and that he has to pay Cohen to prevent him from spilling the beans.
Such a scenario is unlikely, however, said Mimi Rocah, a former Manhattan federal prosecutor. She noted that Petrillo, the lawyer said to be representing Cohen, is a former federal prosecutor with a reputation for honesty and fair play, and it would be unlikely that he -- or the court -- would allow paying legal fees for Cohen to be used as a lever to stop cooperation.
There's another limit to what the president can do for Cohen right now. Rudy Giuliani, who Trump enlisted to help speed the special counsel matter, recently floated the idea that Trump could pardon allies, though he subsequently backtracked. Cohen hasn't been charged with anything, so there's no crime to pardon. Furthermore, if Trump were to pardon his former lawyer at some later point, Cohen could then be compelled to testify.
"Politically it's very risky," said Rocah, who now teaches at Pace University law school. "Cohen could possibly still face legal charges in the state for which he can't be pardoned, and legal experts are divided on whether it could expose Trump to further potential obstruction charges. So it's legally risky too."