Melania Trump's Jacket Overshadows Goodwill Visit to Immigrants
(Bloomberg) -- First Lady Melania Trump sought to help her husband recover from a self-made political disaster by visiting immigrant children in Texas on Thursday, but she managed to generate a new controversy with her choice of apparel.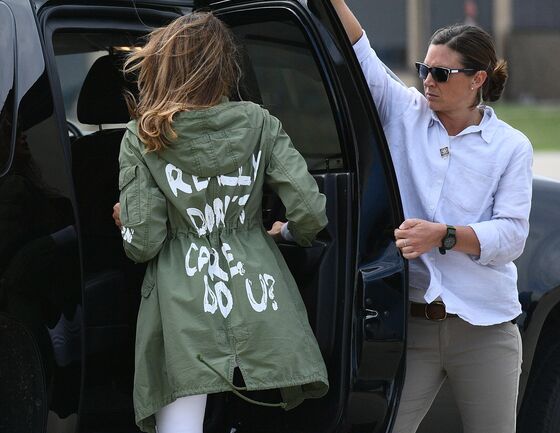 Her unannounced trip to a detention center in the border town of McAllen came as President Donald Trump continued an uncharacteristic retreat from a major policy. In a Cabinet meeting at the White House, he said he had ordered the government to reunite families separated by U.S. officials under his "zero tolerance" policy toward illegal border crossings, a day after issuing an executive order to stop taking children from their parents.
The first lady proposed the trip herself, her spokeswoman Stephanie Grisham said, out of concern over how her husband's policies affected families apprehended crossing the border illegally. She chatted amiably with teenagers at the New Hope Children's Shelter, run by Lutheran Social Services of the South under a grant from the U.S. Office of Refugee Resettlement, and discussed the center's operations with its staff.
"I'm here to learn about your facility," she said. "I also like to ask you how I can help to be sure these children reunite with their families as quickly as possible."
But boarding her plane at Joint Base Andrews outside Washington, photographers caught her wearing a jacket with stenciling on the back that read "I Really Don't Care, Do U?" The DailyMail, which first reported she had worn the jacket, said it sells for $39 at Zara. The stenciling wasn't visible to reporters traveling with her, and she did not wear the jacket in Texas.
"It's a jacket," Grisham said. "There was no hidden message."
The incident seemed forgettable until Trump was seen wearing the coat again when she deplaned in Washington -- even after a stir on Twitter that provoked questions to Grisham. It was about 80 degrees at the base, according to the National Weather Service.
Soon after she landed, her husband weighed in, declaring that she did in fact intend to send a message -- to journalists.
"'I REALLY DON'T CARE, DO U?' written on the back of Melania's jacket, refers to the Fake News Media. Melania has learned how dishonest they are, and she truly no longer cares!" the president said on Twitter.
Melania Trump spent about two hours on the ground in Texas after a second planned stop at a Customs and Border Patrol facility was canceled because of local flooding.
The first lady's demonstration of concern for the people affected by U.S. immigration enforcement draws a contrast -- whether deliberate or not -- with her husband. He often speaks derisively of those who enter the country illegally and regularly portrays them as threats to public safety.
On Tuesday, for example, the president said in a tweet that Democrats "don't care about crime and want illegal immigrants, no matter how bad they may be, to pour into and infest our Country, like MS-13." His use of the verb "infest" drew widespread criticism.
Melania Trump's trip also was of public relations value to a White House reeling from the controversy caused by Trump's "zero tolerance" policy, issued by Attorney General Jeff Sessions on April 6. The policy has resulted in more than 2,000 children being taken from their parents and placed in federal custody after they illegally crossed the border.
The first lady has presented herself as the softer side of the Trump White House. She has made her primary public cause a campaign against cyber-bullying even as her husband regularly mocks and attacks people on social media. In May she introduced a campaign called "Be Best" to encourage awareness of children's issues.
In allowing journalists to accompany her, the White House ensured that her meetings with immigrants would be well publicized. She has mostly been out of the public eye since she underwent kidney surgery on May 14. Her staff didn't announce the Texas trip in advance and required news organizations traveling with her to agree not to publish any information until she arrived.
"It really bothered her," the president said of his wife's reaction to the controversy. He announced she was visiting the border during a meeting with his cabinet at the White House, shortly before Melania Trump's own office issued a statement about the trip.
"She wanted to see everything for herself," Grisham told reporters traveling with her. "The images struck her as a mother, as a human being."
Health and Human Services Secretary Alex Azar accompanied the first lady on the trip.
The visit spotlights the dissenting role the first lady appears to have played, first behind the scenes and eventually more publicly, as her husband's administration has implemented its "zero-tolerance" immigration approach. The policy aims to bring criminal charges against anyone crossing the border illegally, even if they mean to petition for asylum in the U.S.
The strategy has engendered enormous public outrage. Two-thirds of Americans have said in polls they oppose separating immigrant families, though a majority of Republicans say they support the president's approach. On Wednesday, Trump began his retreat, signing the executive order he said would end family separations as Congress prepared to consider legislation that would force a halt to the policy.
Grisham said the first lady two days ago told her team to make the visit happen and told President Trump of her plans. "She told him, 'I'm headed down to Texas,'" Grisham said. "And he was supportive."
Melania Trump, herself an immigrant from Slovenia, first weighed into the debate on Sunday with a public statement saying she hated to see children separated from their families and calling on the U.S. to govern "with heart." Privately, she also encouraged her husband to abandon the policy, according to people familiar with the matter.
Her visit to Texas is sure to increase speculation about whether she successfully prodded her husband to abandon his harsh approach to immigrant families or if she is merely contributing to the White House's attempt to clean up a public relations disaster.
The New Hope detention center was opened in McAllen in 2014 and houses about 55 children age 12 to 17.
Six of the children at the facility were taken from their parents under the president's "zero tolerance" policy, according to an administration official who briefed officials on condition of anonymity. The official didn't say how old the six children are and was not aware of whether any of them had communicated with their parents since the government separated them.
Melania Trump spoke with staff at the center in a room where she sat in front of a construction paper "kindness tree" that read, "acts of kindness make me bloom."
Rogelio De La Cerda, the program director at the center, told the first lady that most of the children are Guatamalan and that when they arrive they're usually "very distraught, in the sense that they don't know where they're at. When they see the environment and they see the other kids and they see the yard, they start relaxing."
"It's a process, yes, but I'm sure they're very happy," Trump replied. "They love to study. They love to go to school."
She asked De La Cerda how often the children were able to speak with their parents per week. He said twice, in phone calls that last about 10 minutes. Children stay at the center for about 42 days on average.
"I'm looking forward to meeting children," she said before a tour of the center.
She visited children in three classrooms and chatted with them in English and using a translator. "Be kind and nice to each other, OK?" she said at one point. In one classroom she signed a hand-painted American flag that said "welcome first lady."