In Erdogan's Turkey, Markets Haven't Been So Bad Before Vote
(Bloomberg) -- In 15 years of Recep Tayyip Erdogan governments, Turkish markets have mostly relished the last month leading up to elections. This time, it's different.
Ever since 2002, when the Turkish president's Ak Party first came to power, at least one asset class -- be it the lira or stocks -- has rallied in the run-up to impending votes. In the month leading up to snap elections on June 24, the lira has depreciated 3.6 percent against the dollar, despite the central bank's emergency efforts to help stem the currency's decline.
The Borsa Istanbul 100 Index has dropped about 7 percent even as valuations tumbled to nine-year lows, and the yield on 10-year bonds has surged more than 160 basis points.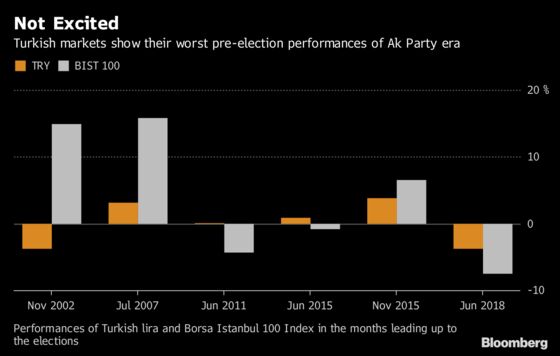 "Irrespective of what the political outcome is this weekend, the economic outlook in Turkey cannot be favorable in any scenario," Julian Rimmer, a London-based trader at Investec Bank Plc, said by email. "Turkey is faced with a Hobson's Choice of either the continuation of destructively unsustainable Erdonomics or a new government and/or president obliged to take some bitter corrective medicine with much lower growth."
Emerging market inflows and accommodative monetary policies globally, which gave Turkey a "free pass throughout the last cycle, are no longer operative," Rimmer said.
Part of the reason Turkish assets typically gained ahead of elections in the past can be attributed to pre-ballot polls showing the Ak poised for landslide victories, with the party and Erdogan depicted as bastions of stability for the economy and markets.
"On this occasion, investors would like to see progress on economic reforms before making strategic investment decisions," said Piotr Matys, an emerging market strategist at Rabobank in London. "The role of the central bank after the vote will be absolutely crucial."
A little over a month before the elections, Erdogan said he intended to tighten his grip on monetary policy, comments that sent the lira into a downward spiral, tumbling to a record-low against the dollar. He doubled down this week by urging his supporters to give him another five-year term in Sunday's election so he can lower interest rates.
The ballot takes place amid heightening investor fears of an economic slowdown. While Turkey's economy grew 7.4 percent last year and in the first quarter of this year, the expansion came at the expense of one of the widest current-account deficits among G-20 nations and a double-digit inflation rate.
In May, S&P Global Ratings cut Turkey's credit rating deeper into junk saying there is "a risk of a hard landing for Turkey's overheating, credit-fueled economy." In June, Moody's said the nation's rating could be cut due to the uncertainty regarding the direction of country's macroeconomic policy and said recent erosion in investor confidence will continue if not addressed through policy actions following the vote.
"Assuming Erdogan is re-elected, he'll be governing for at least another five years; so, perhaps during the first half of his presidency, he'll have less incentive to keep stimulating the economy as he's been doing for the last two years," Matys said. "If that's the case, the economy may rebalance and inflation may fall, which would be an encouraging signal for investors. But there are still massive question marks."