Erdogan's Grip on Turkey Is Loosening Even in His Black Sea Home
(Bloomberg) -- With the most consequential election in Turkish history only days away, nowhere is President Recep Tayyip Erdogan's grip on the nation more complete than in the lands from which he hails. On the 20-kilometer (12-mile) drive from Rize to Erdogan's hometown of Guneysu, perched in the green rolling hills overlooking Recep Tayyip Erdogan University, his presence dominates the landscape.
Along the highway that hugs the coast, Erdogan's picture hangs off every other light post, and banners carrying prints of his face are fastened to balconies and rooftops scattered across the tree-lined landscape as far as the eye can see. An oversized portrait sits atop a pole erected along the town's main road, as if to greet visitors making a pilgrimage to his place of birth.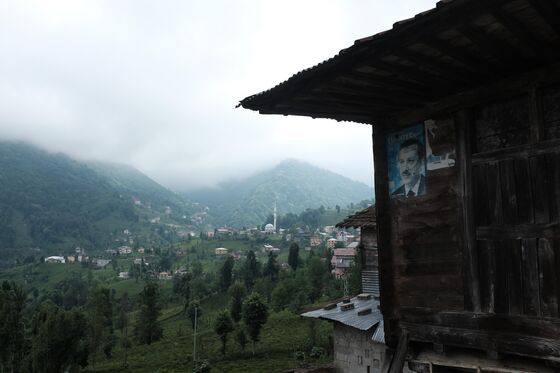 Yet beneath the ostentatious displays is a streak of discontent, a growing economic unease and a sense that after five consecutive years of currency depreciation and surging borrowing costs, things may not be moving in the right direction anymore. After 16 years in power, and despite the almost complete control that he wields over the mass media, Erdogan's fate still hangs in the balance on June 24.
"It's bad," Gokhan Kolcu, 31, a developer in Rize, said from his spartan office across from a construction site near the town center. "To stand in the way of the dollar you need to raise rates. If you raise rates you destroy the market." Kolcu says he's going vote for Erdogan's AK Party because it's the only actor that can guarantee stability. But he's worried about the future.
"Before this talk of elections, 10 to 15 people would come and ask about property prices every day. These past two months, nobody has," he said. "If the real estate sector goes down this country will go down."
Kolcu says he spent weeks trying to convince his friends to vote "no" in last year's referendum, which gave birth to Erdogan's new presidential system and uprooted a century-long tradition of parliamentary rule. But when the time came to vote, he said he couldn't follow through. "I couldn't stomach thinking like the HDP," he said, referring to the pro-Kurdish party whose leader is in jail on charges of supporting terrorism.
That attitude is at the heart of Erdogan's appeal to voters in this campaign. Having turned his back on Western allies and international capital markets, the president is trying to win over self-described Turkish nationalists and divert attention from economic issues. But even in his hometown, dissent is emerging.
"I won't give my vote to Tayyip," said Ibrahim Ozer, who manages a teahouse on the outskirts of Erdogan's home town and refers to the president by his middle name. Ozer, 46, spent five years as a local representative for the MHP, the coalition partner that Erdogan has thrown his weight behind in an attempt to win over nationalist hardliners and secure the extra votes he needs to clinch a victory.
Ozer complains that Erdogan isn't a true nationalist but rather an opportunist. "Maybe Bahceli has forgotten, but I won't," he said, referring to the longtime MHP leader and recalling how Erdogan insulted the party's members years ago.
Up the well-paved road that runs through Guneysu and into the mountains, Abdurrahman Arici, 57, was tending to his tea groves. Most of the ubiquitous black tea consumed in Turkey is produced in Rize, and it's an important source of income for the city's residents. But with the future of the biggest buyer at stake, anxiety is running high.
The bulk of the tea is harvested three times a year and sold to Caykur, the state-owned tea company. Last year though, Caykur was transferred to the sovereign wealth fund, known as the TWF, established in the aftermath of the 2016 failed coup in an attempt to spur growth and safeguard assets.
"We're going to vote for Erdogan but we have complaints about our representatives in parliament," Arici said. "If Caykur gets sold, Rize will be finished."
In Trabzon, one of the largest cities on the Black Sea, five men huddled on a park bench talking politics in the main square, where clips of Erdogan speeches were being projected on a large-screen TV. "Foreigners are using the economy as a weapon," said Mehmet Ture, 55, a diver. "We're all going to vote for the AK Party."
The Turkish lira has plunged more than 20 percent against the dollar over the past year and more than 60 percent in the past five years, stoking double-digit inflation and forcing the central bank into raising borrowing costs sharply. Investors say the rate increases were necessary to rebalance and cool the economy. But they run against Erdogan's instincts to keep the economy growing at any cost. He says Turkey's under financial attack. Not everyone buys it.
"I don't like Tayyip anymore, there's nothing to talk about here," said one of the men, who got up and left as the conversation kicked off. He said he was going to vote for Saadet, an Islamist party whose leader, Temel Karamollaoglu, says Erdogan and the AKP have veered away from Islamic principles. He asked not to be named.
Alaattin Ture, a 49-year-old construction worker, said he hasn't been paid in two months and can't afford to go to court. He patiently waited his turn as his brother Mehmet praised the government's fight against terrorism.
"The country's biggest problem isn't terrorism or the PKK, it's the level of wages," he said before turning the subject back to Erdogan. "You've been in power for 20 years, you're responsible for this!"
In a quiet phone dealership overlooking Trabzon's main square, Serkan Genc, 32, says the rising dollar is eating into his margins as the cost of imported phone parts surge. "I used to vote for the AK Party," he said. But "we need a new face, a new name."
For the first time in the Erdogan era, Turks are starting to feel economic strain, as foreign money exits and local companies struggle to repay debts accumulated in better times. While many buy Erdogan's message that the economic turmoil is all part of a foreign plot, others are blaming him.
"We're not children, we see things," said Omer Uzun, 55-year old retiree who used to sell pharmaceutical products. "The economy is bloated, there's artificial growth."
He points to a group of men outside a traditional coffee shop. "All those seated there are going to vote for Ince," he said, referring to the main opposition candidate Muharrem Ince, a former physics teacher. "Citizens care about their pockets."
But the core of Erdogan's electoral strength comes from hardcore supporters who may never turn against their president.
"Even if I knew Erdogan was going to bankrupt this country, again my vote will go to him," said Muhammed Ali Kalfaoğlu, 23, a barber in Trabzon.