BlackRock Sees Local ETF Potential as Emerging Markets Get Hit
(Bloomberg) -- Despite investor skittishness about broad emerging-markets exposure, BlackRock Inc. sees room for country-specific exchange-traded funds to grow.
In Latin America, investors are turning to country-focused ETFs as a way to express more granular views on the region, according to Axel Christensen, BlackRock's chief investment strategist for Latin America and Iberia.
"The line between emerging and developed is a little more fuzzy than it has been in the past," he said during a press briefing at BlackRock's New York headquarters. As political turmoil, which is often a hallmark of "emerging markets," becomes an increasing problem in regions typically considered "developed," it's blurring distinctions between the two categories, he added.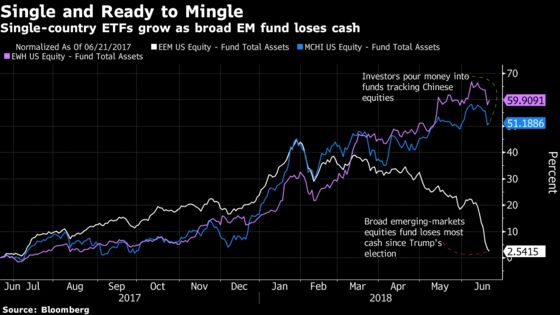 Market sentiment for emerging markets has soured. For ETFs tracking the developing nations, it's no different. Some investors have deserted funds holding emerging-market equities, while others are washing their hands of exposure to their local currency bonds.
That shift hit BlackRock recently. Its iShares MSCI Emerging Markets ETF, or EEM, saw roughly $1.5 billion of outflows on Monday, the most since two days after President Donald Trump's election in November 2016. This exodus extended losses from last week, when investors yanked $2.2 billion from the fund, the most for any week since January 2014. Meanwhile, EEM's cheaper sibling -- the iShares Core MSCI Emerging Markets ETF, or IEMG -- has taken in close to $8 billion this year but hasn't seen any flows since April.
Money managers at the briefing said that in response to the broad downturn in emerging-markets assets they've looked to ETFs with exposure to single countries, hunting down more specific bets on certain areas.
"Through ETFs you can access Mexico or currency-hedged Mexico, like HEWW," said Patrick Jamin, chief investment officer of NorthCoast Asset Management, referring to the iShares Currency Hedged MSCI Mexico ETF. "You can also access Brazilian small caps, or EWZS," the iShares MSCI Brazil Small-Cap ETF.