Turkey Bonds Slide as Erdogan Pledges to Cut Rates If Wins Vote
(Bloomberg) -- Turkey's bonds fell and the lira weakened against the dollar for a second day as President Recep Tayyip Erdogan's pledge to lower interest rates worried investors about the direction of policy after elections this weekend.
Erdogan urged followers late Tuesday to give him another five-year term in Sunday's election so he can "deal with interest rates," according to the state-run Anadolu Agency. Investors are concerned that the central bank will be forced to ease policy prematurely and put a shaky inflation outlook at risk.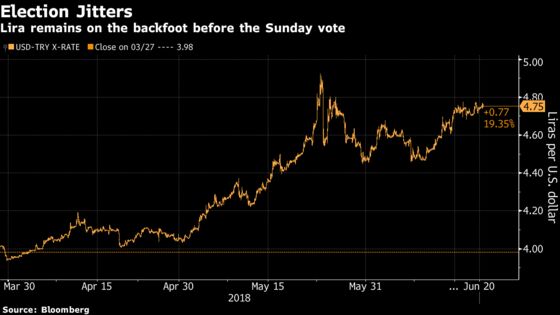 Turkey's lira has borne the brunt of a sell-off fueled by a stronger dollar this year and the depreciation has pushed consumer-price growth toward a 14-year high. Policy makers have been forced into hiking rates by 500 basis points over the last two months alone to stem the rout, but there is uncertainty about how determined they are about cooling off the economy.
Many polls show that results for the vote are still too close to call, fueling speculation that the election may run into a second round on July 8, extending the period of uncertainty that is weighing on markets. The prospect of political deadlock if the incoming government fails to secure control of both the presidency and the parliament is also a risk.
"If the AKP-MHP coalition cannot achieve a parliamentary majority, but Erdogan manages to win the presidency, it will lead to an unpredictable and unstable arrangement," said Tatha Ghose, an economist at Commerzbank AG in London. "The economic cost of uncertainty this time around could be huge because the very system of governance is about to change –- manufacturers want to know how the presidential system will function and what policy environment to expect at the end."
The yield on 10-year bonds jumped 22 basis points to 17 percent after touching a record 17.14 percent, and reversed Tuesday's decline that was fueled by decent demand at government bond auctions. The lira pared losses to fall 0.1 percent to 4.7446 against the dollar by 12:42 p.m. in Istanbul.