Trump's Order on Family Separation: What It Does and Doesn't Do
(Bloomberg) -- Now that President Donald Trump has signed an executive order to end his policy of separating undocumented immigrant children from their parents the true impact will depend largely on how Congress and the courts respond to it.
The order signed Wednesday purports to reverse an administration policy of family separation at the U.S. border with Mexico, but it relies mostly on the hope that the legislative or judicial branches of government will step in to make the change permanent.
The main driver of the surge in family separations -- Trump's own "zero tolerance" policy of prosecuting all who cross the border illegally -- isn't mentioned in the order. The president said he plans to continue it.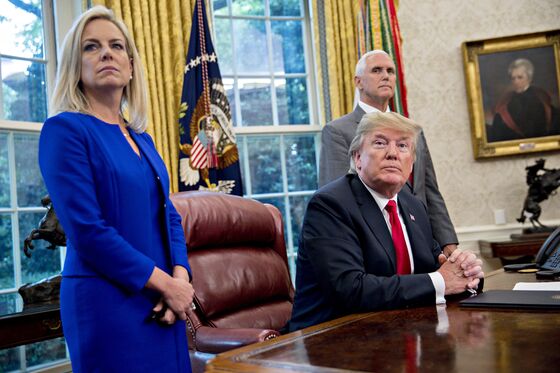 "It continues to be a zero tolerance," Trump said Wednesday. "We have zero tolerance for people that enter our country illegally."
Here's what Trump's executive order does:
It directs the Department of Homeland Security to maintain custody of children of undocumented immigrants along with their parents during immigration proceedings, subject to the availability of funds. It shifts the responsibility from the Department of Health and Human Services, which oversees unaccompanied minors who enter the U.S. illegally without parents. Since the "zero-tolerance" policy was announced in April, HHS has taken custody of more than 2,000 minors while DHS has separately processed their parents for prosecution.
It's not clear how the administration will return children who have already been separated to their parents.
Trump said Thursday that he's directing federal departments "to work together to keep illegal immigrant families together during the immigration process and reunite these previously separated groups."
Trump's executive order calling for DHS to detain parents and children together could end up being flummoxed by the courts, which have previously frowned on institutionalizing children when their parents break the law. An existing consent degree called the Flores settlement bars the government from detaining undocumented minors for more than 20 days.
In the executive order, Trump instructs Attorney General Jeff Sessions to "promptly" request a modification of the Flores agreement in court, and the Justice Department did so on Thursday.
"It's certainly the case that right now we have lawful authority to detain a family unit together for up to 20 days," Gene Hamilton, general counsel for Sessions, said. The Justice Department is seeking "a modification of that so that we can detain beyond 20 days the entire family unit together," he said.
Read more: U.S. Asks Judge to Modify 1997 Accord to Allow Family Detentions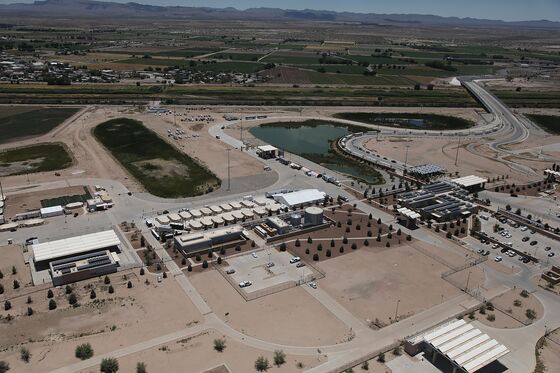 Hamilton didn't say what the Trump administration would do if it's unable to win the court case.
Calling the court challenge a "stopgap" measure, Hamilton said Congress would have to act as the ultimate arbiter. The title of Trump's order -- "Executive Order Affording Congress an Opportunity to Address Family Separation"-- gives a sense of its true objective.
But House Republicans rejected one attempt to deal with the issue as part of a broad immigration proposal favored by conservatives on Thursday, and conservatives were lining up against an alternative that is likely to be taken up on Friday. The Senate is moving on its own to write a narrow bill intended to end the family separations.
Trump's order also calls on the attorney general to give priority to immigration cases involving families, allowing for deportations or grants of asylum to be processed more rapidly when children are involved.
In the meantime, the order calls on the Defense Department and other federal agencies to provide potential facilities that DHS could use to detain undocumented families who are arrested at the border.
Justice Department spokeswoman Sarah Isgur Flores said in a statement Thursday that "there has been no change to the department's zero tolerance policy to prosecute adults who cross our border illegally instead of claiming asylum at any port of entry."
Despite a report to the contrary, U.S. Customs and Border Protection said in a statement that "the Border Patrol will continue to refer for prosecution adults who cross the border illegally" while maintaining "family unity" for those who cross with children.