U.K. Govt, Rebels in Last-Ditch Talks Before Brexit Vote
(Bloomberg) -- U.K. Prime Minister Theresa May's government was said to be in last-minute talks with rebels in her Conservative Party ahead of a knife-edge vote on how much power Parliament should have to direct Brexit talks.
The government said it was holding firm, and a senior Labour lawmaker, speaking on condition of anonymity, predicted the government would win the vote later on Wednesday. But Oliver Letwin, a senior Conservative and former minister, is trying to broker a deal, according to a person familiar with the talks.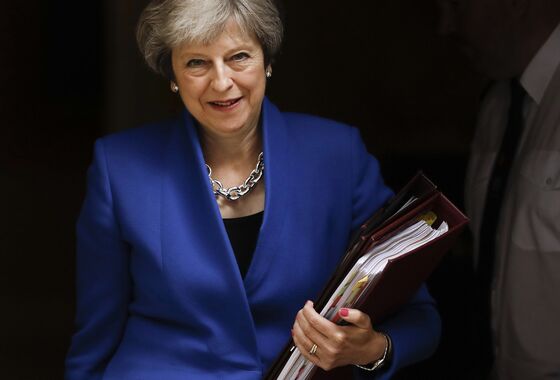 At stake is how much power Parliament will have in the final stages of the Brexit process. It's a proxy battle between those in May's party who oppose Brexit and want the divorce from the EU to be as friendly as possible, and those who are so keen to break free they'd accept walking away entirely and accepting the legal limbo that follows.
Any compromise would need to address the government's concerns about the rebels' amendment to the European Union (Withdrawal) Bill, while satisfying the lawmakers behind it, who want to give Parliament a bigger say on the final Brexit deal. It could involve public statements from both sides.
A government spokesman told reporters that the government isn't willing to compromise and cannot accept an amendable motion. May has been talking to rebels to try to win them over to her side, according to a person familiar with the situation.
Meanwhile government whips were pushing a hard line on the vote itself, likely to come around 3.30 p.m. According to another person, the Conservatives have said that the usual agreement that allows very sick lawmakers to have their votes counted so long as they are on the premises, even if they're in an ambulance, won't apply.