The Macron-Merkel Euro Plan Is Released. Here's How It Stacks Up
(Bloomberg) -- A long-anticipated meeting between the leaders of France and Germany yielded important progress on the issue of reforming the euro area, with concessions made by both Paris and Berlin. But it also pushed some of the trickiest decisions to later in the year, underscoring the difficulty in bridging fundamental differences over how best to shore up the currency bloc.
While the two sides agreed to set up a euro-zone budget and beef up the role of the European Stability Mechanism -- the euro-area bailout fund -- they postponed decisions on some elements which could prove consequential. Chief among them: specifics on the size and conditions of the euro-area budget.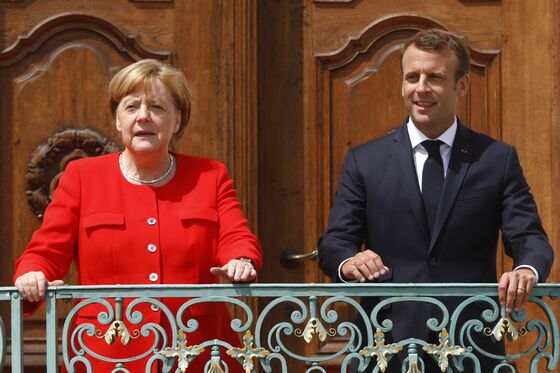 "There is a general feeling that there is some momentum, not towards a complete reform package but towards progress," said Nicolas Veron, a senior fellow at Brussels-based think tank Bruegel. "It's a political fact that what you have in the German Bundestag and in Italy has created a less favorable environment."
The agreement on a euro-area budget, starting in 2021, marks an important win for French president Emmanuel Macron, who has been advocating for such an instrument.
According to a roadmap endorsed by Macron and German Chancellor Angela Merkel, the budget should promote competitiveness, convergence and stabilization in the euro area, with resources coming from national contributions, Europe and revenue from taxes including a financial transactions tax or a levy on digital companies. The budget aims to help investment in innovation and human capital while other options examined include allowing nations in trouble to suspend their contributions, or establishing a European unemployment stabilization fund.
Yet there are no details on the size of this budget and on whether countries need to adhere to strict conditions to be eligible for funds, two key elements that are likely to determine the impact of such an instrument.
"The budget is symbolic, but not substantial," Veron said. "The French side wanted symbol, the German side didn't want a lot of substance."
While euro-area countries agree the ESM should be the backstop for the EU fund for winding down failed banks, they have been split over who decides whether money can be made available for a bank resolution. Germany has insisted that national governments -- and in some cases parliaments -- should get a say, a view others see as creating too many steps and potential delays in the resolution process.
In the roadmap, France and Germany agree to maintain a decision-making process where national government have a say. This seems to be a win for Germany, even though it should happen "while ensuring an effective, credible and rapid decision-making of the ESM backstop to fit the timing of a resolution case."
The rest of the elements of the backstop mark a compromise for both sides. While they agree it should come into force before 2024, a concession to Paris, its size was restricted to no more than the roughly 55 billion-euro ($64 billion) Single Resolution Fund, and that it will replace the direct recapitalization instrument -- steps favored by Berlin.
Crucially, on the issue of a common deposit insurance scheme -- a step seen by many countries and the ECB as a key missing piece from the EU's banking union -- the two sides suggested political negotiations could start after next week's EU leaders' summit, a sign of persistent difficulties to find common ground. Countries have been split on whether so-called risk sharing via such an insurance scheme should come after banks further reduce risks in their balance sheets, with positions so entrenched that almost no progress has been made for months.
Another key area of contention among euro-area nations has been whether to introduce an upfront debt-restructuring mechanism in cases where nations with unsustainable debt ask for a bailout. Such a mechanism is particularly important for countries such as Germany and the Netherlands, which want private investors to take writedowns before taxpayer money is tapped. But critics have voiced concerns that such such a set-up could fan market volatility.
In the compromise, the two sides seem to open the door to some upfront debt restructuring facilitated by the ESM, although the wording seems vague enough to leave room for handling on a case-by-case basis.
Overall, the Franco-German announcement at Meseberg was "generally upper range of expectations with significant upside potential," Jacob Kirkegaard, senior fellow at the Peterson Institute for International Economics, said in Twitter.