Spain's New Premier Is Already Facing First Threats From Allies
(Bloomberg) -- Spanish Prime Minister Pedro Sanchez is already facing pushback from the multi-colored alliance that put him into office less than three weeks ago.
In his first question and answer session at the Parliament in Madrid, a left-wing group from the Valencia region complained that Sanchez is backing away from plans to reform the regional financing system and questioned whether it had been worth helping him to oust the center-right People's Party.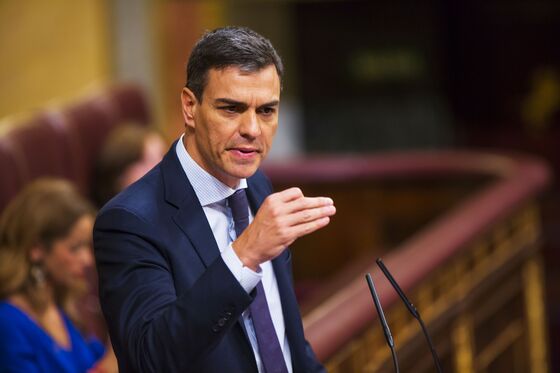 "We are subsidizing richer regions," said Joan Baldovi, one of four lawmakers from Compromis. "We didn't vote for you just to do the same as the People's Party."
With a highly decentralized political structure, Spain's 200 billion-euro ($230 billion) regional financing system is one of the prickliest issues facing the prime minister, underlying everything from the Catalan crisis to the internal tensions in his Socialist party.
The premier backtracked on a promise to address imbalances in the system in testimony to the Senate on Tuesday, saying he won't have time to complete the process in the two years left in the current parliament. His predecessor Mariano Rajoy's government had been looking at changes to the system since 2014.
The problem for Sanchez is that elections are due in the Socialists' Andalusia heartlands within the next year. Andalusia is the biggest beneficiary of the regional funding arrangement and so any attempt to change the criteria would hand ammunition to the Socialists rivals in that campaign.
"In the short term, we have to improve the funding of all regions, in particular Valencia and those which are underfunded," Sanchez said in response to Baldovi. "In the medium term, we need to make a deep change to the regional funding system."