Senators Cite ZTE Progress But No Deal After Trump Meeting
(Bloomberg) -- Several GOP lawmakers said they and President Donald Trump made progress Wednesday toward a compromise that would let Chinese telecommunications giant ZTE Corp. stay in business while addressing lawmakers' national security concerns.
But a White House meeting between the president and Republican members of the House and Senate concluded with no agreement on Trump's attempt to soften a provision in a Senate defense policy bill that would reimpose a ban on ZTE doing business with its U.S. suppliers. Trump had agreed to lift crippling U.S. sanctions, which threatened to put China's second-largest telecom equipment maker out of business, after a personal plea from China's president, Xi Jinping.
Senators want stronger penalties for the company, which they view as a security threat to the U.S., while Trump seeks to keep ZTE alive as a bargaining chip in a wider trade spat with China and as the U.S. negotiates with North Korea.
"He wanted to make sure the negotiation that Secretary Ross had with the Chinese over the ZTE matter was understood and it was respected, and particularly given the fact the president is negotiating with China over things like North Korea," Senate Majority Whip John Cornyn, a critic of ZTE, told reporters after the meeting. He was referring to Commerce Secretary Wilbur Ross.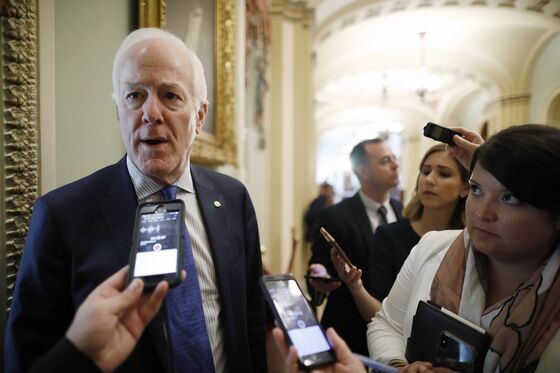 "I think there's a path forward to address the president's concerns as well as national security," Cornyn said.
With the prospects of negotiations to settle the issue, ZTE shares jumped in the past two days in Hong Kong, with the stock up as much as 6.3 percent on Thursday. While Wednesday's gain marked its first gain since resuming trade last week, the company has lost about half its value and remains not far off a two-year low.
Cornyn said Trump urged the senators to preserve his deal with Xi while preserving U.S. national security interests. The Trump administration announced this month that it would lift a seven-year ban on ZTE purchases from U.S. suppliers once the company paid a fine, replaced its board of directors and installed U.S. inspectors in its facilities.
"Today, we made serious strides in solving the ZTE issues in the defense bill," said Senator David Perdue of Georgia in a statement. "President Trump should not have his hands tied as he engages in major negotiations dealing with trade and the denuclearization of the Korean Peninsula."
Cornyn said that while the White House didn't present a legislative draft, options were discussed that would preserve a ban on U.S. government purchases of ZTE equipment while lifting the ban on all U.S. exports to the company.
ZTE got into trouble in 2016 for violating U.S. laws restricting the sale of American technology to Iran and North Korea. The company agreed to pay as much as $1.2 billion and penalize the workers involved. But the Commerce Department said in April that ZTE violated the agreement, and the agency imposed the seven-year ban -- a penalty the company said would force it to shut down.
In May, Trump said on Twitter that he planned to walk back those penalties, and the administration later announced the new deal with ZTE.
Ross told members of the Senate Finance Committee earlier Wednesday that having U.S. compliance officers on site was an unprecedented achievement. "I think if this had been our original solution everybody would have applauded it," he said.
Derek Scissors, China analyst at the American Enterprise Institute, said "no one would have cared" if it had been the original solution. The problem, he said, was the administration's flip-flop on the issue.
"Problem 1 is the Commerce finding was undone by the presidential tweet," Scissors said. "Problem 2 is we are pretending ZTE will now be a good actor that U.S. firms should sell to."
The Senate defense bill, passed Monday, would require that any deal with ZTE be accompanied by a certification that it hasn't violated U.S. law for the last year -- a standard critics say it can't meet. The House defense bill doesn't contain the provision. A conference committee to work out differences between the two measures is scheduled to begin next week. The administration has been counting on those negotiations leading to a final bill more in line with Trump's preferences.
Perdue told reporters after Wednesday's meeting that Trump's deal with the company is "appropriate" and bolsters his ability to strike a wider trade deal with China.
"I think it continues to maintain the president's credibility as he negotiates with China — I think that's very important — but it also penalizes ZTE for violating sanctions," he said.
Republican Senator Ron Johnson of Wisconsin said the ZTE deal is linked to Trump's ability to negotiate with China on North Korea, saying it's "obviously important in terms of maintaining sanctions to get Kim Jong Un to back down, so all of this is one big complex interrelated negotiation."
Senator Lindsey Graham, a South Carolina Republican, said the president's message was "that we don't undercut his ability to deal with China but also deal with the ZTE problem. We are working on it."
When asked whether there were any solution agree to, Graham said, "No."
Senate Democratic leader Chuck Schumer of New York urged Republicans to resist the administration's effort "to water down or back off of the Senate's strong language on ZTE in the defense bill."