Emerging Markets Grow by $600 Billion With Saudis, Argentina
(Bloomberg) -- Emerging market stocks are about to get a $600 billion boost.
That's how much the asset class will expand after MSCI Inc. said on Wednesday it will add both Saudi Arabia and Argentina to its equity index of developing nations. Neither decision was assured, and together, they could prompt a relief rally after a selloff knocked $2.7 trillion from emerging economies since late January amid threats of a global trade war and higher U.S. rates.
Saudi Arabia -- home to the Middle East's biggest bourse -- and Argentina, pummeled by a currency rout that prompted it to seek help from the International Monetary Fund, join the likes of China, India and Brazil. The change could attract billions of dollars of foreign-investment flows from index-tracking funds.
"The news on Saudi and Argentina will boost inflows to those markets short-term, but the outlook for EM assets will depend more fundamentally on global conditions -- notably the dollar, U.S. yields and the risk of an escalating trade war," said Geoff Dennis, head of global emerging-market strategy at UBS in Boston. "It's only a short-term lift to the asset class overall."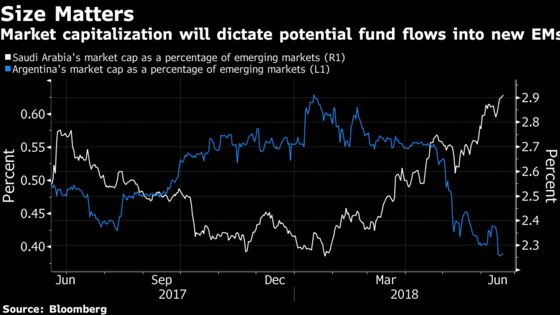 The potential for an MSCI inclusion made the market in Riyadh a magnet for foreign investors, turning it into the world's second-best performer this year. By contrast, waning confidence in Argentina's economy, a currency slump and one of the world's highest inflation rates is shrinking the Buenos Aires market.
"By supporting the inclusion of Saudi Arabia and Argentina in emerging markets, international institutional investors confirmed that they are now able and ready to access and operate in these markets," Sebastien Lieblich, MSCI's managing director and global head of equity solutions, said in a statement. An initial public offering of state-owned Saudi Aramco could increase Saudi Arabia's weight to 4.4 percent from 2.6 percent within the MSCI EM Index, he said in an interview on Thursday.
The index provider did add a caveat, saying that it would reconsider the Argentine decision should authorities introduce "any sort" of restrictions on market accessibility. MSCI also said that due to lower liquidity in the nation's local markets, only foreign listings such as American Depositary Receipts will be initially eligible to enter the index.
The Tadawul All Share Index advanced 0.5 percent on Thursday in Riyadh. Argentina's New York-traded shares jumped in pre-market trading as cement maker Loma Negra led gains with a 12.5 percent advance. Argentina's largest ETF also climbed 8.8 percent, while the peso jumped almost 1 percent before paring gains.
For Saudi Arabia, the upgrade will help improve liquidity after regulators implemented a series of changes aimed at adapting the bourse to international standards. Argentina's benchmark index stands to rally by as much as 20 percent, Morgan Stanley says, after a peso rout created one of the world's worst-performing stock markets in dollar terms.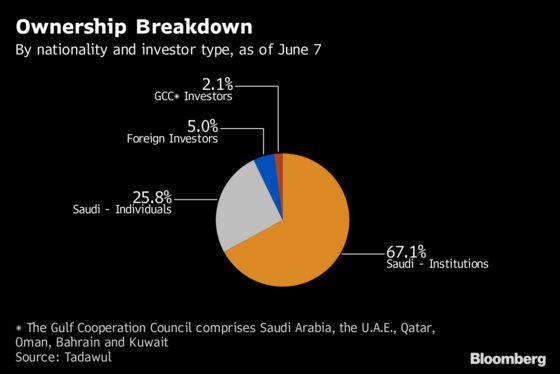 Inclusion "is a game-changer for Saudi Arabia's capital markets," said Antoine Maurel, head of global markets for Middle East, North Africa and Turkey at HSBC Bank Middle East Ltd., who estimates it will lead to $35 billion of inflows. "This will create a much deeper and more liquid market," said Maurel, whose bank was among the first qualified foreign investors to trade Saudi stocks directly three years ago.
Saudi Arabia may see inflows of as much as $40 billion in the coming year, Khalid Al Hussan, chief executive officer of the bourse, said in a phone interview. A timeline for the bourse's own IPO will be announced in the second half of the year, he said in a Bloomberg Television interview.
Modernization of the Saudi stock market is part of a broader plan spearheaded by Crown Prince Mohammed Bin Salman to steer the nation's economy away from oil and diversify the government's sources of revenue. Saudi authorities "will continue working with all relevant stakeholders to further improve applicable rules and regulations to facilitate foreign investments" Finance Minister Mohammed Al-Jadaan said in an email.
That includes selling shares in government-owned Saudi Aramco, which is expected to stage an IPO in Riyadh that could be the world's biggest. The IPO could happen before the end of 2018, according to Capital Markets Authority Chairman Mohammed El-Kuwaiz.
Saudi Arabia opened its $524 billion stock market to foreign investors three years ago. Since then, it eased requirements for these investors with measures such as lowering the minimum amount of assets under management to get QFI status and aligned trade settlement times with international standards.
In Argentina, hopes for an upgrade had faltered as the peso tumbled, making the central bank jack up interest rates to a world-beating 40 percent and leading the government to turn to the IMF for a record $50 billion credit line. Finance Minister Nicolas Dujovne welcomed the return to a status the nation last held nine years ago, saying Argentina will gain access to cheaper credit and bring more investment, growth and employment.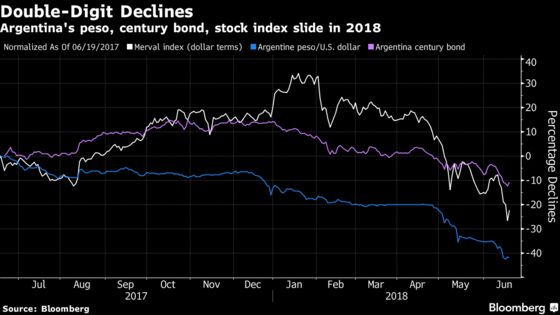 Investors had hoped for an upgrade as Argentine stocks head for the worst year in almost a decade. An upgrade will allow funds that track more than $1 trillion to invest in the nation's stock market, leading to about $3.5 billion of inflows, according to Ernesto Allaria, the president of stock operator BYMA.
The upgrade, coupled with the IMF deal, is expected to lead to capital inflows into the country, helping ease pressure on the central bank to stabilize the currency, Jim Barrineau, head of emerging-market debt at Schroders in New York, wrote in a note. The recent selloff in stocks and an "attractive" exchange rate means that Argentine stocks offer "interesting opportunities" for foreign investors, according to BlackRock Inc.
"The decision will bring a positive confidence shock that the market will welcome, because it needed it," said Alberto Bernal, chief strategist at XP Securities in Miami. "Combating populism is a difficult task. It's a good example for the region to see Macri rewarded for making reforms."
Some analysts and investors remained skeptical. Win Thin, the New York-based head of emerging markets at Brown Brothers Harriman & Co., said Argentine stocks may see some knee-jerk buying, but said the upgrade doesn't solve Argentina's woes. The Saudi market will probably face hurdles in retaining foreign money unless companies become more transparent, traders said.
Mark Mobius, who has gained a reputation for being optimistic more often than not on emerging-markets' prospects, said earlier this month he isn't completely bullish on Saudi Arabia because the range of offerings is limited and a number of restrictions are still in place.
"It is very good to have more opportunities for investors to invest," said Akira Takei, a fund manager at Asset Management One Co. in Tokyo, which oversees around $500 billion. "But the MSCI inclusion doesn't mean they have become good in terms of quality of the economy. Argentina and Saudi Arabia still have hurdles to tackle."