Pruitt's Capitol Hill Ally Takes Back Criticism After Meeting
(Bloomberg) -- EPA Administrator Scott Pruitt's longtime friend and political ally on Capitol Hill is walking back his criticism of the embattled agency leader after the two met Tuesday evening.
Senator Jim Inhofe, a Republican from Pruitt's home state of Oklahoma, said he's "a little embarrassed" over telling conservative political commentator Laura Ingraham last week that the Environmental Protection Agency head may need to resign amid mounting ethics complaints.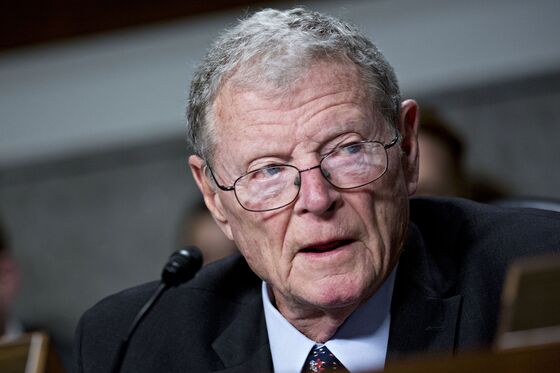 "I was beginning to have doubts about Scott Pruitt, all these accusations, but I had to find out for myself," Inhofe said in an interview Wednesday.
Inhofe blamed some news media outlets -- he didn't name them but said they "hate" Pruitt -- for not providing the EPA's response to allegations Inhofe said came from disgruntled former agency employees he didn't identify. He also alleged that Pruitt is a target of a campaign bankrolled by billionaire political activist Tom Steyer.
Aleigha Cavalier, a spokeswoman for NextGen America, an environmental group founded by Steyer, responded in an email that Pruitt is a "national disgrace" and should resign.
Pruitt's high security costs are justified because of the "unprecedented threats" against him and his family, Inhofe said. Pruitt also repaid an intermediary for tickets to the Rose Bowl, he said.
"I'm really harboring some guilty feelings because I was sucked into the same thing the public was," Inhofe said.
Pruitt has been under scrutiny for months over matters including an arrangement to rent a bedroom in a Capitol Hill condo from a lobbyist for $50 a night and frequent taxpayer-funded travel to his home state of Oklahoma. He's also under fire for leaning on EPA employees to run personal errands and help secure a job for his wife.
Pruitt faces more than 11 federal investigations by lawmakers, the White House and the EPA's internal watchdog involving his travel, spending, security and other matters.
President Donald Trump, who has stood by Pruitt amid months of allegations, told reporters last week that he's "not happy about certain things," though he added Pruitt's done "a fantastic job" at the EPA.
Inhofe later told reporters that Pruitt "may have displayed poor judgment," but said his lack of Washington experience was partly to blame.
Asked if he thought the EPA administrator would keep his job, Inhofe said, "We don't have the most predictable president in America. Anything could happen."