Mulvaney Has CFPB Advice for Warren: Anyone's Better Than Me
(Bloomberg) -- Mick Mulvaney is using a curious tactic to encourage Senator Elizabeth Warren to drop her opposition to the Trump administration's pick to run the Consumer Financial Protection Bureau.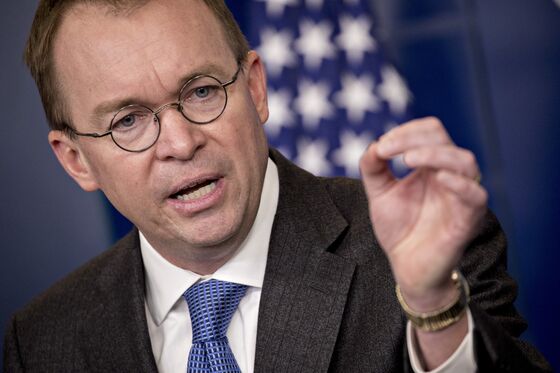 "Anybody has to be better than me," Mulvaney, who has been leading the financial regulator part-time on an acting basis since November, said Wednesday.
President Donald Trump this week nominated Kathy Kraninger, one of Mulvaney's deputies at the White House Budget Office. Warren, a relentless Wall Street critic, quickly made clear that she would rather see someone else in charge of the CFPB.
Still, conservative lawmakers and groups including the Heritage Foundation have expressed their support for the little-known Office of Management and Budget official, bolstering the odds that Kraninger will be confirmed by the Republican-led Senate.
"Those who've worked with Ms. Kraninger in the executive branch, here on Capitol Hill, or most recently at the Office of Management and Budget praise her expertise, leadership, and approach to public service," Senate Majority Leader Mitch McConnell said in a statement Wednesday after meeting with Kraninger. "I look forward to supporting her nomination."
Mulvaney, who has frequently sparred with Warren in his time at the CFPB, predicted that lawmakers will sign off on Kraninger's nomination by this year's fourth quarter. Mulvaney, speaking at a financial conference in New York, said he will continue to run the bureau until she takes over.